The rumors that started in Europe about the Toyota GR Supra being available with a manual transmission (MT) soon are now confirmed, and the U.S. market gets the new transmission as well. The MT will be available on GR Supra 3.0, 3.0 Premium and a limited A91-MT Edition model. The A91-MT will be a limited edition restricted to just 500 units for the U.S. Market.
Related Story: Suddenly Toyota Has 3 Stick Shift Sports Cars
A91-MT Edition GR Supra
The limited-edition A91-MT Edition will come in two exclusive exterior colors with a unique Cognac leather-trimmed interior. It will also feature a 12-speaker JBL Audio system and a complimentary 1-year membership to the National Auto Sport Association, featuring a High-Performance Driving Event with expert instruction.
GR Supra Upgrades
The changes to the GR Supra are focused on those with the 3.0-liter 382 hp straight-six engine and go beyond the transmission. New colors including Stratosphere Blue, Matte White, and CU Later Gray are being added.
The New Transmission - And Associated Changes
The new transmission incorporates a newly engineered large diameter clutch with a reinforced diaphragm spring. Featuring a larger friction area and a stronger spring, this new component has the high-performance capability appropriate for use with the GR Supra's high-torque engine.
The newly developed 6-speed manual gearbox also has an intelligent Manual Transmission (iMT) program with new software that prioritizes sporty performance. During upshifts, the parameters are tuned to optimize engine torque at the moment of clutch engagement and release. The software has been fine-tuned for consistent performance when downshifting as well. The iMT is set as the default but, if the driver prefers to turn it off it can be disabled when in Sport mode.
To improve launch feel, the final drive ratio has been shortened, from 3.15 (in the GR Supra automatic) to 3.46 (in the GR Supra MT). Toyota says the result is improved response appropriate for sports car performance.
Suspension and Traction Control Changes
All trims of the GR Supra are getting braking control systems and suspension tuning changes for even better performance. To reduce wheelspin and help ensure that the launch times of the manual-equipped Supra match those of the automatic-equipped version, Toyota engineers have tuned the car's TRAction Control (TRAC) system to achieve smooth operation and reduce unwanted wheelspin. Of course, all 3.0 models will have an active rear sport differential standard.
Oversteer and handling at the limit have been addressed by Toyota in the upgraded GR Supra. Manual versions will get a newly-calibrated traction control system that delivers balance, agility, and stability when exiting a corner on the throttle. TRAC intervention has been calibrated to maintain stability while allowing the right amount of power for a sporty experience.
Drifting the GR Supra
What good is a rear-drive sports coupe if you can't hang the tail out when you wish? Toyota knows its owners may wish to drift the car. Thus, Track mode has been tuned to allow for easy drifting with freedom of throttle control. The vehicle remains agile, but maintaining a drift rather than spinning is easier thanks to specific engine and torque control settings.
Toyota has released the charts below to help explain the way the new packages for the GR Supra will work. Tell us in the comments below which way you'd configure yours.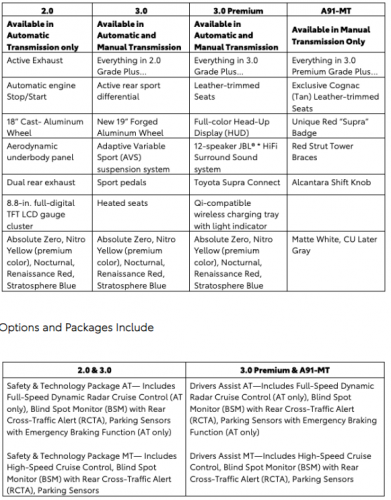 Shifter image courtesy of Toyota. Chart courtesy of Toyota.
John Goreham is a long-time New England Motor Press Association member and recovering engineer. He also owned a first-generation Supra. After earning his mechanical engineering degree, John completed a marketing program at Northeastern University and worked with automotive component manufacturers, in the semiconductor industry, and in biotech. In addition to Torque News, John's work has appeared in print in dozens of American news outlets and he provides reviews to many vehicle shopping sites. You can follow John on TikTok @ToknCars, on Twitter, and view his credentials at Linkedin
Re-Publication. If you wish to re-use this content, please contact Torque News for terms and conditions.