Surprise: Owners of "Off-Road" AWD Crossover SUVs Don't Actually Buy Them to Go Off-Road
Every manufacturer seems to be steering its brand marketing in the direction of "off-road" capability. Let's not get too hung up on what "off-road" actually means. The term is used loosely to describe:
Soft Roading - When you travel down an unimproved dirt road, logging trail, or access road to a park area.
Hard-surface overlanding - Driving on paths which pose almost no problem to any normal vehicle.
No-Roading - Driving through an area in which there is literally no road.
Rock-hopping - Google Moab.
Mud-whomping - If you've done it you know.
Boating - Ridiculous imaginary driving through moving water.
Related Story: Mazda's New CX-50 SUV Moves the Brand Closer To Subaru
Why anyone would prefer a $35K to $150K passenger vehicle for doing serious off-roading instead of an ATV costing a tiny fraction of that amount with better abilities is a mystery this writer will never fully grasp. But we diverge. What do the fans and owners of vehicles that have a bit of ground clearance and all-wheel drive really desire when you ask them in a poll? Snow capability it turns out.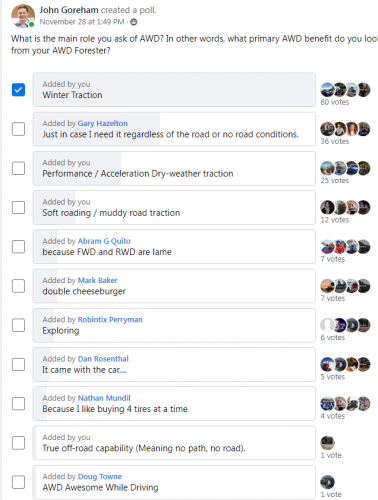 The Forester Owners Poll
We polled fans and owners in two Facebook clubs. The first is the Subaru Forester club. This 40,000 member club has a large percentage of turbocharged Forester owners so we expected them to lean heavily into the "Performance and acceleration traction" choice in our poll. Given Subaru's Wilderness trim rollout, we also suspected ther might be some off-roady types in the group. There were some selections for those options, but overwhelmingly the group wants great snow capability. And, of course, they have that in their Forester.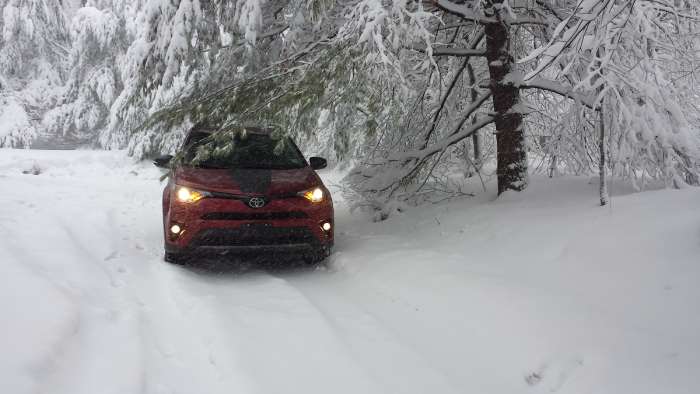 CX-50 Club Members Poll
Next, we polled fans of the upcoming Mazda CX-50. The CX-50 is not just a new CX-5. It has different dimensions, a different drive mode selection, and is clearly being marketed by Mazda as a more rugged version of the two-row crossovers it now offers. I'm the target audience for this vehicle, the exact person Mazda has in mind for the CX-50. We have both a CX-5 and a Forester in our garage at home, and I do actually drive in some of the conditions listed above. But never in the CX-5. Always in the Forester.
The small, but active CX-50 group's selections mirrored the long-running, large Forester group's. Overwhelmingly, fans and owners of crossover SUV vehicles that are marketed as having some off-road capabilities are really interested in using them in snow. Sure, there are some fans and buyers who want the AWD system for performance and acceleration in slippery conditions, and each group had a couple of members who selected something else. Every poll has its outliers.
We spoke informally with Mazda about the upcoming CX-50 and asked about its abilities in the snow. We were happy to hear that Mazda plans to put some into the hands of media members for winter testing before the end of this coming snow season. "Just wait until you try it!" was the theme of the upbeat and positive response we got. Watch Torque News for more updates on the CX-50 and more "busting the myth" type content.
Feel free to tell us about how you use your AWD crossover SUV in the comments below.
Top of page image courtesy of Mazda. Snow images by John Goreham. Poll images courtesy of Facebook and John Goreham.
John Goreham is a long-time New England Motor Press Association member and recovering engineer. John's interest in EVs goes back to 1990 when he designed the thermal control system for an EV battery as part of an academic team. After earning his mechanical engineering degree, John completed a marketing program at Northeastern University and worked with automotive component manufacturers, in the semiconductor industry, and in biotech. In addition to Torque News, John's work has appeared in print in dozens of American news outlets and he provides reviews to many vehicle shopping sites. You can follow John on TikTok @ToknCars, on Twitter, and view his credentials at Linkedin
Re-Publication. If you wish to re-use this content, please contact Torque News for terms and conditions.