Mazda's New CX-50 SUV Moves the Brand Closer To Subaru
Mazda's all-new CX-50 SUV evolves the brand's lineup in a direction Subaru fans and owners will recognize. Mazda's launch presentation made clear that the CX-50 remains "uniquely Mazda," but also pointed out that the CX-50 expands upon the appeal of the already hugely successful CX-5.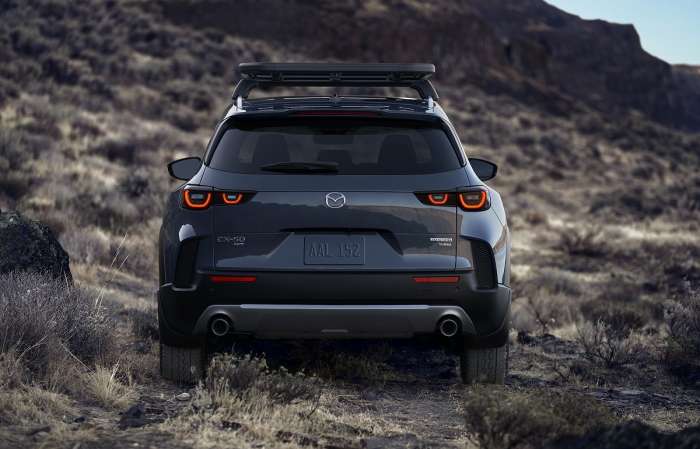 How Is the Mazda CX-50 Different From CX-5?
Where does the new CX-50 expand the Mazda line? Mazda says it does so with customers that have a more active lifestyle and who are outdoor enthusiasts. We showed our favorite guest contributor to Torque News and CX-5 owner, Hande Tuncer (my wife), images of the new CX-50. Her reaction? "It looks like your Subaru." Indeed, we own both a CX-5 and Forester in our household, and often joke that we would be a household with two CX-5's if only Mazda offered one for your author that had a smidge more all-road and off-road capability.
Apparently, we are not alone. Mazda says the CX-50 takes Mazda's capability to "...an expanded set of terrain." Mazda says the CX-50 has added off-road capability and functionality that will support outdoor enthusiasts' growing interests. The CX-50 is designed to offer Mazda's outstanding driving dynamics on dry pavement, gravel, or dirt roads.
Mazda pointed to increased ground clearance and easier access to roof-top storage as examples of how the CX-50 improves upon the CX-5's adventure capabilities. Like Subaru and Toyota models, Mazda's new CX-50 will have multiple drive modes for various surfaces. Called Mi-DRIVE, the modes are intended to allow the CX-50 to offer drivers a similar driving feel in multiple situations. This is sort of the opposite of what drive modes do in most SUVs which are often intended to change the feel of the vehicle. Modes include Sport, Normal, Off-Road, and Towing. Mazda's demonstration video didn't emphasize snow. Perhaps the Toyota, Subaru, and Mazda brands are letting Subaru keep its winter-excellence marketing angle?
The new CX-50 will come with the same or similar engines to the current CX-5. A 2.5-liter SKYACTIV engine and one with a turbocharger. Expect class-leading torque and acceleration performance on par or better than most premium crossover SUVs in the size segment. For example, the turbocharged Subaru Outback offers 277 lb-ft of peak torque. Mazda's current 2.5-turbo found in all of its SUVs offers 320 lb-ft or peak torque. Mazda also promises a "strong hybrid" and other electrified options, but not at launch.
What Engines Will Power the Mazda CX-50?
Unlike the Forester or the current CX-5, the new CX-50 will be built in the United States at Mazda's new joint venture plant with Toyota. Every U.S. Mazda SUV model as well as the Subaru Forester is presently built in Japan. Amazingly, Mazda revealed just how many CX-50s the company can produce in the new facility. That number is 150,000 SUVs per year, thus roughly doubling its present delivery rate of the CX-5 in America.
Related Story: Toyota Begins Building New Corolla Cross Crossover In New Alabama Plant
Where Will Mazda Build the New CX-50 SUV?
Mazda's foresight in moving its production to the United States seems quite wise given the price supports Congress seems interested in providing to electrified vehicles. The new plant will add 4,000 direct jobs to the Huntsville, Alabama area, and another few thousand indirect employment opportunities. Unlike Ford, who outsourced the assembly two newly-launched SUVs this size to Mexico, and GM who builds its Buick SUV this size in China, Mazda seems to be following the lead of Toyota, Honda, Subaru, and Nissan by in-sourcing its North American models with ever-increasing production inside the U.S.
Are Toyota, Mazda, and Subaru Converging?
Toyota's design and manufacturing partnerships with Subaru and Mazda are all trending toward a final point of conversion. Will the Mazda and Subaru brands someday act like the Audi and Porsche brands do for Volkswagen? Perhaps. What is clear is that Mazda is following the industry trend toward offering buyers the perception of ruggedness and overlanding capability buyers seem to desire.
Which Is Bigger? Mazda CX-50, CX-5, Subaru Forester, or Subaru Outback?
The CX-50 appears to be longer than the CX-5, and Mazda mentions that longer items can be loaded in its cargo area. Longer than which vehicle was unclear. The odd truth is that the Subaru Forester has a larger interior passenger space and larger cargo volume than the "bigger" Outback. Maybe there is a desire to position the new CX-50 closer to the Outback than the Forester in the market? We will know for certain when Mazda releases the detailed specs later. One Mazda Facebook Club member put his impressions of the new CX-50 this way, "Definitely echoes an Outback but with Mazda styling. Not a bad thing." We cannot improve upon that one-line summary.
When Will the CX-50 Arrive From Mazda?
Mazda plans to introduce the all-new CX-50 SUV in the spring of 2022.
If you have any opinions you would like to share about Mazda's new CX-50 we invite you to do so in our comments section below. Please let us know if you own or have owned a Mazda or Subaru SUV.
John Goreham is a long-time New England Motor Press Association member and recovering engineer. John's interest in EVs goes back to 1990 when he designed the thermal control system for an EV battery as part of an academic team. After earning his mechanical engineering degree, John completed a marketing program at Northeastern University and worked with automotive component manufacturers, in the semiconductor industry, and in biotech. In addition to Torque News, John's work has appeared in print in dozens of American news outlets and he provides reviews to many vehicle shopping sites. You can follow John on TikTok @ToknCars, on Twitter, and view his credentials at Linkedin
Re-Publication. If you wish to re-use this content, please contact Torque News for terms and conditions.