If you are shopping for a new green vehicle, be sure to consider a plug-in hybrid-electric vehicle (PHEV). There are now great models available to suit a wide variety of tastes, from manufacturers such as Toyota, Hyundai, and Ford on the affordable side, to Lexus, BMW, Lincoln, and many others on the premium side. In fact, off-road enthusiasts are also finding out that the Jeep 4XE Wrangler and Grand Cherokee are among the best of their type.
Related Story: 5 Plug-in Hybrid EV Myths Battery-Electric Purists Wish Were True
Torque News was an early "adopter" of sorts when it comes to PHEVs. We have tested so many plug-in hybrids we've lost track of the list. We've drag raced PHEVs n closed courses and smoked similar gas-only models, gone off-pavement in many models such as the Wrangler 4XE and Toyota RAV4 Prime, and have driven many models back to back with their peers often enough to know that PHEVs are the best option for many drivers who wish to go green, save fuel, and also enjoy their time behind the wheel.
One of the first and most popular PHEV models is Toyota's Prius Prime. With an EPA-estimated 133 MPGe, it is more efficient than many electric vehicle models and has a cost of ownership lower than nearly every battery-electric vehicle (BEV.) Best of all, the Prius Prime is now one of the most proven-reliable green vehicles in history, according to Consumer Reports' data.
Related Story: Truth Unplugged - Data Helps Disprove Critics' Main Complaint About Plug-In Hybrids
We can sing the praises of PHEVs all day long but want to offer up a summary written by the owner of a six-year-old Prius Prime. We saw a post by Edward Louie, a member of the Facebook Prius Prime Owners' Club, and asked Mr. Louie if we could share his words and image. He kindly agreed. Without further delay, please find his post below.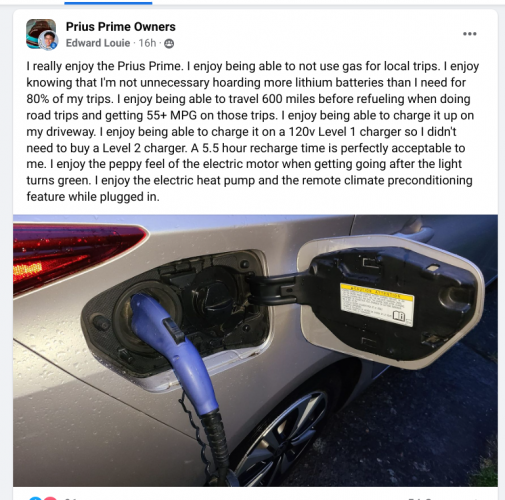 Mr. Louie touches on some ownership facts that are hard to dispute if you are a fan of green vehicles, reducing emissions, and driving electric. Here is a quick punch list:
-PHEVs make more efficient use of limited EV battery capacity than BEVs.
-PHEVs can be driven locally using only battery power for most owners.
-PHEVs have double the range of similarly-priced battery-electric vehicles.
-PHEVs require no special infrastructure and can be charged anywhere.
-PHEVs are more enjoyable to drive than conventionally-powered cars.
-PHEVs are never "Gas-only" vehicles. They operate as super-efficient hybrids when they are not in EV mode.
Fuel prices are the talk of the town today, and with gas prices well above $5.00 per gallon in many areas, a vehicle with an EPA-estimated average weekly energy cost of just $16 is an option too important to pass up. And plug-in hybrids are popular options. Toyota has delivered more Prius Prime PHEVs in 2022 than Volkswagen has delivered ID.4 BEVs. At a much lower cost of ownership.
If you have a question about plug-in hybrids, feel free to post it in the comments section below, and we will try hard to answer it.
Top of page Prius Prime image courtesy of Toyota media support.
John Goreham is a long-time New England Motor Press Association member and recovering engineer. John's interest in EVs goes back to 1990 when he designed the thermal control system for an EV battery as part of an academic team. After earning his mechanical engineering degree, John completed a marketing program at Northeastern University and worked with automotive component manufacturers, in the semiconductor industry, and in biotech. In addition to Torque News, John's work has appeared in print in dozens of American news outlets and he provides reviews to many vehicle shopping sites. You can follow John on TikTok @ToknCars, on Twitter, and view his credentials at Linkedin
Re-Publication. If you wish to re-use this content, please contact Torque News for terms and conditions.