The affordable battery-electric crossover vehicle market in America collapsed in the first half of 2022. The number of such vehicles delivered is ridiculously low. While all automakers are struggling with shortages of key components, battery-electric vehicles (BEVs) continue to further suffer from battery supply chain constraints and also odd and unexpected failures leading to their recall. Without further delay, here are the numbers: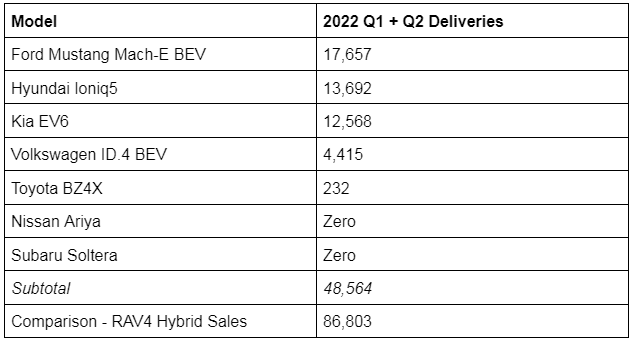 One Hybrid AWD Crossover Outsold The Entire U.S. Affordable BEV Crossover Market
By contrast to the utter failure of automakers to provide an affordable AWD crossover powered by batteries, Toyota's RAV4 Hybrid outsold the entire list of BEVs combined in the first half of 2022 by nearly 2 to 1. And that is just one of the many AWD crossover models that Toyota sold in America this year. It has sold about 60,000 other AWD hybrid crossovers. The 87K RAV4 Hybrids Toyota sold do not include the 10K plug-in hybrid-electric RAV4 Primes it also delivered.
Not All BEV Crossovers Are AWD
The numbers of battery-electric crossovers we have listed above include all powertrains of the model listed. AWD is optional on the Mustang Mach-E, Ioniq5, EV6, BZ4X, and ID.4. We don't have a breakdown of the number that ship as 2WD vehicles to share, but the math doesn't get any better. Every RAV4 Hybrid is AWD.
Why Focus On AWD Crossovers?
Crossovers the size of the RAV4 and CR-V are the largest segment of the U.S. auto industry. Families and private buyers purchase this configuration of automobile in greater numbers than any other vehicle available. It is the default family and commuter vehicle in America.
Wait, Wait, What About Tesla?
Tesla makes fantastic vehicles, but Tesla does not produce an affordable AWD crossover. The Tesla Model Y is the company's least expensive crossover starting at $67,440, and is by no means an "affordable" vehicle for the majority of American shoppers. Tesla does enjoy a very high volume of sales in the luxury-priced crossover segment in which it leads. We wish Tesla nothing but continued success and hope that the company someday produces a crossover attainable by most shoppers.
Wait, Wait, What About the Chevy Bolt EUV?
The Chevrolet Bolt EUV is one of our favorite battery-electric vehicles overall. It is very affordable, it is for sale again after being pulled from the market for many months (as we said above, odd recalls), and is a joy to drive. Overall, it is one of our favorite vehicles of any type based on our first-hand testing. However, it is not offered in AWD, and GM rolls its delivery numbers into the overall Bolt model line which only totaled 7,303 units in the first half of 2022.

Conclusion - The Numbers Don't Support Widespread EV Adoption In America This Decade
Buyer interest is not the problem for battery-electric crossovers. Those that automakers can produce are immediately sold or have months-long waiting lists. This has been true for years. For battery-electric vehicles to succeed in replacing hybrids as the green vehicle choice in America, the volume of deliveries needs to double. To begin replacing conventional crossovers in terms of deliveries, BEVs would need to increase in delivery volume by a factor of at least 10X per model. Despite the frequent press releases reported in the media about added EV capacity being built out, the country is a decade or more from the point where affordable EVs in the style Americans choose will truly be a viable option for shoppers who seem intent on making the switch.
Image of Hyundai Ioniq by John Goreham
John Goreham is a long-time New England Motor Press Association member and recovering engineer. John's interest in EVs goes back to 1990 when he designed the thermal control system for an EV battery as part of an academic team. After earning his mechanical engineering degree, John completed a marketing program at Northeastern University and worked with automotive component manufacturers, in the semiconductor industry, and in biotech. In addition to Torque News, John's work has appeared in print in dozens of American news outlets and he provides reviews to many vehicle shopping sites. You can follow John on TikTok @ToknCars, on Twitter, and view his credentials at Linkedin
Re-Publication. If you wish to re-use this content, please contact Torque News for terms and conditions.