Dealers across America are ramping up their ability to serve the needs of their future customers. Ford's dealership network is a key strength in the company's electrification plan. To gain a full understanding of how dealers are embracing Ford's electric future, we hit the road and got a first-hand look.

We visited with Acton Ford, a Metro Boston-area Ford dealership, to learn how Ford dealers are adding to their already solid ability to provide electric vehicle drivers with an outstanding ownership experience. Chris Abatsis, the General Manager of Acton Ford, offered us a tour of the facility ahead of a public open house planned for early this coming year.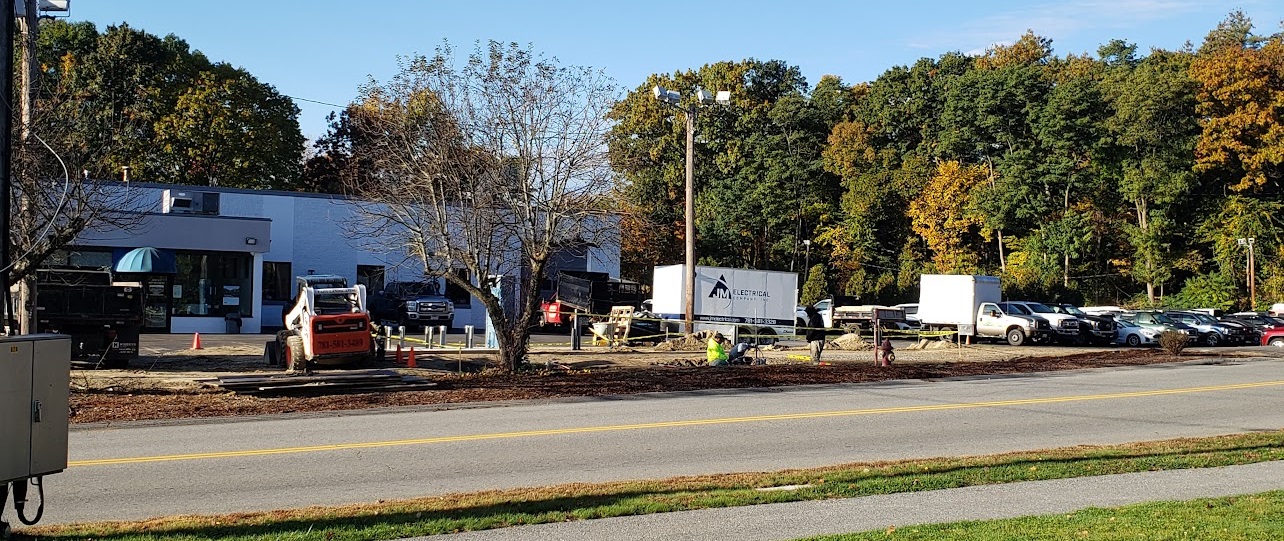 Ford Dealer Will Have 23 EV Charger Points In Total
Drive past Acton Ford, and you will notice two main things: electric vehicles featured at the front and center of the lot and a lot of construction. The EVs are Mustang Mach-Es, F-150 Lighting pickups, and E-Transit work and delivery vehicles. The construction is a project intended to support the needs of the new owners of those vehicles and future vehicles to come.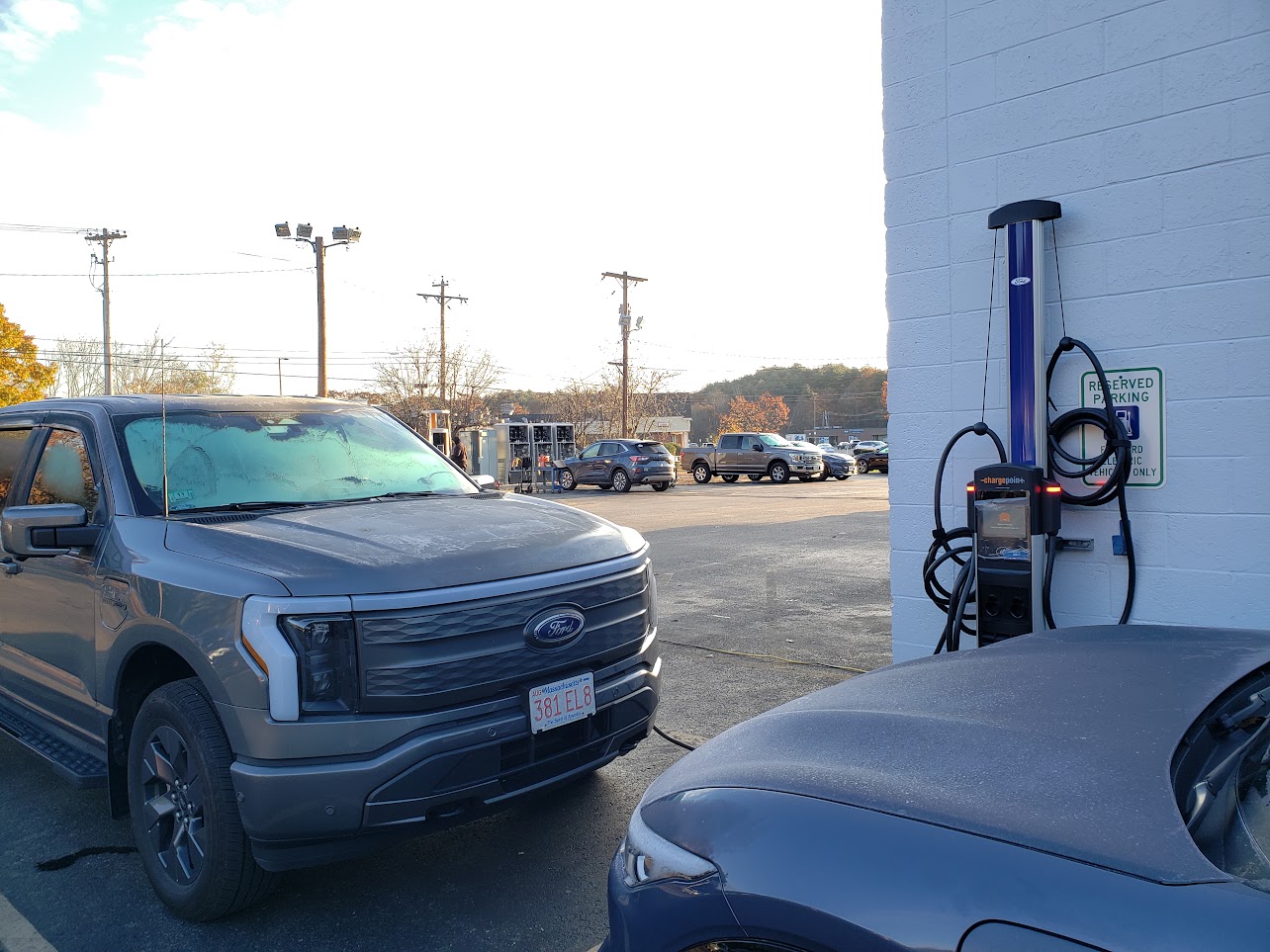 Acton Ford has, for quite some time, had a pair of Level 2 ChargePoint EV chargers. This is typical of what we see when we visit new car dealers around New England. The neighboring Subaru Dealer has one. Another local dealer of another brand has none, perhaps since they offer no EVs. 

A pair of Level 2 chargers were certainly enough during the early evolution of Ford's EV fleet, starting with the Fusion Energi, C-MAX Energi, and Escape plug-in hybrid-electric vehicle. However, with the Mustang Mach-E maintaining a rate of over 3,000 units delivered per month and the F-150 Lightning quickly gaining popularity, this Metro Boston dealership knew it needed to make a big move.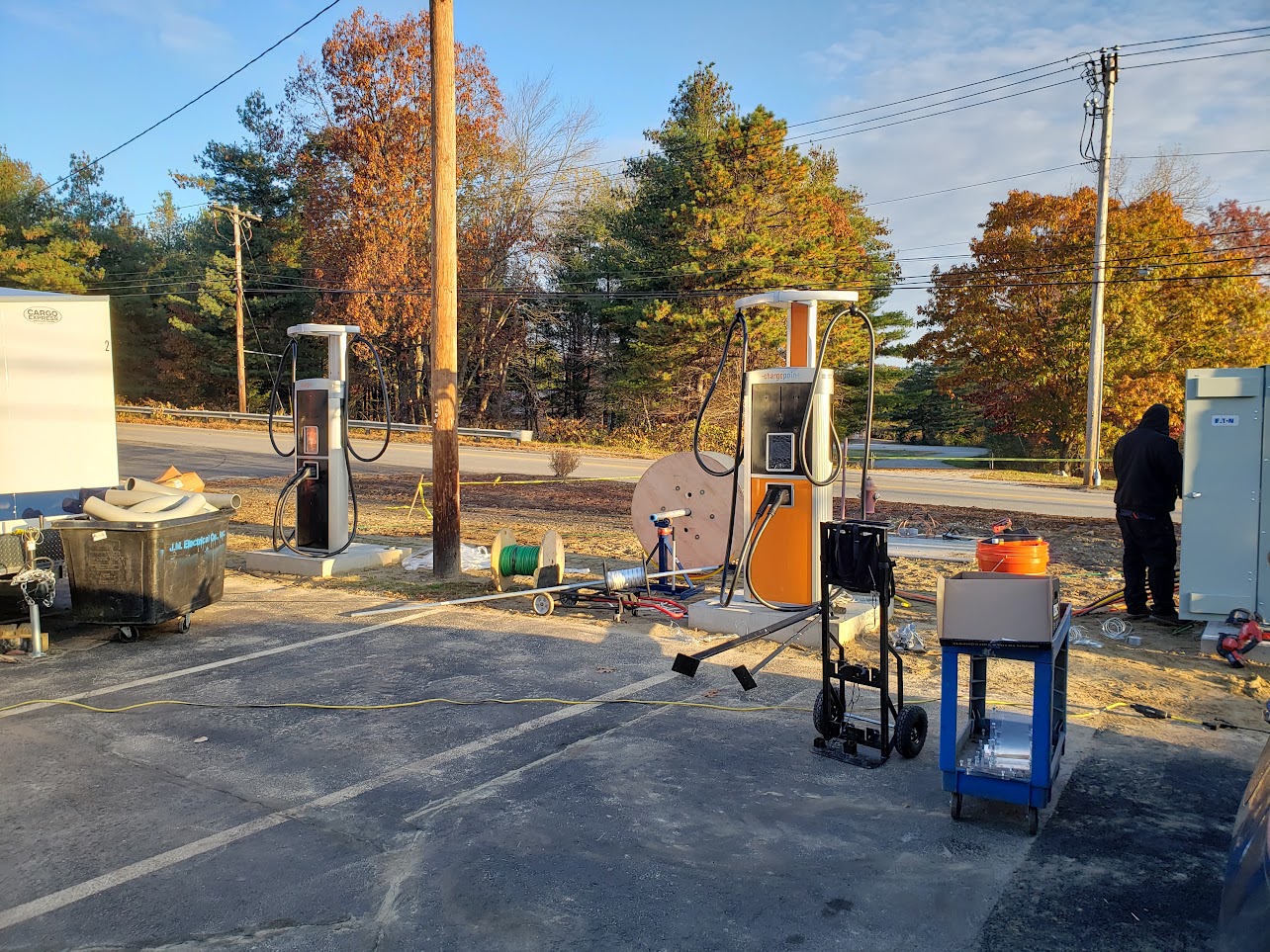 At the street-side main entrance, Acton Ford is adding three 120 kW Dual Port DC Fast Chargers. This will result in six public-facing charge ports available through the Blue Oval Charge Network and Chargepoint. Chargers of this type allow a battery-electric vehicle to gain significant charge in a matter of minutes.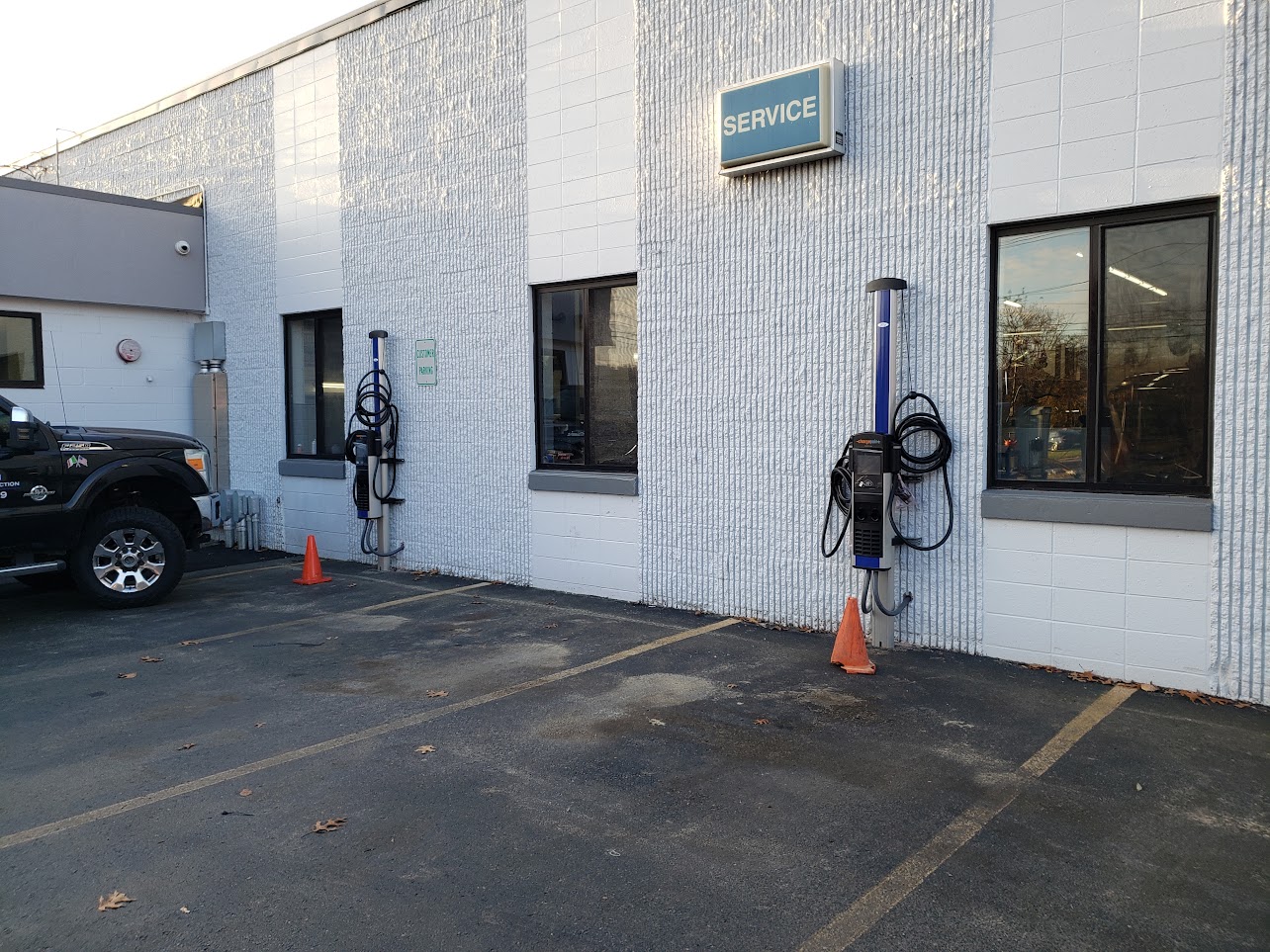 In addition, Acton Ford is installing three 19.2 kW  Level 2 chargers. Because they feature dual plugs, these will create six additional public-facing charge ports for the public via the same networks. Included in the total of six charge ports is one dedicated handicap charge port. The older Level 2 units will be decommissioned. 

The biggest surprise we had when we visited Acton Ford was what was going on inside the service area. "We're adding 11 NEMA 14-50 outlets for use by our technicians servicing customers' vehicles," says Mr. Abatsis. "Our plan is to add a bit of charge to customers' vehicles while the vehicle is in our facility for maintenance or repairs so they leave with a bit more charge than they arrived with." Without divulging Acton Ford's secret plans, we can say that the service area will have a novel way to bring Level 2 charging to the vehicle occupying any of its many service bays. 

When completed in December, Acton Ford will offer the most EV chargers in one location for many miles around. The DC Fast Chargers and outside Level 2 chargers are not exclusively for use by Acton Ford customers or even for those who drive a Ford.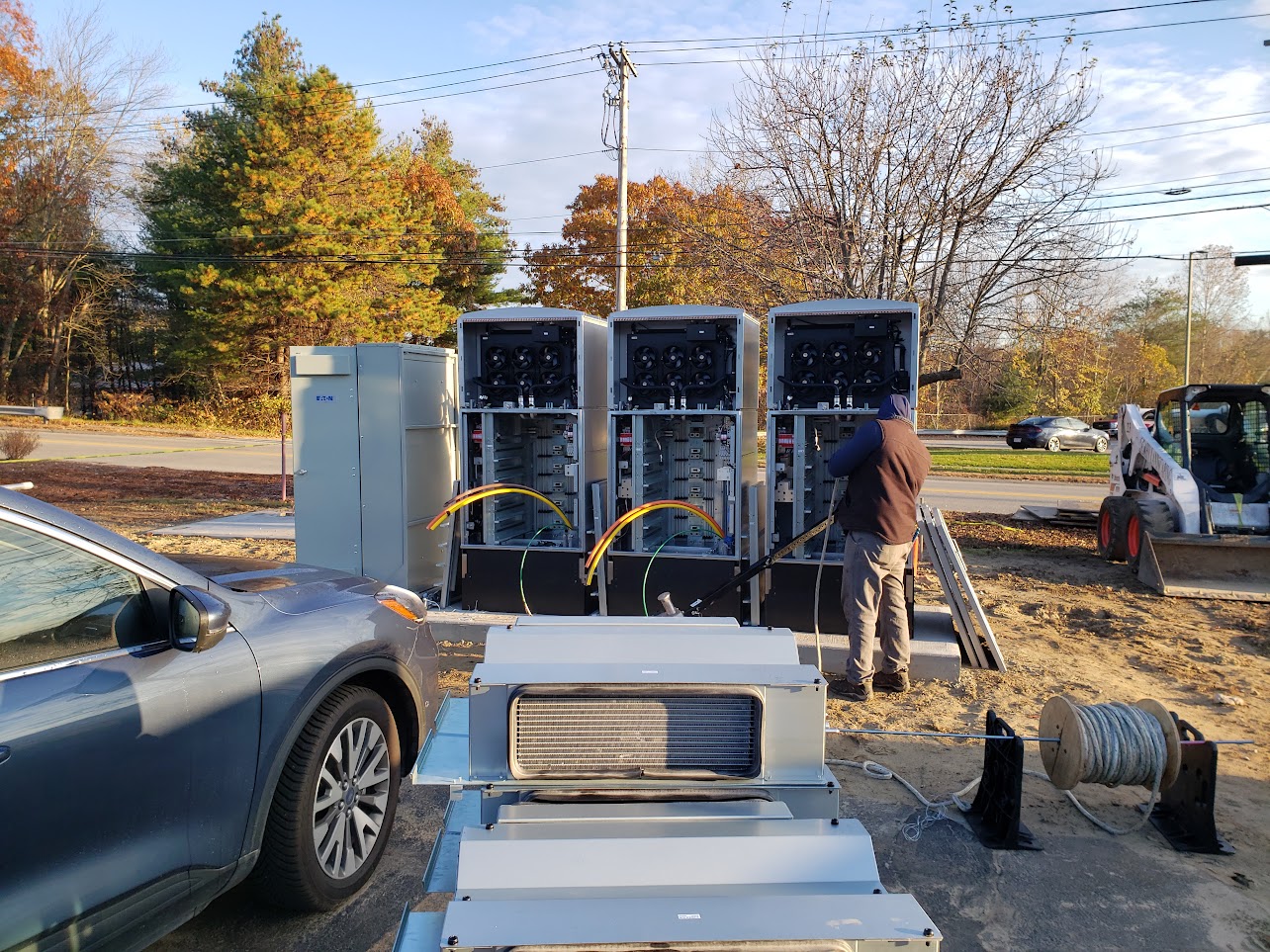 Dealership EV Chargers - A Massive Infrastructure Undertaking
We have been watching as Acton Ford's project unfolded. Now in its fourth month, the project will take about six in total. The project includes a general contractor, electrical contractor, excavation workers, concrete company assistance, landscaping, paving, and the local utility provider's close cooperation. 

Outside, the local electrical utility is having to add a new pole, transmission line extensions, and transformers to handle the 480-volt power delivery. Inside, Acton Ford is upgrading its facility from 400-amp service to 800-amp service. Additionally, Acton Ford is performing a large-scale power distribution project to enable its novel point-of-use Level 2 charging throughout the service area.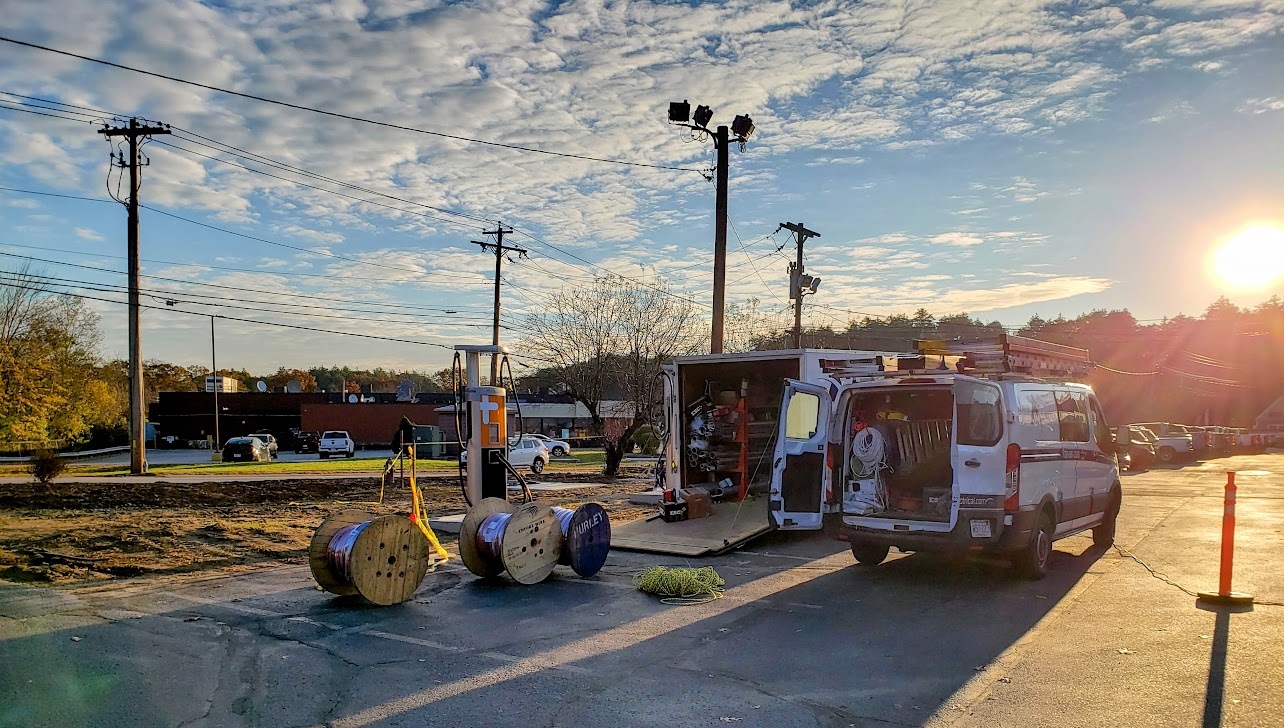 Dealership EV Charger Install - Significant Investment
"This is a significant investment for a company of our size," says Mr. Abatsis. While we didn't probe for more details on the finances, it is clear that this project is one of the most significant facility investments happening in this affluent Metro West Boston suburb. 

"We are not doing this for the present but rather for the future," says Mr. Abatsis. "Ford has a roadmap to electrification, including many exciting new vehicles not presently on the market. We want to be ready to service the buyers of Ford EVs into the future." 

Charging Costs
Managing the ever-increasing costs of charging electric vehicles is important to Acton Ford, who already knows how the payment for the electricity will be managed via the Blue Oval Charge Network. "We don't plan to bill our service customers to add to their EV's state of charge," says Mr. Abatsis. "Ford customers will be able to stop in and use the DC Fast Chargers and Level 2 chargers using their included charging credits. When those are expended, the Ford Pass app will allow for pay-as-you-go charging without needing a special App. Those customers who stop in that don't drive a Ford will use their ChargePoint app for payment."

Ford Model e Certified Elite Dealers
A while back, Ford worked with its dealer network to offer them three paths forward. One path is to remain a dealer of the traditional portfolio of Ford vehicles. The second was to become a Model E Certified dealer, and the final level was Model E Certified Elite Dealer. This was the path that Acton Ford chose. "For us, here servicing in the Concord, Acton, Maynard area, it was a no-brainer since our local community is so enthusiastic about EVs," said Mr. Abatsis. The Model E Certified Elite Dealer program requires certain upgrades to the dealership as well as specific commitments to training and business practices. Estimates by other publications point to a dollar investment of well over a million dollars for those dealers that opt into the Model E Certified Elite Dealer.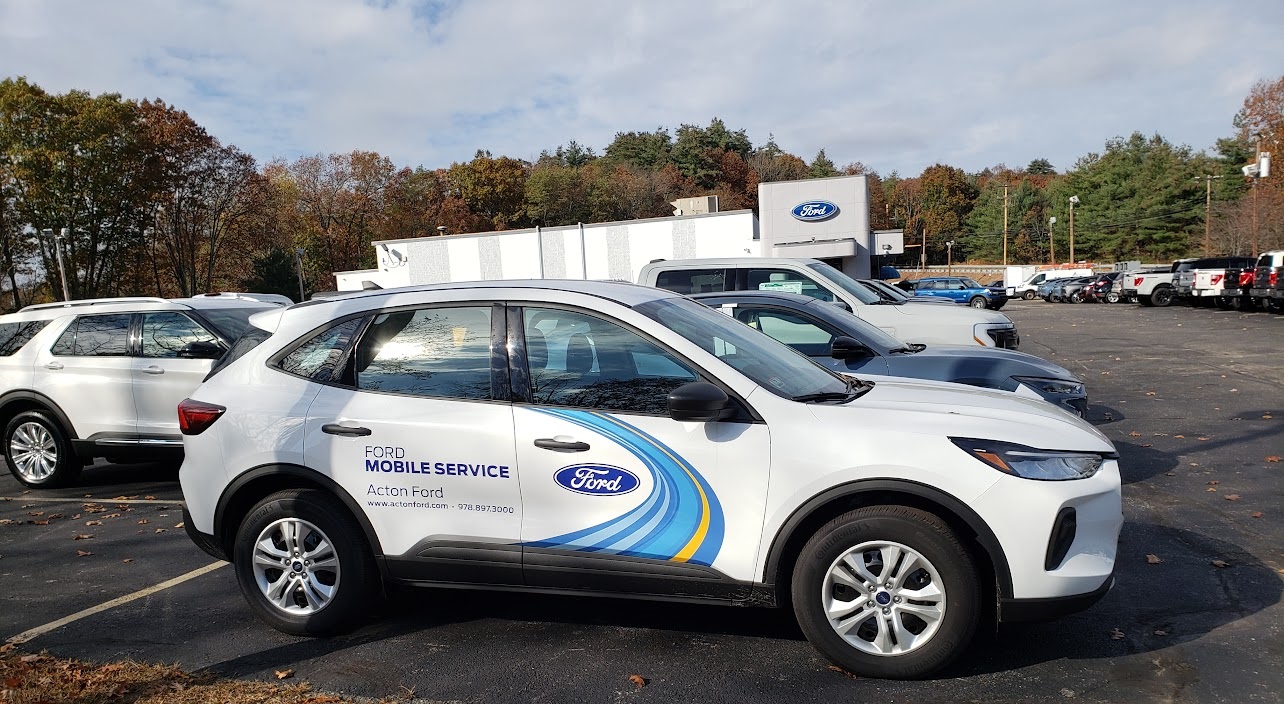 Leveraging Service Capacity In New Ways
One way that Acton Ford is helping to serve all of its customers, but EV owners in particular, is with new approaches to service. Now that software updates are so popular, Ford owners can update their vehicles via Wi-Fi at home. However, some updates are better done via other methods. "We added the mobile service vehicle a while back, and it has turned out to be a big success," said Mr. Abatis. "We also offer pickup and delivery of vehicles in need of service." While you may have heard of such services from luxury brands and luxury-priced EV brands, it is clear that other dealers are adopting the best practices, and Acton Ford is now offering these once luxury-brand-only services.

Being an EV Provider Goes Beyond Convenient Charging
When EVs first started, it was difficult for traditional brands to match the EV focus that some new EV-only brands had. This led to a bad reputation for dealership employees who were not on the same page as early adopter EV enthusiasts. That reputation needs to be put to rest. One thing that quickly became clear to me while speaking with Mr. Abatsis was that he is an EV expert. He doesn't mistake kW for kWh, and he knows the important differences between DC Fast charger levels and which vehicles can charge at what rate.

"For us, investing in EVs means sales-side employee training, service-side training, special tools, changes to our facility, and changes to the way we provide a great customer experience," said Chris Abatsis. "We've been in business for over 30 years here, and we plan to stay at the leading edge of the automotive industry."
 

Images by John Goreham

John Goreham is an experienced New England Motor Press Association member and expert vehicle tester. John completed an engineering program with a focus on electric vehicles, followed by two decades of work in high-tech, biopharma, and the automotive supply chain before becoming a news contributor. In addition to his eleven years of work at Torque News, John has published thousands of articles and reviews at American news outlets. He is known for offering unfiltered opinions on vehicle topics. You can follow John on Twitter, and connect with him at Linkedin.