News media, first responders, and the occupant of a Tesla Model S Plaid are reporting that the just-released vehicle caught fire and that the occupant had difficulty exiting the vehicle due to the door's design. CNBC reports that the fire occurred in Haverford, Pennsylvania on June 29th. The news outlet also quoted the local chief fire officer of the Lower Merion Township Fire Department as saying that the driver was at the wheel when the fire erupted.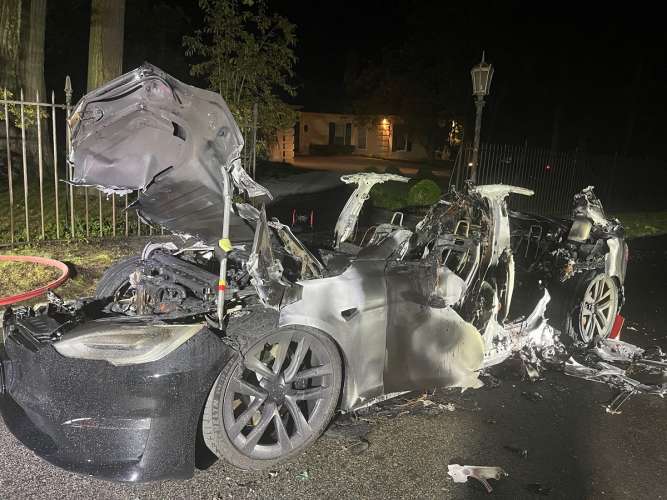 The report also adds that the driver "...had to force his way out of the vehicle, as the locks seemed to malfunction." This sounds a lot like the well-documented reports of a Tesla Model 3 that caught fire following a crash. In that Tesla fire example, people on-scene were unable to open the vehicle's doors and the occupant perished.
Details of this latest Tesla vehicle fire are relatively limited at this time. Other outlets reporting this event include the Washington Post, Reuters, Elektrek, and Inside EVs. Check back for more details as they become available.
The Tesla Model S Plaid trim is Tesla's latest six-figure halo vehicle, and was only just released this past month. Deliveries began at the Freemont plant three weeks ago in very limited numbers.
Tesla Model S Plaid Fire images courtesy of Geragos & Geragos, Los Angeles, California.
John Goreham is a long-time New England Motor Press Association member and recovering engineer. John's interest in EVs goes back to 1990 when he designed the thermal control system for an EV battery as part of an academic team. After earning his mechanical engineering degree, John completed a marketing program at Northeastern University and worked with automotive component manufacturers, in the semiconductor industry, and in biotech. In addition to Torque News, John's work has appeared in print in dozens of American newspapers and he provides reviews to many vehicle shopping sites. You can follow John on TikTok @ToknCars, on Twitter, and view his credentials at Linkedin