Falken WildPeak A/T Trail Long-Term Review Wrap-Up - MPG Surprise
It's been nearly a year since we began testing the Falken WildPeak A/T Trail tires on a five-passenger crossover SUV in our Torque News fleet. All is well, and we are very happy with the tires. However, we felt a wrap-up report was warranted based on the fuel efficiency change we have observed while using the tires. The biggest change we didn't see coming is that our MPG has gone up noticeably by comparison to our winter Bridgestone Blizzaks.
Here is a listing of our Prior Falken WildPeak A/T Trail reports.
Falken WildPeak A/T Trail Tire Review - Initial Impressions
See Our 1,000 Mile Test UPDATE Here
Falken WildPeak A/T 3W Tire Winter Testing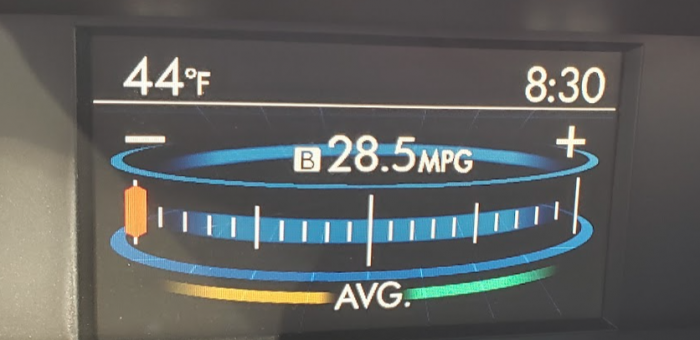 Falken WildPeak A/T Trail - MPG Changes
Having driven about 4,000 miles with the vehicle and recording our MPG all along, we have seen the mileage of our five-passenger AWD crossover rise this winter. We have kept the tire pressure at the manufacturer's recommended setpoint, and our driving style and routes have remained pretty much the same as well.
We had previously recorded a fuel efficiency rating of 26.7 MPG in winter on winter-rated Blizzaks with this vehicle. After switching to the new Falken WildPeak A/T Trail, we have seen our winter MPG rise to 28.5. We mounted the Falkens in April of last year in early spring. After a few hundred miles, we recorded a slight dip in efficiency to 26.4 MPG. The MPG rose back up to 27.3 MPG over the summer and fall. Having nearly completed this full winter, the average has continued to go up. We have not quite matched the 29.7 MPG we had recorded with the OEM all-season tires in summer and fall, but during this past summer, we had many road trips with MPG exceeding 30.
Test Vehicle's EPA-Estimates vs. Actual With New Tires
The test vehicle we are using has an EPA-Estimated fuel economy of 25 Combined, 27 Highway, and 23 City. It is pretty clear that our vehicle, with its Falken WildPeak A/T Trail tires, has certainly beaten those numbers. With a 1-year average of 28.5 MPG covering all four seasons, it is clear the Falken WildPeak A/T Trail tires come with no fuel economy penalty.
Subjective Observations - Handling - Noise - Vibrations - Off Pavement - Snow and Ice
With four seasons under our belt, we can now confidently draw some conclusions. Here are some quick parameters we have been taking note of.
On-Road Handling - Better than the Blizzaks, slightly less crisp in cornering and steering than the OEM all-season tires.
Highway Vibration - The Falken tires seem to be just a smidge less smooth than the OEM all-seasons despite a proper balance on high-tech equipment.
Noise - Equal to the OEM All-seasons and way less than the winter Blizzaks, which hummed loudly.
Rain and Standing Water - The original tires the manufacturer supplied felt almost dangerous in heavy rain. Standing water gave us fits of terror when we hydroplaned unexpectedly multiple times in situations where it was just not to be expected. The Falken WildPeak tires, by contrast, seemed better than "normal." No hydroplaning, and at low temps, say between 30 and 35 Fahrenheit, the Falkens offered dramatically better grip on rain-soaked pavement than did the OEM tires.
Confidence Off-Pavement - We have done a lot of off-pavement driving with the Falken WildPeak A/T Trail tires, mostly on poorly maintained private dirt roads in rural New Hampshire. Here, the Falken tires shine. Over deep ruts, washboard surfaces, and when slamming into holes made by the winter freeze-thaw cycle, the Falken WildPeak A/T Trail tires are smoother and more resilient than the OEM tires by a country mile. We have much less fear of a sidewall bulge or puncture with the A/T Trail construction. Over spring and fall mud with a frozen substrate under mud the consistency of chocolate ice cream, the Falkens are brilliant.
Snow - Our winter has been a mild one, so we have not had much chance to drive on snow. However, we did some, and the Falken WildPeak A/T Trail tires seemed great. Soft snow, deep snow, and powder are no problem. We would rate the Falken tires as near-equals to the Blizzaks in this specific set of winter conditions.
Ice- The Falken WildPeak A/T Trail tires do not match the grip of the Blizzak winter tires on wet snow over ice, but they are much much better than the OEM all-season tires were. Over sheet ice, the Falkens are not bad, but not nearly as good as the Blizzaks. We would call the original OEM tires downright dangerous on ice, so the Falkens are much better than the stock rubber. In our area of rural New England many of the residents who need to go out in all weather ocnditions actually use studded winter tires. So dedicated winter rubber is still not the final step to take. Short of studs, we feel the Falken WildPeak A/T Trail tires are a wise way to avoid having two sets of tires in need of swapping.
Falken WildPeak A/T Trail Tread Wear Over 4,000 Miles
Over the approximately 4,000 miles of driving we did, the Falken tires wore to a measured tread depth of just over 7mm or 9/32s of an inch. The tires have a nominal new tread depth of 11/32s. We offer this as an observation more than any sort of conclusion. Treadwear should not be expected to be linear over miles accumulated, nor is treadwear observed on one vehicle a determination of what your treadwear will be. Suffice it to say, we observed no unusually-rapid treadwear.
Suddenly Falken Wildpeak Tires Are EVERYWHERE
We participate and act as administrators in dozens of automobile clubs on social media. Since Falken earned the OEM tire orders for vehicles like the Ford Bronco Sport, Toyota RAV4 Hybrid Woodland Edition, and the Mazda CX-50 Meridian, we have seen a big surge in owners of similar vehicles opting to fit Falken WildPeak A/T Trail tires to their own crossover SUVs. The consensus is that these are the new hot tire for anyone who wants better off-pavement performance and who wishes to stop using dedicated winter rubber they then need to deal with twice per year. For our overlanding friends in the high desert states, these seem perfect, and we see videos on YouTube all the time with overlanders using the WildPeak A/T Trail over sand, scrub, and snow.
Falken WildPeak A/T Trail - Our Final Conclusion
We would recommend the Falken WildPeak A/T Trail tire to any crossover or SUV owner who plans to drive where the pavement ends and who is looking for very solid winter performance. Given that these tires cost less than the OEM tires, and since they offer outstanding fuel economy compared to any tire choice, there is simply no financial reason not to opt for them. Also, we love the handling, added confidence, and looks of the Falken WildPeak A/T Trail on our five-passenger crossover SUV. Our three-word summary of the Falken WildPeak A/T Trail would be "two thumbs up!"
Images by John Goreham.
Test Note: The tires in this story were supplied by Falken. Torque News offered to return them following our testing. Mounting, balancing, and alignment were paid for at the author's expense.
John Goreham is an experienced New England Motor Press Association member and expert vehicle tester. John completed an engineering program with a focus on electric vehicles, followed by two decades of work in high-tech, biopharma, and the automotive supply chain before becoming a news contributor. In addition to his ten years of work at Torque News, John has published thousands of articles and reviews at American news outlets. He is known for offering unfiltered opinions on vehicle topics. You can follow John on Twitter, and TikTok @ToknCars, and view his credentials at Linkedin