As battery-electric vehicles catch on, those who are accustomed to towing a large camping trailer on road trips will need to adapt. A trailer behind a battery-electric vehicle (BEV) can present some unique challenges. The trailer makes charging a bit more cumbersome in most public charging scenarios, and the weight and wind resistance of a towed trailer reduces range. SylvanSport aims to make towing a camping trailer more practical for battery-electric vehicles with its new GO.
The GO is a lightweight towable pop-up tent camper that sleeps 4+. To improve towing performance behind a BEV, SylvanSport started with a tubular TIG-welded aluminum design. Next, the company designed the trailer to sit low to the ground. In addition to the lower center of gravity this affords the design, it lowers the top of the trailer to improve aerodynamics. Finally, SylvanSport designed the top of the camper shell to smoothly channel airflow.
Related Story: Plug-In Hybrid Crossovers Are Better At Towing Than Battery-Electric Vehicles Like Tesla's Model Y
In addition to being a camper that can stand alone or be used with a hatchback vehicle to expand the sleeping area, the GO is also a sturdy cargo hauler. When collapsed and ready for the road, the camper shell sits at the top, leaving a cargo area below for your gear. In combination with a vehicle like a Tesla Model Y or Model X, the added cargo volume can add up to that of a full-size SUV.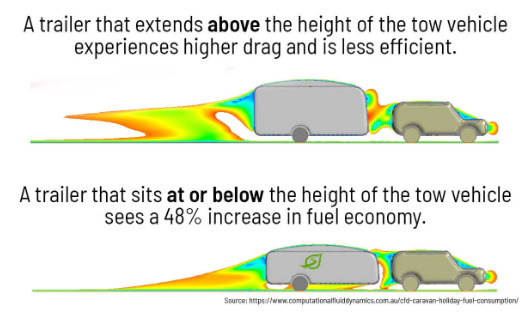 While traveling with the frame in its lowest position, the top is only 52-inches from the ground. That's about a foot lower than the roof of a Tesla Model Y. This keeps the trailer low and out of the airstream to a large degree. However, for a shorter trip, the frame expands and can accommodate e-bikes, or even a small ATV.
The video below has an interesting comparison of the efficiency of a Chevy Bolt with and without the trailer. Watch it to see how little extra energy hauling the trailer in the real world requires.
The GO starts at around $11K and is available in three main packages. The base GO, the GO Big, and the GO All Out package. We have not yet tested the SylvanSport GO, but if you have please feel free to tell us about it in the comments below.
Images of GO supplied by SylvanSport.
John Goreham is a long-time New England Motor Press Association member and recovering engineer. John's interest in EVs goes back to 1990 when he designed the thermal control system for an EV battery as part of an academic team. After earning his mechanical engineering degree, John completed a marketing program at Northeastern University and worked with automotive component manufacturers, in the semiconductor industry, and in biotech. In addition to Torque News, John's work has appeared in print in dozens of American news outlets and he provides reviews to many vehicle shopping sites. You can follow John on TikTok @ToknCars, on Twitter, and view his credentials at Linkedin
Re-Publication. If you wish to re-use this content, please contact Torque News for terms and conditions.