The BMW 4 Series is the ideal size for grand touring. No added fat, but large enough for comfort when on a long journey. The 430i Convertible has two doors and, is low to the ground, and shows as well as it goes. While the price tag seemed a bit of a surprise at first, after a week of testing in a variety of real-world situations, we think it's fair.
BMW 430i Convertible - What Is It?
The 430i Convertible is a drop-top two-door, four-passenger vehicle. The rear seats are small enough to discourage your kids or friends from tagging along on any long trips, but large enough to take another couple to dinner. They also work great as a parcel shelf.
The 430i is a rear-drive car. This means the steering is optimized since the front tires don't also pull you around. Our test vehicle came with summer-only low-profile performance tires, which means that you need to swap them out for winter driving, or live in a warm area, or garage the car when temps drop below about 40F. We recommend option two.
BMW 430i Convertible - What Powers It?
BMW drops its ubiquitous 2.0-liter turbocharged inline four-cylinder gas engine into the 430i. It is partnered with an 8-speed automatic transmission. If you want your BMW convertible grand touring car to out-sprint a Tesla Model 3 Performance, this isn't going to satisfy that desire. However, if you want a car that has plenty of power in all normal conditions, plus enough to make your face ache from smiling on a lonely back-country road while flicking shifters in Sport Mode, it certainly will. Having tested the M440i this past summer on a closed course, we were wishing this car had the mild hybrid's added torque.
In our testing, we had mixed feelings about the powertrain. The reason is that we have been testing a lot of electric vehicles lately, either plug-in hybrids or battery-electrics. Both types offer instant and very satisfying torque. Blown four-bangers really don't. We've also recently tested a few muscle cars with crazy supercharged engines in this car's approximate price range that can peel the rubber off the rims (that's not a joke). So, you will need to be cool with a BMW that has an engine a lot like the Honda Accord's to buy this car. Which we think you absolutely should do.
BMW 430i Convertible - Convertible-wise, How Does It Work?
BMW moved from a hard-top to a soft-top for this new 4 Series convertible and it was a great move. This is coming from the former owner of both types of convertibles. The soft-top on this 430i Convertible is a piece of art. The exterior is coated in something very special from Haartz Corp, the global leader in convertible soft top materials. Inside, the insulation and inner structure quality are just amazing. Once it is sealed up you'd swear it was a hard-top coupe inside. Putting the top up and down is typical for a car of this class. Quick is the right word.
Every convertible owner knows that summer is not the best season for such a car. Spring and fall are ideal. To extend the convertible days, heated seats and a heated steering wheel are a must. Our test car had them as part of the $2,300 Premium Package. The car also featured neck warmers which add $500 to the price tag. Together they work so well that a 50-degree day is perfectly comfortable with the top down. We couldn't find our tester's wind-blocker so we didn't use it. Still, inside the car it was always wind-free. Even up to highway speeds you can take a quick hands-free call with the top down and have a quick yes-or-no conversation. Around town, the car is so quiet when the side glass is up you can speak with a passenger without shouting.
BMW 430i Convertible - How Does It Drive?
The 430i Convertible we tested had the $4,300 M Sport steering package and the $2,450 Dynamic Handling Package. In conjunction with a stiff chassis and BMW's typical perfect suspension tuning, the car handles like a dream. It's stiff over some bumps, but not in a way any typical owner will mind. Corners are fun, braking is outstanding. It is hard to imagine how much better a grand touring convertible could steer, corner, and stop. The 430i Convertible is a car that will have you taking the long way home every time.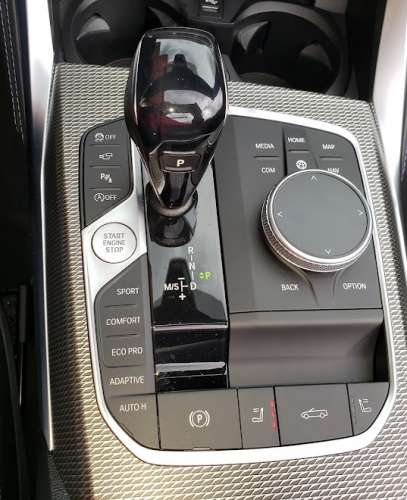 BMW 430i Convertible - Infotainment
Infotainment is more important in a grand touring convertible than in a typical everyday car (not less important as armchair car enthusiasts often mistakenly claim). Open top cars need an audio system with more punch since the acoustics are rubbish once the top is dropped. The optional $875 Harmon Kardon audio delivers. It is crystal clear and has deep punchy bass even on the highway with the top open.
The center console, touch screen, wireless Android Auto and Apple CarPlay, head-up display, driver information display, cupholders, climate control, drive mode controls, and phone charging tray are all perfect. BMW should send pictures to every automaker and say, "This." We've never tested a car with a better setup.
BMW 430i Convertible - What's Missing
To this former owner of two grand touring cars, one almost identically spec'd as this one, the lack of a compact spare tire or run-flats is a concern. Normally, we are not fans of run-flat tires. However, if you are going to intentionally point this car at the horizon with the plan of wandering around lost for part of a weekend in rural wherever, a flat tire is a big problem. More so now that COVID and a tight labor force mean AAA, rideshare, and roadside assistance are all iffy at best. How often do people get flats in the real world? This author has had three in the past month and five this year. In one case, the tire was destroyed by a rock. The Lexus found a way to stash a spare in the similary-sized IS 350C. BMW could too. Or at least provide run-flats as a bad second option. That is the end of our list of imperfections.
BMW 430i Convertible - Conclusion
Many reviews at enthusiast publications end with something like, "This one we tested had a lot of pricey options, but you can get one that feels just like it for much less." At least in this car's case, that is not true. You need the heated seats, heated steering wheel, and neck warmer. You need the up-powered audio. You need the special handling bits that lesser BMWs don't get for this car to do what it does so well. $67,220 (less dealer markups) is the price of near-perfection in a right-sized premium grand touring convertible in 2021. This car is worth every penny of that price.
John Goreham is a long-time New England Motor Press Association member and recovering engineer. John's interest in EVs goes back to 1990 when he designed the thermal control system for an EV battery as part of an academic team. After earning his mechanical engineering degree, John completed a marketing program at Northeastern University and worked with automotive component manufacturers, in the semiconductor industry, and in biotech. In addition to Torque News, John's work has appeared in print in dozens of American news outlets and he provides reviews to many vehicle shopping sites. You can follow John on TikTok @ToknCars, on Twitter, and view his credentials at Linkedin
Re-Publication. If you wish to re-use this content, please contact Torque News for terms and conditions.