3 Ways the New Mazda CX-50 Tops Subaru's Outback and Forester - 2 Ways It Doesn't
The Mazda CX-50 is all-new, and at first glance, it looks like Mazda stole Subaru's playbook. Although the CX-50 has just dropped, it is clear that the Subaru Outback and Forester will be competing for customers with the CX-50. The new CX-50 isn't here yet, so we will have to rely on our brand knowledge along with the bits of information that Mazda has supplied to make these predictions. Let's jump in feet first and compare and contrast these vehicles.
Related Story: Mazda CX-5 Ranked Higher Than Subaru Forester In New IIHS Side Crash Testing
Powertrains: Mazda CX-50 vs. Subaru Outback and Forester
One thing we know for certain is that the CX-50 is going to be available this spring with the two engines now used widely across Mazda's lineup. The first is a 2.5-liter four-cylinder with about 187 hp. This engine has a similar output to the base 2.5-liter engine in the Outback and Forester. Where they differ is in their design. Subaru uses a horizontally opposed (boxer) design, and Mazda uses the design every other brand does in this segment - an in-line 4-cylinder arrangement. The boxer offers a slightly lower center gravity possibility, but is it meaningful? The boxer allows for "symmetrical" AWD. But is it a meaningful difference? We think it depends on how much Subaru Kool-Aid you drink.
The CX-50 will also be available with the 2.5-liter turbocharged engine optional in the CX-5 and CX-30, but standard in the CX-9. It has a maximum torque of 310/320 lb-ft depending on fuel. Subaru's Outback has an optional turbo, but its torque is lower at 277 ft-lbs. The Forester has no turbo option. We consider the CX-50's higher available engine torque one way this new Mazda tops the Subaru wonder twins.
Subaru uses a CVT in all of its Outback and Forester trims. CVTs have a reputation for being frugal with regard to fuel, but less satisfying to drive than geared transmissions. In a recent test of the Outback Wilderness, the transmission was the only let down in this tester's opinion. A geared transmission is an advantage.
When we compare the current Turbo-equipped Outback and CX-5 Turbo, the Outback has an annual fuel cost advantage of $200. A $2,000 operating cost advantage over 150,000 miles is also a plus on Subaru's side of the argument. However, Mazda is promising to add a hybrid and an electrified CX-50 following its initial launch. These will have a definite advantage over the current Subaru Forester and Outback options in terms of fuel economy and carbon production. We will consider this a third advantage of the CX-50 over the Subaru line. Unless Subaru surprises us by delivering a hybrid.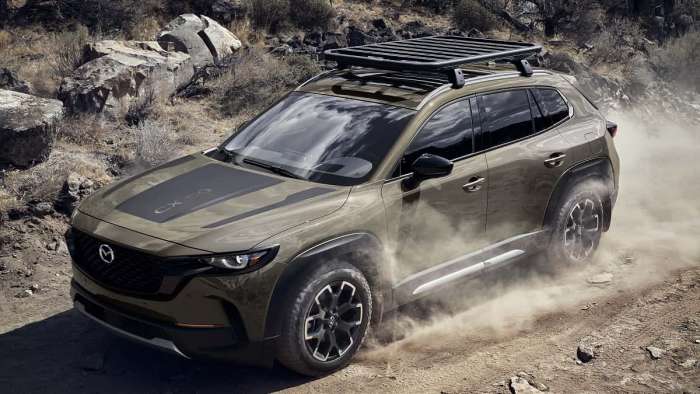 Mazda MX-50 vs.Subaru - Off-Road Capability
Mazda's CX-50 incorporates a drive mode selector called Mi-DRIVE. Unlike the Subaru and Toyota battery-electric vehicles coming in 2022, this Mazda does not get Subaru's X MODE drive selector software. Will it matter? It's hard to say if Subaru's dual X MODE is a big advantage. Yes, it is nice to have options, but Subarus were fantastic with regard to AWD before X MODE. On the flip side, some also struggle in off-road test videos despite the help of dual X MODE.
In any case, Mazda will have fewer options from which to choose. Mazda also has a lot less experience programming off-road AWD software than does Subaru, who is now on their thousandth generation (exaggerating). If Mazda's off-road capabilities trump Subaru's we would be shocked. So we are going to say that Mazda's CX-50 "doesn't" beat Subaru's AWD. Though this is a guess we feel will be hard to ever prove definitively.
Mazda MX-50 vs.Subaru - Snow
In the snow, Subarus are so good it is spooky. If you have one, you know. Unless we missed it, the CX-50 doesn't have a snow mode. So, Mazda's CX-50 is unlikely to top the Subaru line in this regard. Unless… Mazda does what Subaru has never done, and opts to put all-weather tires with the three-peak-mountain-snowflake rating on the vehicle as standard or package-optioned equipment. Something akin to the Michelin CrossClimate2 tire. This is getting fun! We will never bet against a Subaru in the snow if tires are equal, so snow capability is a second way that the MX-50 is not likely to top Subaru.
Mazda MX-50 vs.Subaru - Reliability
Mazda's existing CX-5 and CX-30 have a much better record of reliability than the Outback or Forester for the past two to five years according to Consumer Reports' owner-generated data. The CX-5 has a perfect score five years running. Mazda's CX-30 is just two years old and also has a perfect 5/5 score in both years. We predict that Mazda's reliability advantage will continue.
The match-ups are never-ending, but we'll hold off on appointing more wins to the CX-50 at this point since it is not yet being delivered. What do you think? Will the CX-50 help Mazda to capture some Subaru owners due to its known features and expected advantages? Tell us in the comments below.
Note: The author's household has enjoyed four Subarus, all purchased new, and two Mazdas purchased new. Presently a 2016 Forester and 2018 CX-5 reside in his garage. He cannot apologize for any unavoidable bias resulting from the ownership experience of these two great vehicles, each of which has clear strengths in their shared segment.
John Goreham is a long-time New England Motor Press Association member and recovering engineer. John's interest in EVs goes back to 1990 when he designed the thermal control system for an EV battery as part of an academic team. After earning his mechanical engineering degree, John completed a marketing program at Northeastern University and worked with automotive component manufacturers, in the semiconductor industry, and in biotech. In addition to Torque News, John's work has appeared in print in dozens of American news outlets and he provides reviews to many vehicle shopping sites. You can follow John on TikTok @ToknCars, on Twitter, and view his credentials at Linkedin
Re-Publication. If you wish to re-use this content, please contact Torque News for terms and conditions.