The 2019 Jeep Grand Cherokee Trailhawk is a rough and ready off-roader that is also supremely comfortable in all situations. One glance at the Trailhawk and you can see that it is built to go off-road or handle any road in any weather condition. Typically, that means a compromise on ride quality when the roads are smooth and dry. In the case of the Trailhawk, Jeep broke that rule.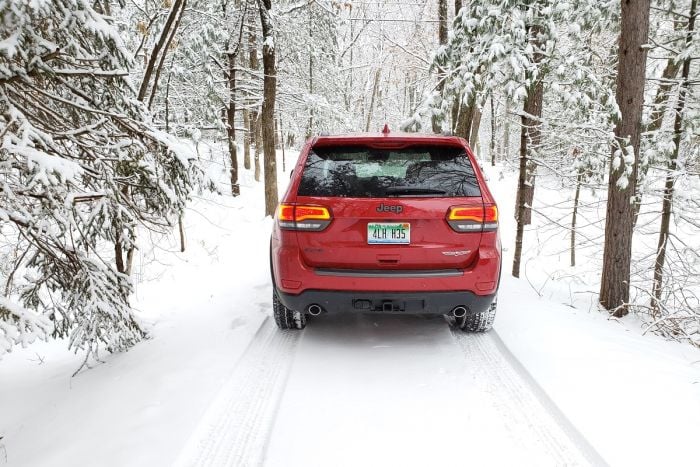 We tested the Jeep Grand Cherokee Trailhawk in pretty much every on-road condition in the few days of testing we had the vehicle. Before the snow hit, we drove the Jeep on suburban back roads and were impressed with the way it "drives smaller" than it is. By that we mean it feels responsive and turning and stopping the Grand Cherokee is enjoyable. It feels more compact than it is with regard to handling.


On the highway, the 2019 Jeep Grand Cherokee Trailhawk is at its most impressive (aside from in bad weather). The Jeep is very quiet and peaceful. The ride is smooth as glass and every instrument and part of the infotainment system is intuitive and easy to operate without looking. The Trailhawk trim takes away nothing from this luxury vehicle in terms of comfort. We can tell you from testing many other vehicles (the Toyota 4Runner TRD trims for example) that this is usually not the case. Most off-road trims of SUVs and crossovers are a hot mess on smooth roads.


We did get to test the Jeep in some winter conditions, but it was very uneventful, which is the highest possible compliment. The Jeep handles six inches of snow so well there is zero drama. Jeep's choice of Goodyear Wrangler with kevlar all-weather tires was the key. Unlike a 2019 Forester we tested just prior to the Jeep, the Trailhawk turns and stops in snow and ice very well. The multi-mode drive selector worked equally well in Auto and Snow. Traction was never an issue and when powering through the plowed-in end of our driveway the Jeep allows for wheel slip, rather than going nuts trying to use traction control to slow the engine. Perfect.


The Trailhawk trim has a heated steering wheel and heated and ventilated seats. Jeep has added a feature that allows for these to come back on automagically after you shut off and then restart the vehicle later. Every vehicle should have this.


Waterproof floor mats. If you ever test a vehicle with an off-road vibe without these you know you are in a pretender.
We did not have a chance to take the Jeep Grand Cherokee Trailhawk off-road, where its unique equipment list really makes it special. We will have to leave that for another test. Given its ride-height-adjustability and serious off-road equipment list, we have zero doubt it would be just as impressive in that scenario as well.
Price as Tested: $50,925 including options and destination charges.