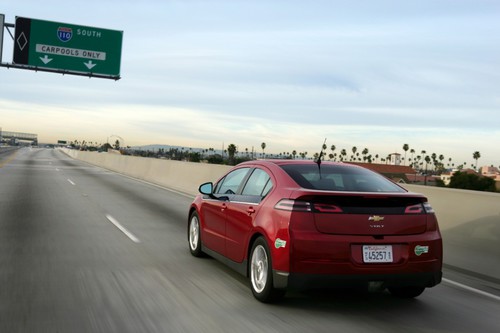 Green Cars have a clean little secret, according to the EDTA
Please
SHARE
with friends and include TorqueNews in
Google Alerts
for tomorrow's interesting stories.
Monday's opinion piece in the Wall Street Journal penned by Bjorn Lomborg didn't sit well with the Electric Drive Transportation Association (EDTA) who's response pointed to "fuzzy math" in Lomborg's analysis. "The author is mistaken on both the benefits to the environment and the benefits to the taxpayer," said the EDTA in their response.
Lomborg's article contains a daunting litany of indictments against plug-in and electric cars. For example Pres. Obama's goal of 1 million electric vehicles by 2015 certainly looks like an unreachable dream at this stage. The serious issues start piling on one after another when Lomborg starts naming ways that electric vehicles are, to him, not green at all, and not economically viable. His conclusion is that plug-in or electric vehicles have problems which outweigh the benefits, and are therefore being pushed too early to be viable.
What are the problems? And what are the EDTA's answers to the issues Lomborg points to?
First, he cites a "comprehensive life-cycle analysis" study published during 2012 in the Journal of Industrial Ecology. According to Lomborg, the study says "almost half the lifetime carbon-dioxide emissions from an electric car come from the energy used to produce the car." Further, that the manufacturing of a conventional gasoline car "accounts for 17% of its lifetime carbon-dioxide emissions."
For many, the sole goal of electric vehicle adoption is to reduce greenhouse gas footprint. For this purpose, the electric car then would start with a huge disadvantage. Indeed, Lomborg later says electric cars indirectly emit about six ounces of carbon-dioxide per mile while conventional gasoline cars emit about 12 ounces per mile. Implying that while electric cars are cleaner, at the tailpipe, the energy footprint during manufacturing swamps any gain.
To answer this, the EDTA describes the JIE study Lomborg referenced was inaccurate and that the authors of the study explicitly acknowledged the "limitations and uncertainties of their model and findings." Most importantly, the EDTA claims the "foundational assumption of the manufacturing intensity of electric vehicle production" is up to three times higher than widely recognized estimates of manufacturing intensity. In other words, the EDTA says the accepted estimate for manufacturing impact of electric cars is much closer to that of gasoline cars, meaning that electric cars do not start with a huge disadvantage.
The fact we should take from both sides of the argument is that every car, and every manufactured object around us, makes an impact just from having been manufactured.
Another answer by the EDTA is that the JIE study looked at a single vehicle, a single battery pack, and limited battery chemistries. As the EDTA said, "This is certainly not an accurate picture of today's production of plug-in vehicles."
Pages
Please
SHARE
with friends and include TorqueNews in
Google Alerts
for tomorrow's interesting stories.