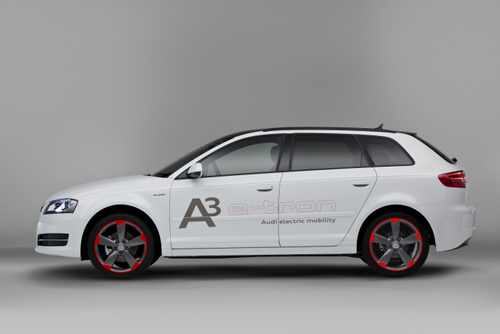 Audi announces A3 e-tron electric car pilot program at TED conference
The Audi e-tron is a family of all electric concept cars Audi began showing in late 2009. Today, at the TED conference, Audi is unveiling the A3 e-tron pilot program intended to "serve as a learning tool for next-gen Audi EV applications world wide." Audi is at the TED2012 conference presenting not only the A3 e-tron pilot program, but also a vision of the role of transportation in the worlds increasingly crowded urban areas.
The e-tron concept was first unveiled at the 2009 Frankfurt Auto Show, and that car was an electric version of the Quattro. It had four electric motors, one for each wheel, allowing designers to customize RPM at each wheel independently for better handling in all road conditions. Later e-tron concept cars were based on the Audi R4. In 2009, the company said the e-tron would come to market in late 2012, and sure enough here we are in 2012 with a new e-tron, this time for a pilot program. To be real, this pilot project is not the same as launching full production, but is a positive step beyond showing off another concept car and entering actual production.
Audi's engineers are researching a variety of drive train technologies under the e-tron name, including battery EV (BEV), plug-in hybrid (PHEV) and extended range electric (EREV) versions. The company is taking a measured approach, intending to have the right product for the market at the right time.
The A3 e-tron unveiled today is based on the Audi A3 which is also available in gasoline-powered and clean diesel TDI configurations. The A3 e-tron is a fully electric car, featuring a 26 kilowatt-hour battery pack, 199 ft-lbs of torque, approximately 90 miles of driving range, and a top speed of 90 miles/hr. It retains the entire interior space of the regular A3 cars.
WIth the pilot program Audi intends to identify "challenges and opportunities with plug-in vehicles as progressive luxury car buyers become increasingly receptive to EV technology." The A3 e-tron pilot program will take place in the San Francisco, Los Angeles, Washington D.C., and Denver markets. This will give Audi exposure to multiple cultural segments, climactic conditions, and urban terrains around the U.S. The pilot will run throughout the year, giving Audi valuable feedback and telematics data which the company will roll into future electric vehicles. "We will integrate the data generated from this program into the launch of a range of Audi e-tron models for American drivers," said Jeff Curry, e-mobility and sustainability strategy lead at Audi of America
"As part of the long-range Audi corporate goal of moving toward CO2-neutral mobility, there will be e-tron plug-in vehicle products exhibiting all of the performance and design attributes Audi drivers have come to expect," said Johan de Nysschen, President, Audi of America. "Audi is committed to refining Audi e-tron technology and we expect our plug-in vehicles to become a significant choice for our buyers within a growing line of advanced, efficient Audi powertrains over the coming years."
Please
SHARE
with friends and include TorqueNews in
Google Alerts
for tomorrow's interesting stories.