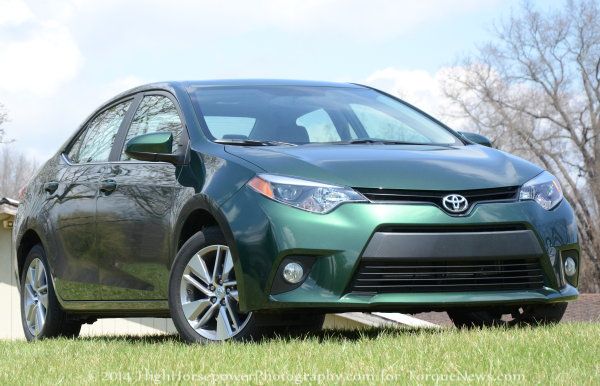 A Review of the 2014 Toyota Corolla LE Eco Plus: New and Improved While Maintaining Affordability
Please
SHARE
with friends and include TorqueNews in
Google Alerts
for tomorrow's interesting stories.
The Toyota Corolla has been one of the bestselling cars in America for years so when the Japanese automaker announced plans to introduce a new generation of the Corolla, the American market paid close attention. When Toyota rolled out the striking Furia Concept at the 2013 Detroit Auto Show, we were excited at the thought that this angular, high tech looking compact concept becoming the next Corolla – although it was pretty clear that the production Corolla wouldn't be anywhere near as sporty or aggressive as the Furia.
When the 2014 Corolla debuted with a look that was very similar to the Furia – except with some necessary calming of the more aggressive aspects and the removal of some carbon fiber bits – it was quite a surprise. The Corolla looked sharp on the outside, it featured more technology on the inside without going crazy and it packed the same predictably efficient 1.8L engine that was used in the previous models so on all accounts, it appeared as though he company had made a collection of smart moves in reworking the Corolla for 2014.
However, the Toyota Corolla is a leader in an uber competitive segment where many of the newer entries are packed with high tech – and high priced – features inside and out. This has pushed the price of many compact sedans into the range of many midsized models and while many of those goodies were available in the Corolla, they weren't made standard so unlike many of the competitors, the Corolla offers many of the features that you can get from the competitors but the new Toyota does it for a friendlier price. While the likes of the Honda Civic, the Hyundai Elantra, the Ford Focus and the Chevy Cruze have gone a touch more upscale both in features and price, Toyota has worked to keep the Corolla a great budget option by only introducing the items that buyers really want.
That plan has worked nicely.
My 2014 Toyota Corolla was fitted with the LE Eco Plus trimline, which carries a base price of $20,605 including destination while the Moonroof/Driver Convenience Package adds $2,360 for a total price as tested of $22,570.
The Exterior
When Toyota showed off the Furia Concept at the 2013 Detroit Auto Show, we had high hopes that the next generation Corolla would be as strikingly sporty as this concept sedan. With the Civic, Elantra, Dart and Focus going to a far more aggressive look with their latest versions, we expected the Corolla to follow a similar route. The production Corolla that I spent a week driving had the obvious styling cues from the Furia, but it did away with the most aggressive features that would be a bit too much – and a bit too expensive – for the 2014 Corolla.
Pages
Please
SHARE
with friends and include TorqueNews in
Google Alerts
for tomorrow's interesting stories.