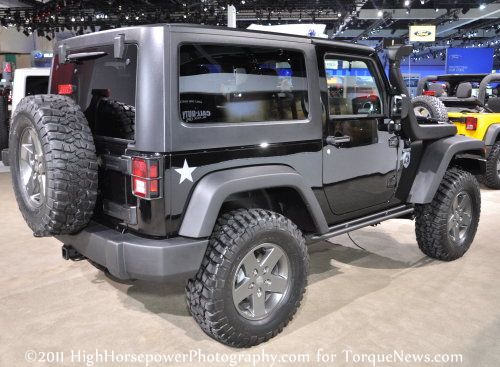 NHTSA opts against a recall of Jeep Wranglers for fuel spillage
Please
SHARE
with friends and include TorqueNews in
Google Alerts
for tomorrow's interesting stories.
The investigation of the 2007-2008 Jeep Wrangler was based on a high number of complaints about fuel spill-back. In simpler terms, when you aren't paying attention while filling up your 2007-2008 Wrangler and the tank reaches the "full" level, the gas quickly comes up the filler tube and out the opening – possibly getting on the person fueling the vehicle and down the side of the Wrangler. This can create a safety issue as the gas spills and in extensive cases of spillage, the gasoline can damage the paint.
The NHTSA launched their investigation on August 23rd, 2010 and after almost six months of tests by the Office of Defect Investigations there was no safety-related defects found pertaining to the fuel system of the 2007-2008 Jeep Wrangler. The NHTSA recognizes the fact that 615 complaints about this issue was surprisingly high, but the government body believes that the complaints about this possible issue were spurred on more by internet discussions. In short, the NHTSA believes that internet enthusiast forums may have caused more Wrangler owners to believe that they are experiencing this issue and based on their findings, there is nothing wrong with the filler assembly. Also, considering the number of vehicles that could have been affected by this Jeep recall, 615 vehicles is a fairly low number.
Even though no action was required by the NHTSA, Chrysler has announced a lifetime warranty program for 2007-2008 Jeep Wranglers built from March 1, 2007 to March 31, 2008 to address the fuel spill-back issue. This free warranty program applies to roughly 135,000 vehicles and owners will be notified via mail.
Other Chrysler News:
Soave: the US Fiat rollout is behind schedule
Jeep Grand Cherokee diesel spotted out testing – in the US
Former Chrysler dealerships suing the US Treasury
GM, Chrysler won't be at the 2011 Tokyo Motor Show
Chrysler Group covers the HQ building with a 2011 Chrysler 200
Please
SHARE
with friends and include TorqueNews in
Google Alerts
for tomorrow's interesting stories.