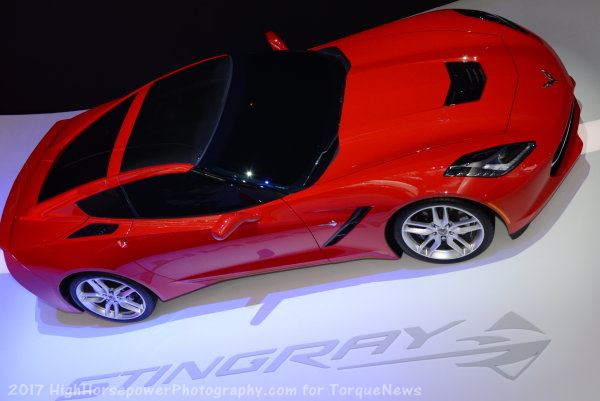 Imagining a Midcycle Engine Refresh for the C7 Corvette Stingray
Please
SHARE
with friends and include TorqueNews in
Google Alerts
for tomorrow's interesting stories.
Since the 2014 Chevrolet Corvette Stingray introduced the world to the C7 generation of the fabled American sports car, there has been a ton of speculation about new trimlines and the engines which would power those trimlines. At first, we speculated about the possibility of a new Corvette Z06 or ZR1 and that speculation ended when the C7 Corvette Z06 was introduced with the supercharged LT4 with 650 horsepower and 650lb-ft of torque.
The C7 Corvette Z06 is more like the C6 Corvette ZR1 with its supercharged V8 and premium amenities inside and out, which led to more speculation about a C7 Corvette with even more power – which is presumably set to be called the ZR1. Of course, there are also the long-popular rumors that there is a mid-engine Corvette coming which will also feature a new engine of its own, and each of these rumors touch on the fact that the LT5 name could be reincarnated with the next super-Vette.
Really, it seems that every rumor about any new General Motors V8 directs us to the next high performance Corvette – whether it is called the ZR1, the Zora or some other unique name – because we know that there is a higher performance car coming in the near future. What we don't ever seem to consider is the possibility that there could be a new, more powerful engine in the Corvette Stingray before the end of the C7 generation.
A Naturally Aspirated, DOHC Corvette?
With the exception of a few engines along the way, the Chevrolet Corvette has historically been powered by an overhead valve engine or, as they are better known – a pushrod engine. While other companies (like Ford) have gone to a dual overhead camshaft setup with their V8s, both GM and Mopar have continued building pushrod engines with a tremendous amount of success. However, information from GM's dealer service computer system indicated that there is a naturally aspirated 6.2L V8 coming with an all-aluminum construction and, more importantly, a dual overhead camshaft cylinder head design.
When the news of this engine in the GM service system surfaced, the discussion around the automotive watercooler suggested that it could be the next super-Corvette engine, but there are a few problems with that idea. Most notably, if this new engine is naturally aspirated, it is highly unlikely that it will produce enough power to serve as a proper powerplant for a Corvette with greater performance attributes than the current Z06. Even with all of the modern engine technology at work, it seems unlikely that this NA, all-aluminum, DOHC V8 would offer more than 600 horsepower, but it seems perfectly reasonable to expect power levels in the high-400 or low-500 range.
That isn't enough power for a Corvette set to dethrone the C7 Z06 as the king of the Corvette lineup, but it is more than enough power for a new intermediate performance model…or a new Corvette Stingray.
Pages
Please
SHARE
with friends and include TorqueNews in
Google Alerts
for tomorrow's interesting stories.