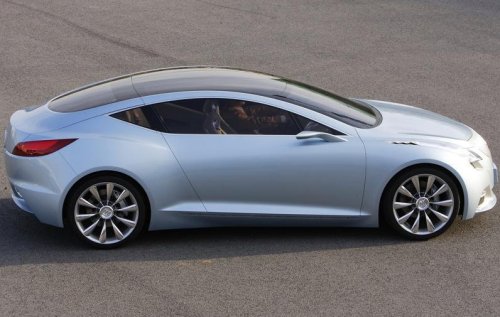 GM trademarks "Riviera" - perhaps hinting to a new Buick coupe
Before getting into what it could mean for General Motors to be reserving the Riviera name, I should point out that in the automotive world, there are a great many names trademarked that never appear on a vehicle – be it production or concept. Companies frequently trademark names without any intention of every using them on a vehicle to preserve the historical value of the name by protecting it from use by other companies and in some cases, a name is trademarked is earmarked for a project that doesn't see the light of day. In other words, GM may have trademarked the Riviera name "just because" and it could mean nothing.
That being said, there have long been rumors that General Motors was considering a new Buick coupe – rumors that are given credence by the 2007 Buick Riviera Concept. This concept was a super sleek 2 door coupe based on GM's Epsilon II platform and while a bit too futuristic across the front end for a production vehicle, the 2007 Riviera concept was nice looking car. The problem as we see it is that GM did produce a Buick on the Epsilon II platform and they still do…the current Buick Regal. If GM was going to build a front wheel drive coupe on the Epsilon II undercarriage, why not call it the Regal Coupe? The Regal is certainly the sportier of the two nameplates and with GM's preference for offering 2- and 4-door versions of similar nameplates, a front wheel drive Regal would make much more sense than a Riviera on the same platform.
The other possibility is that the new Buick Riviera could be based on a larger rear wheel drive platform – specifically the Alpha platform on which the 2013 Cadillac ATS rides. While this platform currently serves as the base of the sporty new Caddy BMW 3-Series fighting sedan, GM could modify it to make for a slightly larger rear wheel drive coupe. With this idea, there wouldn't be any concern of the Riviera taking any sales from the ATS thanks to the different body configurations. The ATS chassis and suspension have been tuned on some of the most intense race tracks on the world so 2-door Buick Riviera based on the ATS underpinnings could put Buick back into the affordable sports car race in a big way. The Buick Riviera has always been a roomy, plush coupe and the midsized sedan platform from the Cadillac ATS could allow the new Riviera to combine sporty driving characteristics with an interior that offers lots of room and lots of amenities.
Again, there is a chance that General Motors has trademarked the Riviera name to protect it "just in case" but with a 2007 Buick coupe concept and gobs of rumors about a future 2-door Buick – perhaps the Riviera will arrive as a new concept or future production vehicle in the near future.
Source: GM Inside News
Image: GM
Please
SHARE
with friends and include TorqueNews in
Google Alerts
for tomorrow's interesting stories.