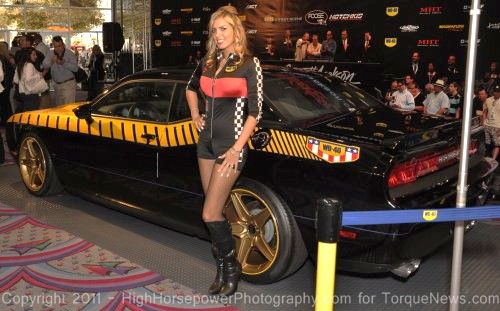 Chip Foose helps WD40, SEMA charities unveil new custom Dodge Challenger SRT8 392
This marked the third year that WD40 has teamed up with the SEMA Cares group to help children's charities with the prior two years being a Chevrolet Camaro SS and a Ford Mustang GT so while the base of this year's project was a secret - we expected that the companies involved may build a Dodge Challenger. The WD40/SEMA Cares car for 2011 is specifically a 2012 Dodge Challenger SRT8 392, packing an incredible 470 horsepower and 470lb-ft of torque, all of which is sent to the wheels with the help of a 6-speed Tremec manual transmission. In addition to making this year's project car the most powerful of the three offered thus far, the WD40 and SEMA Cares group employed the help of famous vehicle designed Chip Foose to make a truly special vehicle sporting the WD40 colors.
As you can see in the gallery on the right, the 2012 Dodge Challenger SRT8 392 built for this year's SEMA Show is less "blue and yellow" than the WD40 Mustang and Camaro, as a predominantly black and yellow scheme is accented by a subtle blue pin stripe running along the lower portion of the vehicle. Finally, the exterior of this unique Challenger SRT8 features a set of Foose wheels measuring 20" up front and 21" our back - all of which are wrapped in Pirelli P Zero high performance tires. The body of this Challenger has been enhanced with a front fascia and rear spoiler from Street Scene finished in BASF paints custom mixed by Chip Foose.
"I've used WD-40 Multi-Use Product for as long as I can remember and continue to use it everyday in my shop, so when WD-40 Company asked me to help design and build their charity vehicle, I jumped at the chance," said Chip Foose. "A lot of hard work went into making this custom 2012 Dodge Challenger SRT8 unique, and I hope it turns heads and raises a lot of money for these two very deserving charities."
The work that Chip Foose put into the 2011 WD40/SEMA Cares project Dodge Challenger SRT8 392 makes for an amazing exterior look but that was not where the group stopped - by a long shot. The handling has been improved with help from the folks at Hotchkis including their stage 1 kit with sport coil springs and sway bars while a K&N cold air intake and MagnaFlow exhaust system help the 392 cubic inch Hemi make more than the original 470 horsepower. Finally, an ACT twin clutch package helps reduce the mass on the engine, allowing the big Hemi to pump power to the wheels more efficiently.
The WD40/SEMA Cares 2012 Dodge Challenger SRT8 392 will leave SEMA this weekend to hit various automotive events around the west coast before landing at the Barrett-Jackson Classic Car Auction in January in Scottsdale, Arizona. The proceeds of the auction will once again go to the Victory Junction Gang and Child help - two groups that provide support to kids around the country so the winner of that auction will not only get an amazing collectable vehicle but they will be helping two great causes at the same time.
Check out our gallery on the right for a look at the 2012 Dodge Challenger SRT8 392 designed by Chip Foose and stay tuned to TorqueNews.com for more 2011 SEMA Show news!
Other SEMA News:
GM rolls out a life sized Camaro Hot Wheels model at the 2011 SEMA Show
GM pride beams as SEMA Show awards Chevrolet Camaro hottest car status
GM introduces the Chevrolet Camaro COPO Concept ahead of SEMA
Please
SHARE
with friends and include TorqueNews in
Google Alerts
for tomorrow's interesting stories.