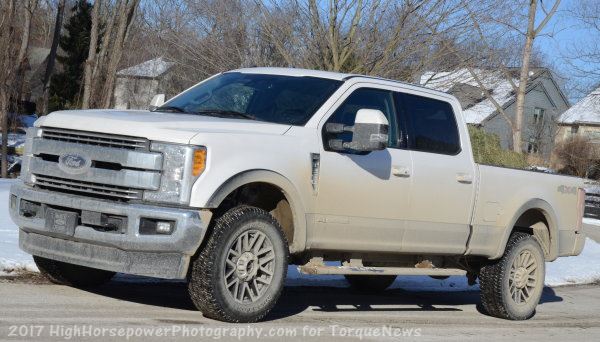 2017 Ford F250 Lariat: Super Smooth Ride from the Super Duty
Please
SHARE
with friends and include TorqueNews in
Google Alerts
for tomorrow's interesting stories.
The new Ford Super Duty lineup is the strongest and toughest on the current market with the 6.7L PowerStroke diesel packing 440 horsepower, 925lb-ft of torque, a 7,630lb payload capacity and a 32,500lb towing capacity when properly equipped. My 2017 F250 Lariat test truck was fitted with that monster PowerStroke diesel engine which leads to a payload capacity of "only" 3,350lbs and a towing capacity of "only" 15,000lbs, so while this F250 isn't the strongest truck in the Ford lineup – it is still one of the strongest trucks in the ¾-ton segment while also offering far greater capabilities than your average truck owner will ever fully utilize.
Every time I test a new truck or SUV, I put them through a standard set of "farm tests" which puts these vehicles through the paces of everyday work around a stable. I haul a dozen bales of hay (around 700-750lbs), a thousand pounds of bagged horse feed and I tow a 5,000lb, 2-horse trailer, giving me a chance to experience all of these different vehicles in the same basic tests. With my normal towing and hauling tests only reaching about a third of this F250's capacities, it should come as no surprise that this big truck didn't break a sweat with these loads. After all, this is a truck engineered to perform the toughest tasks, so of course it is great at being a work truck, but at the end of the day, most of the people who will buy a 2017 F250 Lariat will spend as much time driving the truck without anything in the bed or hooked to the hitch.
Because so many people will use the 2017 Ford F250 for daily driving more often than they will be towing or hauling heavy loads, the Ford team knew that they needed to balance the capabilities of their heavy duty suspension setup with ride quality – and the results are impressive, to say the least.
The Historic Issue with Heavy Duty Trucks
Over the past few years, I have had the pleasure of driving a long list of new trucks, including all of the entries from the American ¾-ton and 1-ton class. These trucks, including the Ford F250/F350, the Chevrolet Silverado 2500HD/3500HD and the Ram 2500/3500, are all engineered to be the hardest working vehicles in the consumer grade segment while also being among the most common vehicles in the working world.
If you need a truck that can tow or haul heavy loads day in and day out, these big trucks are the best solution by a long shot, but the problem with these trucks in the past was that the type of heavy duty suspension needed to handle those heavy loads led to a very stiff, rough ride. Because of that, these heavy duty trucks have been less appealing to those who didn't appreciate their working abilities, but over the past few years, all of the automakers have worked to make their toughest trucks more comfortable.
The 2017 Ford F250 Lariat is a beautiful example of those efforts, as this big, tough truck is smooth enough to draw comments from passengers who spend lots of time in big trucks.
Pages
Please
SHARE
with friends and include TorqueNews in
Google Alerts
for tomorrow's interesting stories.