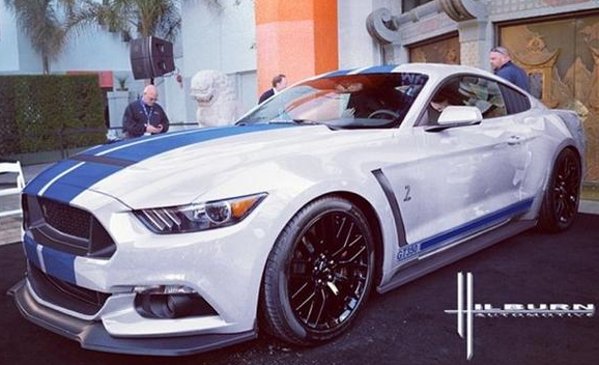 This 2015 Ford Mustang GT350 Rendering Paints a Pretty Picture of Future Ford Performance
Please
SHARE
with friends and include TorqueNews in
Google Alerts
for tomorrow's interesting stories.
Although Ford Motor Company hasn't had much to say about the future of the SVT/Shelby Mustang lineup, it is widely believed that the evolutionary "replacement" to the 2014 Ford Shelby GT500 will be the 2015/2016 Ford Mustang GT350. This belief is supposed by internal Ford computer programs that list the GT350 as an upcoming model so while Ford hasn't stated that there is a GT350 coming – you have to wonder why else they would have that name in their computer system if there wasn't something on the way.
In any case, a friend of mine emailed me the rendering shown above of the 2015 Ford Mustang GT350 sitting in front of the Hollywood Chinese Theater and while I don't know the origin of this rendering, the watermark indicates that it was done by Matt HIlburn of Hilburn Automotive. I was unable to locate this rendering on his website but that is his watermark and with his history of great looking Mustang renders, I would believe that this is his handy work. You can click here to check out some of Matt Hilburn's other work on his website.
Hilburn has taken the 2015 Ford Mustang GT and add a huge chin spoiler to the standard GT front fascia and after removing the running pony from the grille, a Cobra logo appears to be located on the passenger's side of the GT-styled grille. This rendering also has the Mustang GT350 wearing a vented hood that is similar in style to what is featured on the current Shelby GT500 Mustang. Along the sides, this GT350 Mustang wears additional vents located right before the front wheels with another Cobra badge, a more pronounced lower side skirt and a set of GT350 stripes that are reminiscent of the first generation Shelby Mustangs. This GT350 also sports a set of large SVT wheels and an imagined suspension change that has the body sitting tightly around those huge wheels. Finally, Hilburn added a set of rear quarter window louvers that also pay tribute to the glory days of the American muscle car and while there is no rear image of the rendering – it looks like this car may also feature a subtle, low profile rear spoiler that is also borrowed from the old school Shelby Mustangs.
Pages
Please
SHARE
with friends and include TorqueNews in
Google Alerts
for tomorrow's interesting stories.