Among the dozens of pictures of the 2015 Dodge Challenger SRT released earlier this week were a collection showing the high tech new gauge cluster with a thin film transistor (TFT) configurable information screen nestled neatly between a large analog tachometer and speedometer. That central screen is awesome – with all sorts of cool options like quarter mile timers, G-force meters, a digital speedometer and lots of other fun performance gauges as part of the SRT Apps. However, the most significant feature is the new speedometer…which ends with a large 200. Will the 2015 Challenger SRT Hellcat be capable of hitting that lofty limit – or is this new speedometer just adding "wow factor"?
First off, consider the fact that the 2014 Dodge Challenger SRT with the 6.4L Hemi packing 470 horsepower and 40lb-ft of torque has a top speed with the manual transmission of 182 miles per hour. That same current Challenger SRT with the 5-speed automatic transmission has a top speed of 175mph and regardless of the transmission chosen – the current SRT Challenger sports a speedometer that ends at 180. Since the current SRT Challenger with 470 horsepower and 470lb-ft of torque is able to hit 182, it seems possible that the 600+ horsepower and 575+lb-ft of torque could be enough to squeeze out an extra 18 miles per hour. That is a 10% increase in top speed through a 28% increase in power…but there is a great deal more involved with topping 200mph than just big power. Click here for a closer look a at the available powerplants for the 2015 Challenger SRT.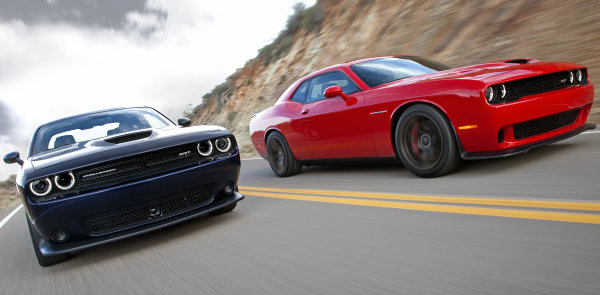 If you consider the other American vehicles that can top 200 miles per hour, you have the current Ford Shelby GT500 Mustang, the SRT Viper and the C6 Chevrolet Corvette ZR1.
-The GT500 has 662 horsepower, 631lb-ft of torque, weighs 3,850lbs and can hit a top speed of 202mph.
-The Viper has 640 horsepower, 600lb-ft of torque, weighs 3,354lbs and has a top speed of 206mph.
-The Corvette ZR1 has 638 horsepower, 604lb-ft of torque, weighs 3,353lbs and a top speed of 205.
-The current Dodge Challenger SRT has 470hp, 470lb-ft of torque, weighs 4,160lbs and can hit 182mph.
The 2015 Dodge Challenger SRT has undergone some weight reduction efforts, but they are relatively minor and any weight savings are likely countered by the added weight of the new supercharger setup. Dodge would have to shave just over 300 pounds to be as light as the GT500 Mustang and even if they were able to do so, the Mustang is still likely to have a substantial power advantage. SRT is promising more than 600 horsepower and more than 575lb-ft of torque, which is a far drop from the 662 and 631 of the Mustang so it is hard to imagine that the heavier, less powerful Challenger SRT Hellcat will be able to hit the same top speed as the smaller, more powerful Shelby Mustang.
Of course, there is the chance that the 2015 Dodge Challenger SRT Hellcat could benefit from different gearing than the Mustang GT500 and while the Challenger is a bigger, brawnier muscle car – it might have some advantage over the Mustang during a top speed blast. Since the Challenger SRT Hellcat will almost certainly weigh more than the Mustang, Viper and ZR1 while having less power, Chrysler engineers will have to find a way to make up for that elsewhere. That being said, while it isn't impossible for the 2015 Challenger SRT Hellcat to use every bit of that 200 mile per hour speedometer – my money is on a sub-200 top speed for the 600+ horsepower Mopar muscle car.
Hopefully, Chrysler proves me wrong and if they do, the Hellcat powered Challenger will join an incredibly elite group of high performance vehicles once reserved for the likes of the world's most expensive exotics.