Within 6 months of owning my first Ford Mustang, I knew what I wanted to do in life. I decided to take an intensive 12 month auto mechanic class so I could be around cars all day long. A year later I sold my 1990 coupe because I wanted a hatchback with more equipment, particularly air conditioning. I found a very low millage 1988 hatch that was fully loaded with a GT interior, a 5 speed car. Since I was a licensed mechanic, this car did not stay stock for long.
Within the first year the car was running low 13s in the ¼. Low 13s for street car for today's standards does not seem too fast but let's not forget, this was roughly 25 years ago. All I did at this point was some minor engine work such as B303 can shaft, ported heads and intake and mass air flow conversion and 3:55 read end. My best time if I recall was 13:10 with 26" Mcgeary (sp?) DOT slicks.
The next year things got a little more serious. I got offered a job at a local Ford dealership. So, as I got better at my craft, my mods got more serious. By the end of the season, the car ran ET of 12.10 at 125 MPH. It was pretty darn quick for a street car. It would have been an easy 11 second car had I not sold it. Yeah! I sold it… more on that later.
I pulled the motor and decided to swap it with a carbureted 351 Windsor. The short block came out of a 1969 Cougar. I replaced the piston and rings, and added Ford racing cylinder heads, a comp cam, Edelbrock Victor JR intake and a 750 holly.
The 5 speed stayed stock, but It was backed by a Centerforce clutch kit. The rear end consisted of 4:30 gears with 28x10 DOT slicks. I also added a roll cage, not only for safety, but it added much needed rigidity for the hard launces.
Fast forward 6 years, I sold my beloved 88 LX because I was getting married. From the age of 18 to 25 I owned a few Fox body Mustangs. The 90 and 88 LX, as mention, and my 91 Black LX coupe, 87 Red GT, 93 emerald green LX, 83 6 Cyl and 82 (I think it was an 82) 4 cyl.
In the midst of my 6 year obsession I also operated a mail order performance shop called GUG Performance. GUG standing for Giddy Up Gone. I sold Mustang performance parts to local gear heads. I closed it once I sold my cars. I regret that greatly.
I worked for Ford for about 4 to 5 years, I then went to work for Honda for roughly 4 years. In 2001 I decide to close my tool box and change career. I made the right choice of getting into the new world wide web. Today, 16 years later I co-own a successful eCommerce website that carters to saltwater aquarium hobbyists. It's called Reefsupplies.ca
My 2015 Ford Mustang GT
I am now 44 years old, happily married with a healthy beautiful daughter. I have put in many many late hours at work, so it was time to get a new toy. After many months of research I decided to buy another Ford Mustang. I found a very clean low KMS car with one owner, so I bought it. It is a 2015 Mustang GT with a 6 speed manual transmission and a 3:55 rear end. I had this car for a couple of months and like most Mustang owners, it can not stay stock! You want stock, don't buy a Mustang.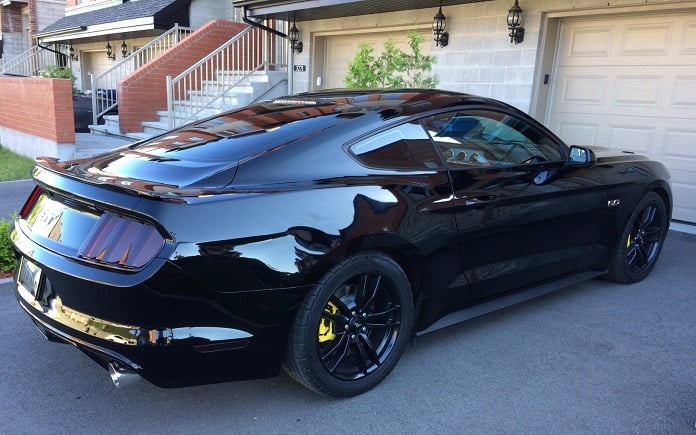 The current mods are:
- Widow tints
- Painted my wheels black
- Painted my calipers yellow
- Smoked out rear lights and side markers
- Lloyd Front & Rear Floor Mats w/ Shelby GT logo
- Staggered tires. 235 / 255
- AWE axel back touring exhaust
- Eibach pro kit lower springs
- Ford Performance Strut Tower Brace
- SR Performance Throttle Body Spacer
- Blowfish Sound Tube Delete Kit
- Whiteline Positive Shift Transmission Mount
Future plans thus far are:
- New wheels and tires for better traction. I'm looking at 285 or 295 rears
- Ngauge with Lund tune
- Shorty headers
- Some IRS work (independent rear suspension)
I want a low 12 second car that can be driven daily and still pull 25+ MPG on the highway. I bet It will do 11:90s with the above mods and sticky tires. I am sure I will want to do more, but I am pretty sure my wife will read this. So, yeah…..
I love the car. It's so much different than the old fox cars. These S550 cars are now proper sports cars. They are still blistering fast in a straight line but also corner amazingly well. I had an Audi A4 S-line not too long ago. This 5.0L stang would have done circles around it!
That's it! Hope you enjoyed my story. Please drive safe and keep the racing on the track.