Have you ever wondered where various websites and automotive webzines receive their advance info on upcoming cars? Since the inner workings of the web-era are much like what we called the print era, you might have guessed that each era has worked in about the same manner so that information generation and gathering is the same, though, the name of the eras have changed.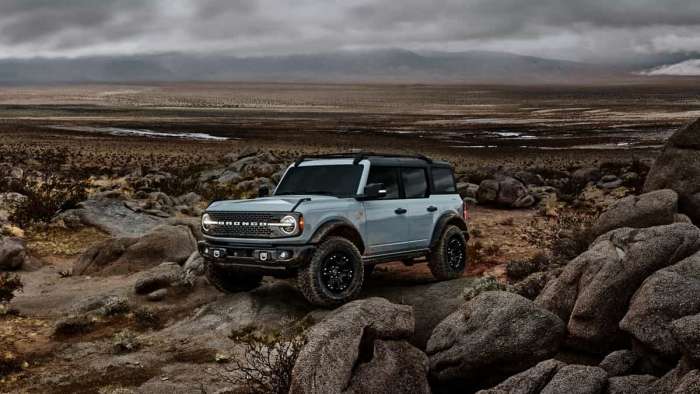 Ford Bronco Brand Reveals New Info
Let's face it; information is information. In each case, practitioners of the journalistic arts obtain their information in the very same way, and then they use it in the same way. They use the information generated to create news releases or information packets about something. Bronco Is More Than Just A 'Pretty Face'
In other words, the original data on the topic changes, sometimes radically, other times not so radically. In whatever the case, the data morphs into other, new forms of information that then informs you of a topic.
During the generation of this data, the creators and the users of this information become close. It is something that happens. It's a rather key relationship as journalists, and public relations people become familiar with one another. As they learn about each other, they exchange information and discuss the tidbits of other data that may come up.
There is a real value to this. Many times you will receive information ahead of other folks thanks to the relationships that the original information has generation. Indeed, my colleague Jimmy Dinsmore discusses more future information about the Bronco here.
Ford's Bronco Brand Flashes' Spy Shots'
Take a major issue like "spy images." From where do you think they come? There's no store or business out there that I know of that has the name "Spy Pics," LLC. If there were, it might have the motto: "If we know something about an upcoming model, you will too."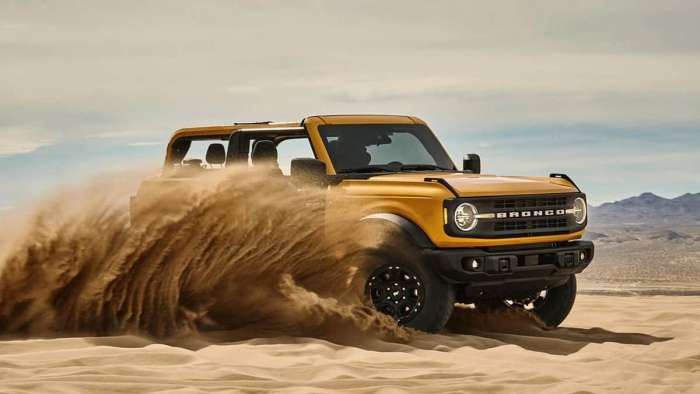 It helps to get the info that the manufacturer wants out there early, while it makes it seem that the journalist has early access to unique information.
Take some early info that appeared in the Ford Authority, an independent source of information about Ford and all things Ford. The info confirmed the rumors that there would be a Raptor version of the recently introduced Bronco line.
The publication said it was "… as close to an official confirmation as we'll ever get of this being the case …" that Ford is planning a Raptor model for the Bronco lineup. Indeed, some journalists have heard the rumors about the Bronco Raptor and, of course, this confirms it.
So, what do we now know about the Bronco Raptor that we didn't a couple of days ago?
Ford Will Offer Bronco Raptor As 2023 Model
Plans call for the Bronco Raptor to be a 2023 offering for the new Bronco brand. It will also be the range-topper. Since the specs call for it to use the full-sized Bronco as the base, it will be available as a two-door or a four-door model.
The front end (fascia) will be revised. There will also be a unique bumper treatment. It will also feature higher ground clearance, as well as a wider stance.
Of course, the packaging will have to be able to hold the added size, so there will be "significantly larger and more pronounced fenders." The fenders will cover wheels and tires that are very much like the tire and wheel combination used on the F-150 Raptor.
Moving to the rear end of the Bronco Raptor, the rear end will feature a different bumper treatment. There will also be a revised bumper treatment.
Interestingly, rather than using headlights or taillights that will be common across the Bronco line, the Bronco Raptor may end up with headlights and taillights that will be unique to the model.
Ford's Bronco Raptor To Use 3.0-Liter Twin-Turbo
The Bronco Raptor will use Ford's twin-turbo 3.0L EcoBoost V-6 powerplant. The engine will be mated to the automaker's 10-speed automatic. No manual transmission is on the books for this Raptor. Indeed, the Bronco line does not offer a manual. The exhaust will be a single-exit, dual-tip setup; it will be located on the driver's side.
According to the Ford Authority, a hybrid may be planned later in the model's life cycle.
Marc Stern has been an auto writer since 1971. It was a position that filled two boyhood dreams: One was that I would write, and two that I write about cars. When I took over as my newspaper's auto editor, I began a 32-year career as an automotive columnist. There isn't much on four wheels that I haven't driven or reviewed. My work has appeared in Popular Mechanics, Mechanix Illustrated, AutoWeek, SuperStock, Trailer Life, Old Cars Weekly, Special Interest Autos, and others. Today, I am the Ford F150 reporter for Torque News. I write how-to and help columns for online sites such as Fixya.com and others. You can follow me on Twitter or Facebook. Most of Marc's stories can be found at Torque News Ford coverage. Check back again and search for Torque News Ford F-150 news for more F-150 truck news coverage.