Ford Super Duty Lariat Package Includes A Special Ford Oval
When the 2020 version of the Lariat Sport Package for the Ford Super Duty line debuted earlier this year, sharp-eyed observers noted something a bit different.
Ford Super Duty Lariat Package Oval Is Black
Instead of the usual Blue Oval Ford logo, the logo was black. It was quite a big deal, too, The Ford Authority noted at the time that it was a huge deal. At the drive event in Arizona, Ford told the automotive journalists who attended that it was the "first time in America" that Ford has used a black Oval on any of its vehicles.
As you can imagine, this caused more than a bit of conversation between the journalists who attended the intro. In many ways, it was as important as the original introduction of the Lariat Sport Package for the Ford Super Duty line.
As The Motor Authority noted at the 2019 Lariat Sport Package intro, the package "proved to be quite the revelation, combining the luxuries and tech upgrades of the Lariat trim level" with the Super Duty lineup.
And now the new blacked-out Ford oval is another revelation.
Ford Super Duty Lariat Sport Trim Is On F-250 or F-350
Available on either the F-250 Lariat or the F-350 Crew Cab 4X4 SRW models, the Lariat trim is also available at a piece of the offroad-focused Super Duty Tremor package.
The new blacked-out package consists of black exterior accents. You will find the accents on the running boards, 20-inch painted premium aluminum wheels, fender vent accent, front grill bars, and mirror caps. Also, the all-LED headlights incorporate blacked-0ut surrounds inside the lenses.
Before, the headlights used black exterior trim and edging.
Ford Super Duty Lariat Sport Offers Special Wheels
The 2020 Ford Super Duty Lariat Sport also features wheel-well liners, LT275/65R 20E Owl A/T tires (for non-Tremor package models), and body-color front and rear bumpers.
Finally, the bed features a "Tough Bed" that includes a spray-in bedliner plus black box bed tie-down hooks and black bed attachment bolts that deliver more utility and great looks.
At this point, given the explosive popularity of black-out packages, some interesting speculations can be made. The most obvious is that knowing just how popular blacked-out treatments are, it is little wonder that Ford waited until the Super Duty series for the black Oval offering.
Will Black Oval Be On New F-150?
The next speculation is this: will Ford offer the same style black Oval on the upcoming 2021 Ford F-150. It would make sense as the revised F-150 would be the right spot for something like the black Oval to make its appearance.
Honestly, the black Oval motif would seem to be a great addition to the upcoming F-150 lineup. Indeed, it would be a great follow-on to the Ford Super Duty Lariat package. Indeed, Torque News wouldn't be surprised to see a Ford Black Oval offering among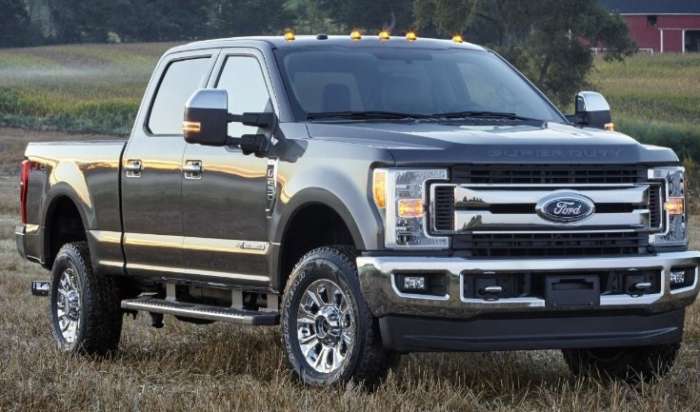 its 2021 Ford F-150 offerings.
Usually, when there is a significant vehicle restyle, many new, unique pieces are included in the original lineup. And, as Ford is introducing the next-gen F-150 sometime in the late summer or early fall, we wouldn't be surprised to see the Black Oval as part of the next-generation F-150.
Will It Be On F-150? Only Time Will Tell
All we have to do now is wait the next three months to see what goodies Ford is offering on the next-gen F-150. The blacked-out Oval would be a nice one, wouldn't it?

Marc Stern has been an auto writer since 1971. It was a position that filled two boyhood dreams: One was that I would write, and two that I write about cars. When I took over as my newspaper's auto editor, I began a 32-year career as an automotive columnist. There isn't much on four wheels that I haven't driven or reviewed. My work has appeared in Popular Mechanics, Mechanix Illustrated, AutoWeek, SuperStock, Trailer Life, Old Cars Weekly, Special Interest Autos, and others. Today, I am the Ford F150 reporter for Torque News. I write how-to and help columns for online sites such as Fixya.com and others. You can follow me on Twitter or Facebook. Most of Marc's stories can be found at Torque News Ford coverage. Check back again and search for Torque News Ford F-150 news for more F-150 truck news coverage.