Of all times to release the fuel economy ratings for a popular new series of vehicles, the leaked release figures of the Ford Bronco's fuel numbers couldn't have come at a worse time.
Very Average Mileage Figures
Let's face it. The numbers are mind-numbingly average. Indeed, they are about what you would expect from 4X4 SUVs, even though the engine sizes themselves suggest that the fuel economy numbers for the Bronco and its little sibling, the Bronco Sport, should be higher than they are.
We'll get to the actual numbers, which were discussed by Laura #1976 in a Bronco Nation release late last week, in a moment. Let's look, for the moment, at the environment into which the figures were released.
First, in a huge coincidence, the Bronco fuel economy ratings appeared the same week a group of Russian hackers held the Colonial Pipeline for ransom by hacking the fuel supplier's computer system. The Colonial pipeline brings all fuel types – gasoline, diesel, aviation – from the refineries in the South to the Northeast. For six days last week, nothing moved through the pipeline. It took Washington's efforts, working with the fuel transport company, to get things moving again.
Indeed, it took until this weekend to ensure that fuel was moving at 100 percent. During the shutdown, motorists in the Southeast panicked as gasoline supplies dried up. It led to fuel lines that were reminiscent of the gasoline shortages of the 1970s. It also led to panicky motorists engaging in poor behaviors such as gas hoarding in open containers and fights. Gasoline prices also spiked about $3- to $4-a-gallon, for the first time in years. It also demonstrated just how vulnerable our fuel infrastructure is to hackers.
Mileage Rating Release Runs Into Gas Hacker News
News reports also said that the hacker group that made the ransomware attack, DarkSide, had disbanded after discovering that it no longer had the unfettered access to the Colonial pipeline computer system it had hacked. The ransomware attack did, indeed, produce a ransom that got things working again. Various news outlets reported that Colonial paid as much as $5 million to regain control of its computer system and, ultimately, the pipeline.
The mileage ratings also came as there were other fears of fuel shortages that helped to keep prices up, even after the fuel had begun to flow again. A shortage of fuel truck drivers caused these fears. It is funny that even with fuel-farm tank-topping fuel available, there aren't enough drivers to move the fuel to local gas stations. It is a paradox that there is fuel available, but you still can't get it. As a result, fuel prices have stayed up.
With this environment as background, the Bronco fuel economy ratings leaked. The ratings were, as noted, mind-numbingly average, ranging from 17 to 21 miles per gallon. Bronco Nation noted that the reason for the very average fuel economy ratings was weight. To put it bluntly, they noted that "Ford vehicles are notoriously heavy and the Bronco, built on the Ranger platform, is no exception."
My colleague Jimmy Dinsmore led a petition camaign to get at least one Bronco model with a manual.
The best-performing [Bronco] models "are equipped with the 2.3-liter four-cylinder and the 10-speed automatic" and the "2.3-liter four-cylinder engine and [the] seven-speed manual transmission, both with a combined 21 mpg. This average will, of course, raise of drop per trim and packages applied."
Bronco Six-Cylinder Gas Mileage
Owners of the "2.7-liter six-cylinder engine, which can only be paired with the 10-speed automatic transmission, can expect to see a combined 19 miles per gallon."
As has been noted by Torque News, there is a manual transmission, but it is only available with the Sasquatch package. It will "be introduced later; the fuel economy will likely follow the same pattern as the 2.3-liter automatic with [the] Sasquatch." Senior Torque News Reporter Jimmy Dinsmore was successful in convincing Ford to add a manual to one Bronco package.
Meanwhile, I discussed the Bronco Sasquatch model.
To say that Bronco Nation is dissatisfied with the mileage figures is, well, putting it a bit mildly. It calls the "Bronco numbers … pretty typical." It also noted that while some "Bronco owners may … [have] expected the figures that were released, others be more uncomfortable [with] … well, [the] higher figures."
Using the Jeep Wrangler Rubicon as a comparison vehicle, Bronco Nation noted that Bronco is a heavier vehicle. It noted the weight is a significant factor in determining fuel economy. Bronco Nation concluded that when "it comes to gas mileage, vehicle weight matters, and even 100 pounds of additional weight can make a noticeable difference in economy."
Mileage Ratings Are Fuel-Economy-Challenged
Thus the heavier Bronco is a fuel-economy-challenged vehicle. Bronco Nation noted that in "looking at the curb weight of the Bronco by trim and power train [you] will begin to tell why the fuel economy is challenged. This is one robust (aka) heavy vehicle."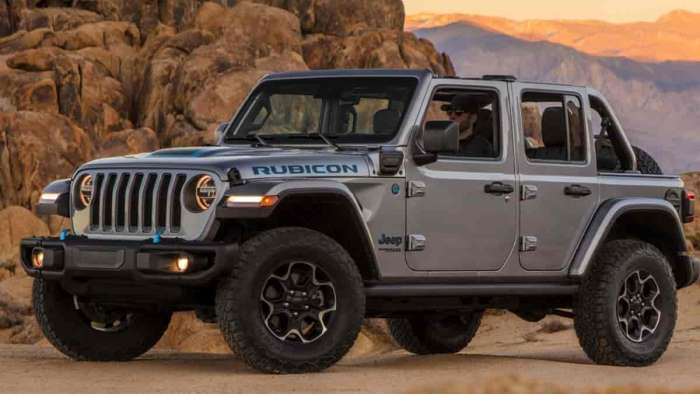 Bronco Nation noted what we at Torque News found some time back – about announcement time, in fact – that the Bronco is a pickup in Bronco clothing. Its body-on-frame construction makes it a lot more "robust" than a unibody-built vehicle like the Bronco Sport. And, while the Bronco Sport is, in its own right, quite robust, its bigger sibling, the Bronco, is built like a pickup.
Thus, "its powertrain, built for off-road applications, and [with] an engine that passes truck durability ratings, the 2021 Bronco is proving to be a thirsty vehicle." And so, while the "fuel economy numbers may be disappointing for some … [they are] plain awful to others."
Mileage Feelings Depend On The Audience
You do have to remember the target buyer for the Bronco. Priced more closely as a truck, the Bronco "with its higher prices at higher trims, is targeted toward people with room in their budget for fuel, fun, and modifications. Our bet? Even consumers unhappy with the MPGs now will forget some of the pain at the pump once they encounter the capability and smiles per mile of the all-new Bronco."
Marc Stern has been an automotive writer since 1971 when an otherwise normal news editor said, "You're our new car editor," and dumped about 27 pounds of auto stuff on my desk. I was in heaven as I have been a gearhead from my early days. As a teen, I spent the usual number of misspent hours hanging out at gas stations Shell and Texaco (a big thing in my youth) and working on cars. From there on, it was a straight line to my first column for the paper, "You Auto Know," an enterprise that I handled faithfully for 32 years. Not too many people know that I also handled computer documentation for a good part of my living while writing YAN. My best writing, though, was always in cars. My work has appeared in venues including Popular Mechanics, Mechanix Illustrated, AutoWeek, SuperStock, Trailer Life, Old Cars Weekly, Special Interest Autos, and others. You can follow me on: Twitter or Facebook.