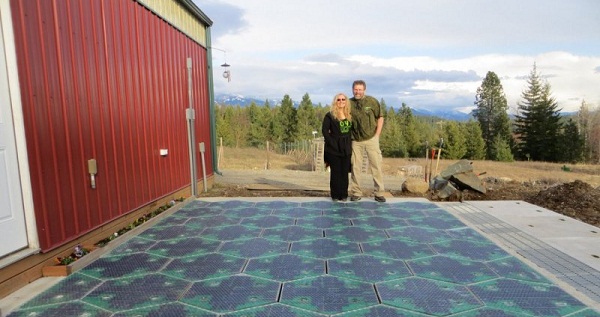 Solar Roadways would be great, but won't happen
Please
SHARE
with friends and include TorqueNews in
Google Alerts
for tomorrow's interesting stories.
Solar Roadways, an Idaho-based startup founded by the entrepreneurial and brilliant couple Scott and Julie Brusaw, has obliterated its target of $1 million in a crowdfunding campaign. The company has raised over $1.8 million to date in just over five weeks through grassroots donations.
What is a Solar Roadway?
The idea generating so much support: hexagonal tiles with embedded solar panels, LEDs, and microprocessors capable of replacing virtually any paved surface with one that is "smart" and generates electricity. They are referred to as Solar Roadways, and in theory they could solve all our problems with carbon emissions from the electricity generation and transportation sectors.
Each tile would have a special tempered glass covering capable of withstanding typical loads that road surfaces are subjected to, as the company claims their prototype meets traction, load, and impact resistance requirements. The tiles would also have a thin heating element that would prevent snow from accumulating on the surface, and the interconnected microprocessors and LEDs lend themselves to many possible advantages such as reconfigurable lanes and warning messages.
Why it won't work
Unfortunately, we won't see Solar Roadways in our lifetime. The most evident problem: the sheer scale and cost necessary to install enough solar roads to make an appreciable impact on electricity generation.
Solar panels are not efficient and are not cheap. The company's plan also includes routing data cables and power lines underground, which would inflate installation costs. Solar Roadways has not provided cost information, so we can only speculate what the system would cost on a grand scale.
Please include TorqueNews in
Google Alerts
to receive tomorrow's stories and
SHARE
this with friends if it was interesting.
Others are more qualified to estimate just how much it would cost to cover our nation's road system with these solar panels. No doubt if we made a true commitment to the idea, the scale of the project would significantly drive down costs of the components and processes involved. However, it will still likely be prohibitively expensive to revamp our entire transportation infrastructure so radically.
Is cost really the biggest problem?
Pages
Please
SHARE
with friends and include TorqueNews in
Google Alerts
for tomorrow's interesting stories.