Lucid has revealed how much the 725 km Air Touring and Pure AWD will set you back in Germany, Switzerland, Norway and The Netherlands with both variants coming in at north of 100,000 euros, francs and kroner.
The latest models to be given their European market prices both come equipped with Lucid's "Long Range" battery pack with 18 modules instead of the 22 found in the Extended Range packs on more expensive models. As we've seen in Lucid's packaging Tech Talk video this gives extra foot room for the rear seats as that's where the modules are left out of the pack.
Both the Air Touring and Air Pure AWD have a manufacturer-estimated WLTP range of 725 kilometres (450 miles). Official figures are pending.
King That Wears The Krone
If you're in the European market for a Lucid Air Touring you can expect to pay €129,000 in Germany, €134,000 in The Netherlands, 145,000 CHF in Switzerland and 1,300,000 NOK in Norway.
Air Pure AWD buyers will pay €109,000, €115,000, 215,000 CHF and 1,140,000 NOK in each of those countries respectively.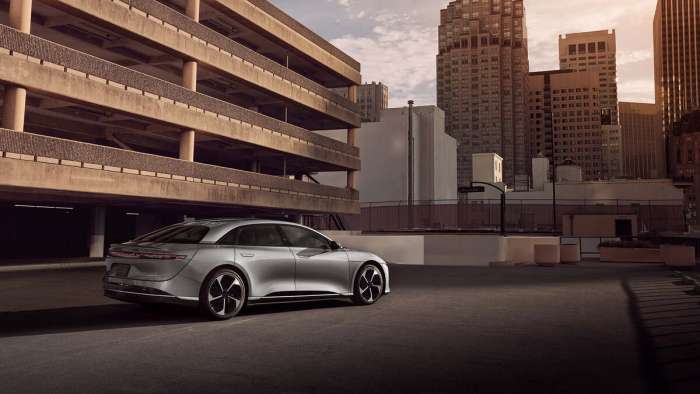 Lucid Air Touring
Lucid says that the Air Touring sits "at the heart of the Air range" and gives drivers the most options in terms of customization as it combines features found on lower and higher-end models. Featuring the same dual-motor all-wheel drive powertrain as the rest of the range (barring the Pure AWD) the Air Touring puts down 620 horsepower and can make the dash from 0-60 mph in 3.2 seconds.
Its seats come wrapped in carbon-neutral Nappa leather while the rest of the interior features open-pore wood trim and a range of recycled or synthetic textiles. The Lucid Air Touring comes with the solid aluminum roof as standard, though buyers can upgrade to the glass one found on models higher up the food chain. European deliveries of the Lucid Air Touring are expected to commence in Q3 of 2023.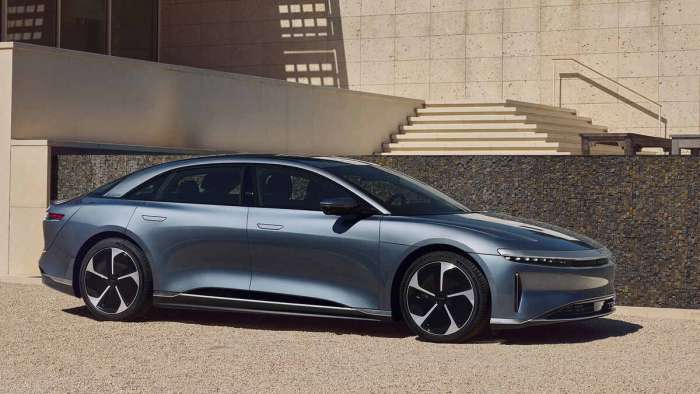 Lucid Air Pure AWD
With the same powertrain as the Touring, albeit turned down to 480 horsepower, Lucid says that the Pure range starts where many other luxury EV lines leave off. The Touring's Nappa leather is replaced by Lucid's "PurLuxe" alternative and the aluminum roof is the only one available. The Lucid Air Pure gets its own unique body colour, known as Fathom Blue (pictured above) and the all-wheel drive variant is scheduled for delivery in Q3 like its Touring counterpart. A rear-wheel drive version is slated to follow in 2024.
Both models are able to charge at speeds of up to 250 kW and can be had with the optional Dream Drive ADAS package.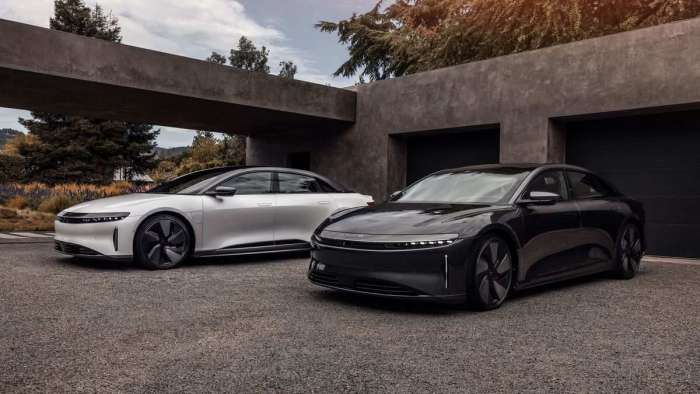 Steal(th) Their Looks
Also available for both models is the optional Stealth Look package which, as we've written about before, replaces a number of chrome or polished trim pieces with blacked-out versions for a meaner look. Prices are listed for aluminum and glass roof cars at €2000/€4000 in Germany, €2,034/€4,067 in The Netherlands, 2000 CHF/4000 CHF in Switzerland and 20,702 NOK/41,405 NOK in Norway. Unique 20- and 21-inch wheels are also available as part of the package.
Related Story: Vanguard Adds 5.4M Shares To Its Lucid Motors Investment
Images by Lucid Motors licensed by CC BY 4.0.
James Walker is an Automotive Journalist at Torque News focusing on Lucid Motors. If it's got wheels he's interested, and he's looking forward to seeing what kind of cars the EV revolution brings us. Whether it's fast, slow, new, or old, James wants to have a look around it and share it in print and on video, ideally with some twisty roads involved. You can connect with James on Twitter, Instagram, and LinkedIn.