2018 Honda CR-V is "The Most Innovative SUV of the Year." Honda CR-V continues to earn Auto Press and consumer praise. Such was the case last week from CES (Consumer electronic Show) Las Vegas, where Edmunds Auto News in conjunction with CES awarded 2018 Honda CR-V the inaugural "Most Innovative SUV of the Year."
Comming up against the formidable competition in what's been frequently called North America's hottest car segment, CR-V is the best selling retail (non-fleet) SUV in the U.S., with 377,895 units sold in 2017, another year over year sales record for CR-V.
What Honda CR-V offers that Rogue and RAV4 do not
Looking to the sales numbers: Nissan Rogue, and Toyota RAV4, compete most often with Honda CR-V, when today's well-researched consumers shop for 2-row compact family haulers. At times, Nissan Rogue, and Toyota RAV4 offer factory purchase incentives, Honda CR-V doesn't; resulting in a higher residual (trade-in, resale value) at end of ownership.
But that's not what puts CR-V at the top of the Edmunds Auto 2018 "Most Innovative SUV of the Year." award. According to Edmunds; "It's the ubiquity of the 2018 Honda CR-V's commitment to real-world usability that earns it Edmunds CES Tech Driven Award for Most Innovative SUV of the Year." Isn't that what a car or light truck should be all about? What does CR-V offer that the others don't?
CR-V presents most refined highway ride in its class

I've driven them all. And an important consideration for me when reviewing a new car or light truck, second only to the general comfort of the driver's seat, is the drive and ride dynamic of the subject. This is where the current generation Honda CR-V shines; quiet, comfortable, and track-steady. When driving on or off-road, CR-V smokes the competition.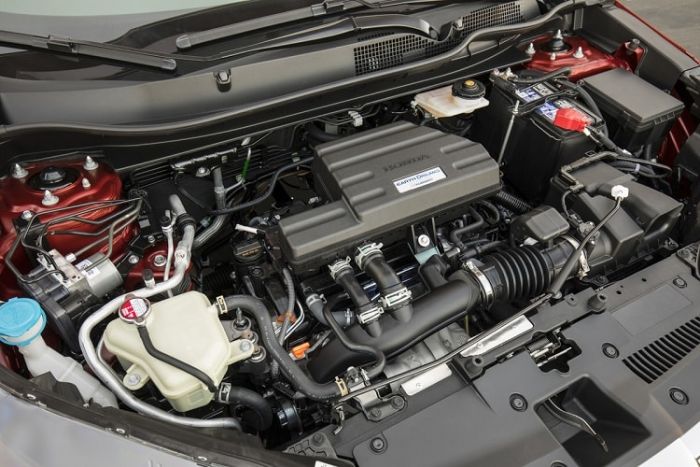 Cabin Ergonomics, and thoughtful people-centric accommodations
The first time I experienced the current platform CR-V was on the backroads of Marin County in Northern California. I'd attended the initial major refresh of Honda CR-V, 2 years prior in Huntington Beach, California. While in Surf City, I noted not only a measurable visual improvement to the interior finish, but exterior body details, lighting, and wheel selections, but a great improvement in seat comfort, personal electronic connectivity, and advanced active safety features. For 2018, CR-V's up-trim trend continues with greater second-row legroom, and arguably the best quality seating in Honda CR-V history.
2018 Honda CR-V presents a large, deep well, cargo platform behind row two. And, a very handy 40/60 split 2nd-row bench -- that when folded down, creates a segment topping near-flat cargo deck. For the tech-obsessed among us, Honda CR-V features Apple Carplay, and Android Auto, ( EX trim and higher) with multiple phone connectivity and charging ports throughout.
As to cup-holders and thoughtfully placed bin storage, yes, we find that too -- with quite arguably the most versatile, well planned, deep-welled, front-centered bin found in the segment today. For the tall passenger, sitting in row-2 is not a bummer in CR-V. Did I mention the optional no-touch, height-adjustable power hatch?
CR-V's available turbocharged engine is fuel efficient, and torque happy
Honda features a 1.5 Liter direct injected, turbocharged engine for CR-V EX trim level and higher. I like this engine for its early-on maximum torque band. The result is a slightly quicker highway ingress, passing-speed, and effortless grade climbing. Also, CR-V's CVT (constant variable transmission) tends to search and rev less when accelerating. I also appreciate the fact that regardless of trim level, Honda CR-V presents the same refined suspension tuning, no-fade brakes, and passive safety features.
Even at the entry level, the LX trim level is comprehensively equipped, and far from utilitarian. As to fuel efficiency, CR-V regardless of engine choice ranks at top of the segment with an estimated 28 City/ 34 Highway(1.5L FWD) on regular grade gasoline.
Advanced Active Safety: Honda SENSING ™, standard equipped on 2018 CR-V EX and higher
Dependant on trim level, CR-V comes with the highest rated, and most comprehensive active safety suite found in the Industry today. Honda's active safety suite can and does save lives. I first experienced Honda SENSING on the freeways of Los Angeles. It works astoundingly well. From utility family hauler to a night on the town, CR-V has you covered. Priced from MSRP $24,500 ( basic LX) to $32,650 +, (Touring) I recommend a CR-V comparison test drive to anyone considering the purchase or lease of a sub-premium class compact SUV or crossover.