Owners Voice Concern as to 2016 Honda Civic Initial Quality
Bottom Line: In inflation adjusted dollars, $20,000 is the new $10,000. How much "quality" car can a manufacturer produce for under $20,000, while presenting a 5-Star safety rated personal conveyance that offers a pleasing visually captivating bodyline, tech driven personal connectivity, Infotainment ™, and a decent nice-to-the-touch, spacious interior?
Reality Check: The average bathroom remodel costs way north of $20,000
In Monday's email inbox we find a CivicX.com reader or two questioning the initial quality of their otherwise exceptionally good looking, and decent riding, 2016 Civic Sedan. I've reported on this issue at length, it's not going away! And yes, in my multiple test drives and subsequent drive reviews of the 10th generation Honda Civic, I too have noticed the occasional rattle, squeak and misaligned trim piece, but rarely.
According to fellow Forum member "mno86," after 6,000 miles driven, "I noticed there's a lot of creaking and groaning in the plastics. If you push on just about any surface, it makes that sound like cheap plastic that's poorly glued onto something. Rattles are intermittent but more frequent at 10K mile than I'd expect, and I've had far more than I ever did in 40K miles of my 2013.(Civic)
He goes on to write: "I find that pushing gently on these panels makes them less rattle prone. I Usually do it whenever I get in the car. Maybe I'm crazy haha." Well perhaps, but I doubt it!
Member "eXultanCe" writes: "4k miles here, and I hear rattles everywhere. I've taken it to the dealership 3 times. Some gets fixed, then reappears, others never get repaired. I'm getting sick of it, to the point I've considered trading it in and taking the loss. What sucks is that I love everything else about the car, and nothing in this price range comes close to this. I'll be taking it back to the dealership until they fix it."
Unfortunately, the first year run of what is arguably the most advanced and refined Civic in the mark's history has been dropped from Consumer Reports recommended buy list -- I'm sure, a short-term downfall. I drive a 2016 Honda Civic Sedan Touring with 10,000 showing on the odometer -- still, pretty tight.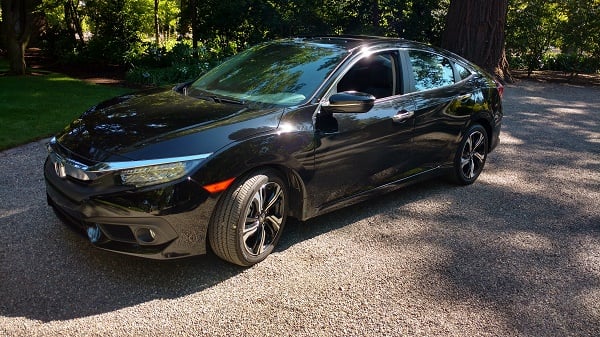 When 'they' build the perfect car...
How's your 2016 Honda Civic satisfaction rating? Your thought provoking, civil comment is always welcome here. Me, I considered the 10th generation Civic to be an outstanding purchase value when weighed against (apples-to apples) competition. The cost per unit, profitability quotient for this car is a complicated balancing act of measurable comfort and performance exceeding the limitations of an entry-level MSRP. In the case of 2016 Honda Civic, you get exactly what you pay for.
When shopping for a new or used car
Take some personal time alone inside your car of choice without the charter of the "art of the deal" salesperson. A close look, and a solo drive with your ear to the details, will pay off in long term trouble-free satisfaction. Decide what level of quality is acceptable to you, then buy it.