Michael Shank Racing Acura NSX GT Race Ready for Rolex 24 Hour
NSX GT is looking good for the resurgence of Acura Motorsports
Much like its predecessor, Acura TLX GT, NSX GT-3 comes to motorsports in a much modified rear axle, 6-speed manual transmission shifted variant. Due to race-class-specification design, and drive configuration restriction, NSX loses the gasoline/electric hybrid torque-vectoring all-wheel-drive set up, and opts for a more conventional engine placement and driveline configuration.
However, according to our friends at Honda Performance Development, NSX GT3 does utilize a 2017 Acura NSX specific 3.5 Liter 75* turbocharged, aluminum block and heads V6 -- it's pumped up a bit, but very mechanically reliable.
Lighter, shorter, and a bit slipperier than TLX GT
Looking to the NSX GT-3 design, we discover a very small, on-the-ground, short and wide racing machine. I love the look, and spent some time speaking with NSX developer and RealTime Racing's owner and driver Peter Cunningham in Carmel California as to the upcoming race year. RealTime Racing will campaign two NSX GT-3 cars in the 2017 Pirelli World Challenge race series. My track day with NSX was an eye opener.
24 hours, 2 cars, 8 drivers
The Rolex 24 hour is world-class endurance race, a rarefied realm in the world of auto racing. Michael Shank Racing is at the top of the game and won the Rolex 24 back in 2012, and has lead the event in all but one year of participation. Looking to the history of H.P.D., Acura Performance and Michael Shank Racing, Acura NSX GT is headed for greatness.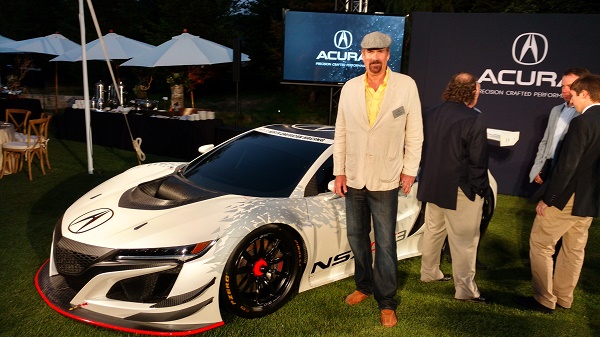 TELEVISION COVERAGE:
Saturday, January 28 2:00 PM – 5:00 PM FOX
Saturday, January 28 5:00 PM – 10:00 PM FS2
Saturday, January 28 11:00 PM – 12:00 AM FS2
Sunday, January 28 12:00 AM – 12:30 PM FS2
Sunday, January 28 12:30 PM – 3:00 PM FS1
DRIVER QUOTES:
Ozz Negri, No. 86 Acura NSX GT3: "My role is to do the best job that I can for Michael Shank Racing. Mike Shank is the guy that I've been with for such a long time. I'm a professional and he's my boss. I know he's got a lot to deliver for Acura and my state of my mind is that I have to do whatever I can to help. I enjoy driving the Acura a lot more than I thought I would coming from racing a Prototype for so long. It's a cool car. It's a different approach than what I'm used to in the Prototype but it's a race car and I'm a race car driver so I'm adapting to it. Jeff (Segal) has been helping me out so it's been good."
Jeff Segal, No. 86 Acura NSX GT3: "This year's Rolex 24 will be interesting. I think we have a really strong team. We have a lot of experience here. The team has won this race before and we have a lot of drivers on the team that have won this race before. So we certainly know what we need to do. We're doing everything possible. Right now it's very difficult to predict – 24 hours is a very long time particularly for a brand new car. All we can do is maximize the things we can control and cross our fingers on some of the other things. We take comfort in the fact that everything that can be done is being done right now, so that's all that we can do."
Tom Dyer, No. 86 Acura NSX GT3: "It's definitely cool to be a part of. As this effort has come together, it's been growing and getting better. Now that we've made a lot of progress, this will be the first opportunity to see where everybody stacks up. It felt good that we could crack the top-10 and top-five with regularity at the Roar, I think that bodes well with the amount of work everybody has been doing. I think we can be considered a contender. This will be my first Rolex 24, and it's very cool. I've done a few 24 hour events before, but this will be my first Rolex 24 and to be part of an effort like this is just icing on the cake."
Ryan Hunter-Reay, No. 86 Acura NSX GT3: "I'm thrilled to be a part of such an enormous effort on behalf of Acura and Michael Shank Racing. It's been a long anticipated debut of the NSX. People have been waiting almost a decade for this car to come out. It's great to finally be on track and having been a part of the development process has been rewarding and fun. Hopefully we can have a first good race for it. It certainly looks the part and every session on track we've been getting closer to making it a car that can contend for the race win. One step at a time. I'm just thrilled to be a part of this and to be back with my Honda/Acura family."
Andy Lally, No. 93 Acura NSX GT3: "Daytona is such a unique circuit because it is essentially two circuits in one. It's a long track at 3.56 miles and we have so much of it where we're flat out on the high banks of Daytona and so much of it where we're on the completely flat, tight hairpin switchbacks on the infield. So there's always a compromise with the chassis set up where we have to make the best of both worlds and kind of find where we need our strong points to be. That's not only a lap time thing, it's a strategic thing when we race – where the lap time may not be as strong, but when we're in a pack we may be able to battle better and find the weak points of our competitors."
Katherine Legge, No. 93 Acura NSX GT3: "It's really exciting to be a part of such a good team for the Rolex 24. The professionalism of everyone at Michael Shank Racing and HPD is just a really neat experience. As far as our expectations, nobody really knows. Until we get into the actual race, managing expectations is going to be key because nobody really knows where everyone else is at."
Mark Wilkins, No. 93 Acura NSX GT3: "It's great to be back with Michael Shank Racing, we just have a fantastic driving line up in the No. 93. I'm really excited to drive with this group. We had a strong test at the Roar – we did a ton of work. It's been a huge effort and we all really appreciate it. The car is working really well. I am very excited."
Graham Rahal, No. 93 Acura NSX GT3: "It's great to be back with Mike (Shank) – we're a couple of central Ohio guys. This team has done a tremendous job over the years so it's cool to see them get the opportunity to run the NSX for Acura. Having been a little bit involved in the development of the car originally – the street car and now to get the first taste of the GT3 car in racing action at Daytona will be pretty cool. It's a great opportunity for me and I'm excited to continue my relationship with American Honda and Acura and keep this thing going.
*Michael Shank Racing 2017.