Honda takes CR-V winning formula to the next level for 2017
How did Honda measurably improve the best selling SUV in North America while holding the price point? Honda takes CR-V's winning formula to the next level for 2017.
It's difficult to find fault with Honda CR-V. While it may not be the most powerful or refined compact crossover available in the U.S., with a beginning MSRP below the $25,000 purchase point, comfortable seating up to 5 adults, 5-door crossover utility, and combined fuel efficiency approaching that of a Honda Accord, as reported here last week, CR-V remains the best selling SUV in the U.S..
Here's the thing: The competition is fierce in the compact/midsize crossover/ SUV segment, with all major domestic and import auto manufacturer's bidding for your auto -- purchase dollar. Looking to the numbers, pickup trucks, crossovers and SUVs dominate the market with an ever-shrinking 30% remaining for the conventional car (sedan and coupe) buyer -- as most consumers gravitate to a SUV-like platform.
What Honda may do better than the rest is bridge that transition between the family 4 door sedan, and the attractive, higher seating positioned 5-door utility crossover -- while preserving car like in city handling, fuel efficiency and ease of operation.
Granted, most CR-V drivers will never wander off of the pavement. Yet, CR-V is available with an all weather full time all wheel drive option, and it's affordable. Read my latest 2017 Honda CR-V drive and ride experience here. I was blown away by how civilized the CR-V drive and ride experience is.
What I like about the reinvented 5th generation Honda CR-V

For 2017 Honda takes the "box" out of CR-V by balancing the body line -- not an easy thing to do in a utility crossover/SUV configuration.
While carrying Honda's next generation 3D signature grill design, digital lighting and exceptional color pallet into the CR-V lineup, we find hints of the redesigned Pilot, Ridgeline and HR-V here. Yet CR-V remains a look unique unto itself through side and hood panel, hard to soft line transition, a well balanced front and rear overhang -- complimented by a "fat track" tire to pavement connectivity. 18 inch standard alloy rims, and a near 'Dub' 20 inch alloy rim and low profile sidewall tire option is available. At the end of the day 2017 CR-V looks good, it's not your standard, cookie cutter family hauler.
There's a bit more "bling" for 2017, I like that
With little argument: CR-V is no longer an entry level compact offering at any trim level. Not only is it comfortable, relatively quiet and road worthy, for 2017 buyers will discover a turbocharged engine option, much improved suspension, ease of braking and a much improved steering feel.
Not wishing to take anything away from our friends at Ford, Kia, Nissan, Mazda and Toyota -- or the brand loyal that drive the aforementioned; while your vehicle of choice may present greater horsepower, a lower MSRP, a space-age look, or the only 10 year warranty in the industry, Honda CR-V has you beat. Here's why: I've driven them all, and when I look to the total sum of the vehicle package equation that is 2017 Honda CR-V, no manufacturer in the compact crossover segment beets CR-V for total package offered, at any price.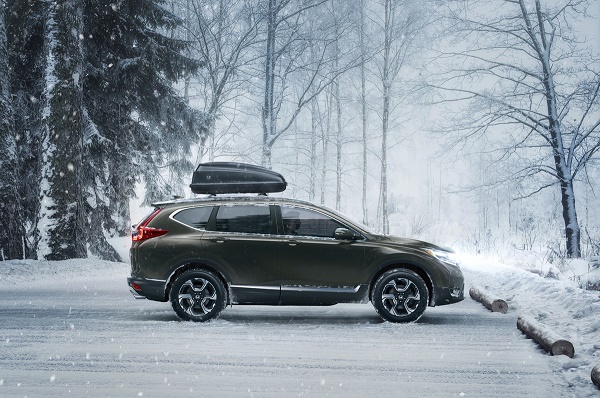 The bottom line: The proof is in the test drive
Without reading like a Honda advertisement, one can only place soo much descriptive prose on a page without reading like a brand advertisement -- that's not my gig. With that said, based on my own experience, I recommend a CR-V test drive to anyone considering the purchase of a new or used compact crossover. What truly sells CR-V is one key factor: It presents the best deal for the dollar in the compact SUV segment.