You see more of them these days driving the city streets and country roads of North America. Honda HR-V released to the U.S. and beyond in early 2015, took a production cycle to catch up with market demand, as well as the transition of Fit production back to Japan. Now, HR-V can be found in stock at your neighborhood Honda dealership.
How does HR-V rate against the competition?
After driving the competition, I believe that the coupe-looking, Fit architecture, Honda HR-V, while a bit underappreciated, remains a great purchase value. This weekend, as America fires up the barbecue for the 4th of July, Torque News loads up the HR-V and heads for the lake.
An interesting blend of Honda sensibility and reserve meets cutting edge design and utility
For 2017, HR-V remains largely unchanged from its original format. You won't find a 1.5 Liter turbocharged engine in HR-V, although I do believe it could benefit from one. Instead, Honda pairs a very capable, torque-happy 1.8 Liter i-VTEC 4-cylinder gasoline engine, with its state of the CVT transmission. One can opt for a very sweet close throw 6-speed manual transmission, (front-wheel-drive only)or, for the adventurous, an available CR-V derived real time all-wheel drive option.) We've had HR-V in the dirt, it works!
Loading up HR-V, we're just a bit blown away by the rear deck cargo capacity
A near flat, and tall enough hauling platform to carry tall cargo such as a barbecue or inflated raft (small) Honda HR-V easily transforms from a 5-place urbane family transport, to a do-all subcompact transportation module, with minivan hauling characteristics. With the flip of the wrist, the second row easily splits (40/60) to accommodate those long items, tent poles, oars, etc, while providing a second row seat. Or, one can opt for near flat deck hauling capacity by dropping the second row into the down position. The rear hatch, while not automated is easily lifted, loading is a snap.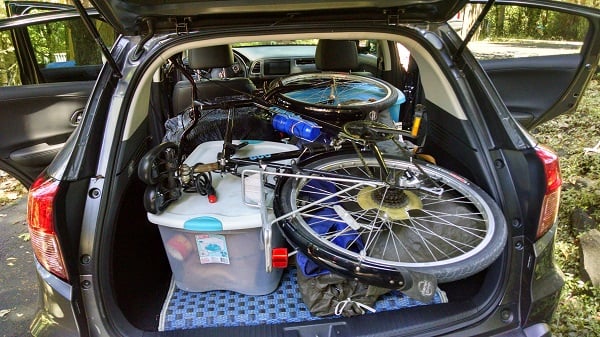 Side winds, heavy truck traffic, and a bit of rain
Our HR-V's ride dynamic actually improved with the heavier load. Driving to the lake we encountered a measurable side wind, heavy truck traffic and a bit of rain. Honda HR-V's engine proved powerful enough. We averaged about 28 MPG combined on this run -- not bad for a full load. We wish our Honda-Torque News friends a safe and sane 4th of July holiday weekend. Check out the video below for my latest HR-V drive and ride impressions.
Photo and Video Attribution: Parks R. McCants 2017.