After years in the Auto business, and the better part of a decade reporting on developments in what's been deemed the new Golden Age of the car, I've learned a thing or two about car sales and marketing; or more to the point; how effective advertising campaigns and factory dealership incentives drive car sales. In play is the sales battle between two 4-door sedan titans; Honda Accord and Toyota Camry. Long the two best selling sedans in North America, one of them is 'killing it!'
2018 Honda Accord; Did the Auto Press get it wrong?
Despite an unprecedented waterfall of written praise from the automotive press for Honda's reinvented from the tires up 2018 Accord, the new world-platformed Toyota Camry is hammering Accord at the dealership. We've driven both, "brothers from different mother" comes to mind. Accord and Camry bring to what many in the business acknowledge as a slowly dying car segment, a very capable, comfortable, and pleasing to drive sedan.They're both remarkably improved cars. Read our latest Toyota Camry drive review here.
Yet with overall car sales receding from the near gidy market highs of the past 3 years, consumers continue to migrate to Crossovers and SUVs. With Fiat Chrysler and Ford sounding the death nel of the sedan class with the pending stop on sedan production, Honda and Toyota look to preserve market share by presenting the safest and most tech-advanced, near-premium sedans in automotive history. With Ford out of the way, they may be onto something.
Accord and Camry compete in a race that few care about
Torque News experienced the press reveal of both Honda Accord and Toyota Camry last Fall. In open conference, both makers acknowledged a measurable shift in consumer sentiment when it came to the conventional midsize family sedan -- fewer people were buying them.
At that time it was estimated that 41% of all new car sales (not trucks man) landed in the sedan segment. Honda and Toyota moved to preserve their share of the market by producing the largest, most fuel efficient and comfortable Accord and Camry in the maker's history. This Honda man loves Accord Sport..
Neither maker believed the sedan segment would grow. In rolled two reinvented midsize 5-place sedans effectively setting the benchmark in the segment; with new found fuel efficiency, lower emissions, clean-line aerodynamic good looks, and advanced active safety features; now standard on all Camry trim levels, and all but the entry trim level in the Accord lineup.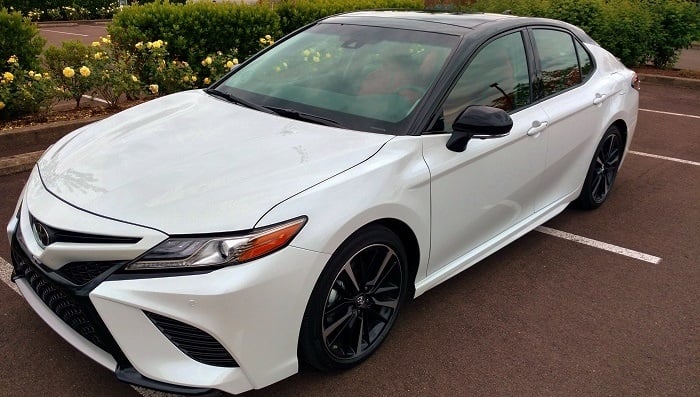 I should of had a V6
While Honda killed the V6 option for the Accord lineup, instead, embracing low displacement turbocharged 4 cylinder engines,an available 6-speed manual, and re engineered CVT and 10 speed automatic transmissions; Toyota engineering opted for a normally aspirated 4 or 6 cylinder engine for Camry, with shifting duty delegated to an 8-speed automatic transmission.
In speaking with Toyota Engineering through an interpreter, it was shared with Torque News that the maker found little to no reason to turbocharge Camry. Toyota bettered Camry's MPG without turbocharging, and left the heavy lifting to a time proven race-inspired 3.5 Liter V6. Thi left Camry with one of the last remaining V6 engines available in the bread and butter family sedan segment; The-is factoid wasn't lost on the public.
Honda Accord goes 100% turbocharged; there's a downside to it
While Toyota Camry preserves the more conventional exhaust note and driving attributes of a normally aspirated mill, Honda opts for the slightly higher fuel efficiency and constant torque generated by the Civic derived 1.5L and 2.0L direct and port injected turbocharged low internal friction 4 cylinder gasoline engine.
By and large consumers, and more specifically, long-term Honda owners, remain skeptical as to the mechanical reliability and longevity of turbocharged engines. Furthermore, the diesel-like rattle, (negligible) harmonic idle-vibration, and exhaust note generated by Honda's Earth Dream mill does not lend itself to what most consumers perceive as "premium." Adopting the Accord Touring mill from Civic Type-R, puts a twist on premium. Unfortunately for some drivers, the exhaust note doesn't sound premium.
Second only to rebates and factory incentives, it's the first drive impression that sells a car
There's little arguing that today's 2018 Honda Accord and Toyota Camry are visually compelling. So, with Honda taking the lead in ease of personal electronic connectivity, fuel efficiency, and overall superior ride dynamic, why does Toyota Camry dominate in the monthly sales reports? Surprisingly for many consumers, Camry's advantage in this sales race does not come from superior quality, favorable MSRP, or total comprehensive trim packaging. It comes down to 3 considerations.
Toyota Camry takes the lead in factory incentives and consumer perks
Frankly, neither brand is killing it on the lot when we look to the sales report for the month of April 2018. Both maker's sales are down off the highs of 2017. Again, nothing more than a side note for the consumer looking to make a deal on that new car or light truck. After spending much seat time behind the wheel of Accord and Toyota, I believe the total-package-offered assessment is too close to call in this race.
So, your decision to purchase an Accord or Camry will most likely come down to brand loyalty, and personal budget. Toyota has long subsidized dealership sales momentum with factory purchase incentives; Honda's very conservative with incentives towards the goal of preserving high residual resale value. Toyota offers a 2-year maintenance plan, inclusive with the purchase of Camry; Honda Accord does not.
Simply put: If your a brand loyalist, you'll most likely remain with your brand
Priced within a few hundred dollars of each other. Honda Accord and Toyota Camry don't often gain each other's long-term brand loyal customers in the Sedan sales game. Currently, Camry's outselling Accord by 7,000 units per month -- chicken scratch in an industry where well over 16 million cars and light trucks will be sold in 2018. Yet, people like me scratch our collective heads in pondering the wisdom of pouring heavy R&D and manufacturing resources into the sedan segment. I like driving a good performance sedan from time to time. But, for the long run, I'll take a hatchback crossover or SUV for the higher seating position and utility.
Price point: Top trim Accord and Camry approach $40K
Here's my final observation: We get what we pay for. Although both Accord and Camry offer entry-level trim packages priced below $25,000, by the time one is done compiling the build sheet, or negotiating with their friendly dealership sales department, most buyers will land in the $30 K plus range, with a monthly payment approaching $500.
Camry's lead over Accord in sales has little to do with initial quality or purchase value
That's a lot of dough for an Accord or Camry. The final reason why new car sales are down in North America is the massive used car and lease-return volume. This is the best time in recent years to negotiate a favorable term on a new or used car. To catch Toyota Camry in the new car sales game, Honda will need to incentivize Accord.