CR-V, HR-V Crossovers continue to drive American Honda sales in March
Coming off of two record sales years for the U.S. auto market, analyst predict a general downtrend in auto sales for 2017. Such is the case for America's Big 3, with U.S. auto dealership inventory sitting at its highest level since pre-recession 2004. Although car sales are down across the board, Honda's crossover lineup continues to sell well with the reinvented 2017 Honda CR-V topping the charts, and subcompact HR-V recording yet another record month, up 23 and 19.6 % respectively, shows the statement released by Honda.
Honda's 2017 March Sales
American Honda Trucks post "best ever" March
Honda trucks had best ever March sales, gaining 12.6 percent on sales of 61,975.
CR-V led truck gains with a March record of 32,872 vehicles, up 23 percent.
HR-V set a new March record, rising 19.6 percent on sales of 7,653.
Ridgeline sales surpassed 3,700 units in March.
Honda Civic a Compelling Choice
According to Honda's Jeff Conrad: "Many automakers are looking for signs of market stability as consumers continue to head towards trucks and SUVs," said Jeff Conrad, senior vice president and general manager of the Honda Division. "But cars are still a compelling choice for many, especially when you have the right formula. Civic is a great example."
Read our latest 2017 CR-V Touring "week in the seat here." Turbocharged, fuel efficient, road sticky, measurably comfortable, and eye appealing, Honda CR-V brings superior drive performance and fuel efficiency to the mainstream compact crossover, SUV segment.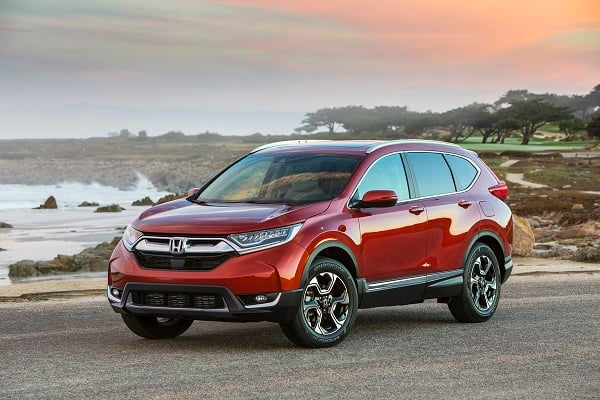 Honda HR-V Crossover is Affordable in Its Segment
As to the subcompact HR-V crossover, this not so little Honda utility brings affordable AWD (all-wheel-drive) weather conquering traction to a segment dominated by capable, yet utility-like 5 door cubes. We're seeing many more HR-Vs on the street as customers embrace the coupe-like styling and in-city ease of maneuverability offered by this Fit platformed "magic-seat," transformer. With a beginning MSRP of $19465 +, it's tough to beat the comprehensive packaging and drive friendly environment that is HR-V. Read my latest HR-V drive impression here.