Reinvented 2017 Honda CR-V ranked 'Best Compact SUV for the Money'
There is no shortage of well built , quality competition in the North America compact SUV segment. Second only to the pickup truck in sales volume, the crossover/ SUV segment dominates new car sales in the United States. Sitting at the top of the pinnacle in user-friendly, fuel efficient, tech driven SUV design is 2017 Honda CR-V -- beating out Hyundai Tucson, Ford Escape and the venerable Toyota Rav4.
The reinvented CR-V is a bit of a visual and perceptual mind blower
It's that crazy thing that Honda does so well. The first time I got behind the wheel of the reinvented Honda CR-V in San Francisco, California, It took me a moment to wrap my multi brand driven auto journalist perspective around how far Honda CR-V had evolved since its major refresh of late 2015. How could a compact 2-row SUV sit this big? Not only could CR-V be purchased with a turbocharged engine option, but even at the base trim level, was upsized, upticked as to standard features, refined as to ride comfort, and visually kicked the proverbial butt of the compact SUV segment -- hands down. Read my initial drive impression of what U.S. News and World Report calls " The Best Compact SUV for the Money."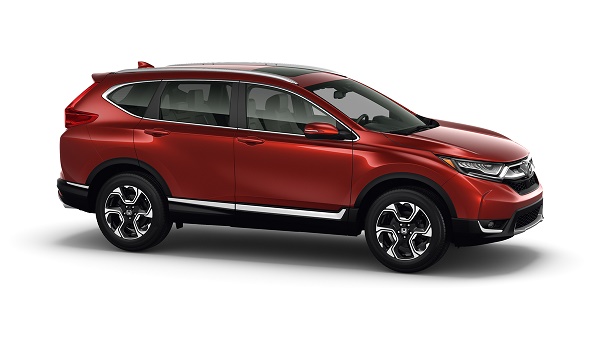 Here's how USN weighed in on 2017 Honda CR-V
Is the Honda CR-V a Good SUV?
When Honda first introduced the CR-V back in 1997, "CR-V" stood for "comfortable runabout vehicle." That's still an accurate description of this SUV's prime mission: comfort. Today, no other vehicle in the class hits all the marks for a top-flight compact SUV: lots of cargo space, a great interior, plenty of passenger space, and excellent fuel economy with the available turbocharged engine. There are also plenty of infotainment and tech features to choose from. In the base model, you'll get a standard rearview camera, Bluetooth with voice recognition, and a USB port.
Driving the CR-V is enjoyable but also reveals its one flaw: The turbo engine is great around town, but trying to pass someone on the highway requires a bit of planning, as the engine is a little underpowered. Still, the Honda CR-V makes a case for itself not only on its practicality and comfort, but its value as well. In fact, because it has the best combination of quality and value in the class, the Honda CR-V is the winner of the 2017 Best Compact SUV for the Money award.