China first to experience 6 speed manual Civic EX-T turbo [Video]
While it's true that American Honda Motors has promised the eventual availability of an optional manual transmission across all 10th generation Honda Civic trim levels, China gets it first. And while the 2016 Honda Civic manufactured through a partnership in China is similar to the North American version, it varies just a bit. I did get behind the wheel of a pre production 6-speed manual transmission Civic turbo here.
Different market demands drive trim levels and accessories
Price point, safety regulations, consumer preference, electronic device connectivity and more dictates regional performance specifications and option feature packaging. While I don't have the data in front of me, my guess is that Chinese drivers as in the balance of Asia and much of Europe, prefer manual shifting in greater numbers than their North American counterpart -- where it's reported that less than 8% of all new generation driver's have experienced manual shifting.
Looking to the China market specification Civic EX-T, we discover a rather entry level cloth interior trim package with electronic upgrades, turbo power, a 6-speed manual transmission, the mention of push button activated limited slip traction control, and a trim detail or two that you won't find in North America.
We further discover a torque designation on the rear trunk lid, as well as a slight variation in head and tail light design, as well as the Honda logo. We could use the plastic rear hood hinge cover and washable trunk liner in the U.S..
2017 Honda Civic Hatchback turbocharged, manual 6-speed
As earlier reported by Torque News and others, the first production 1.5 liter, turbocharged, 6-MT (6 speed manual transmission) 2017 Honda Civic will arrive at local Honda dealers (sometime in early Fall 2016) in the form of the stellar 5 door Civic hatchback. I look forward to driving it!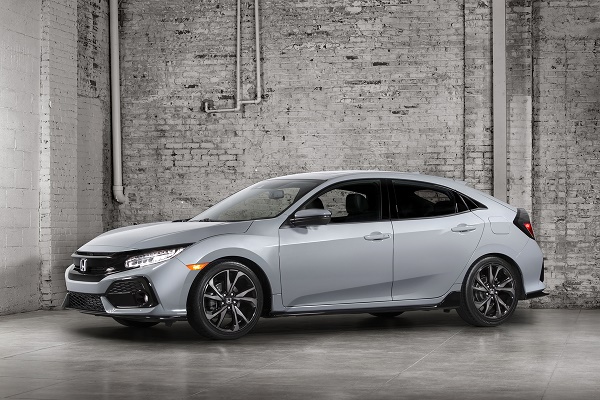 In the meantime, thanks to my fellow CivicX.com Forum member "CivicChina," we have a genuine preview of things soon to come -- in the form of a walk around and drive video.. He likes his new Civic, and is just a bit fuel efficiency obsessed. Aren't we all? Enjoy!