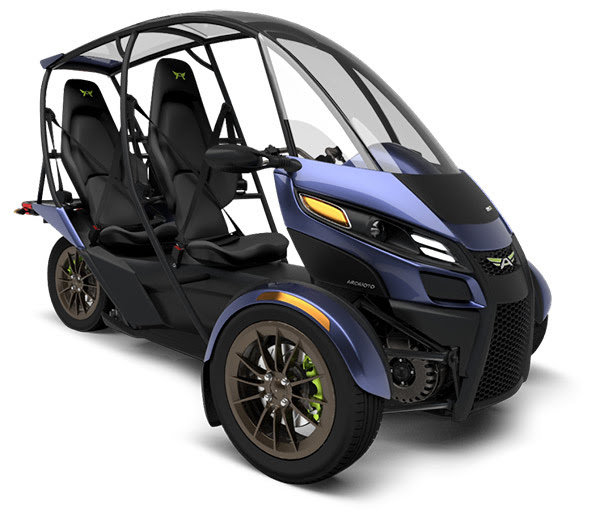 Arcimoto SRK Trike brings motorcycle inspired adventure to EV segment
Please
SHARE
with friends and include TorqueNews in
Google Alerts
for tomorrow's interesting stories.
Here's the thing. As an automotive journalist, I have a tendency to gravitate to the technical, mechanical and safety side of newly released cars, trucks, and occasionally motorcycle. If I was to limit this introduction to Arcimoto's technical and safety features, the article wouldn't run long enough to catch Google's Bot, you'd never see it!
By today's auto manufacturing R&D and production standards, the 8th generation Arcimoto SRK, while very cool, in an open vehicle sort of way, is as bare-bones-basic as to airbag compliance, accident preventive measures, adaptive cruise control, electronic assisted ABS brakes, center stack accessed touchscreen monitor connectivity, and "smart wheel," as it can get. It offers none of the aforementioned, and in fact, is not classified as a car. As an automotive purist, I like that! I like driving...
Affordable, fun, practical, renewable, 70 to 130 miles between charge cycles
Reality check: The majority of Americans drive less than 24 miles per day. Don't ask me for a source, I read it somewhere, and then went out on a two day run in a Soul EV and qualified the statement. Eugene, Oregon based Arcimoto Electric is betting on this factoid, while presenting a very transformable 3-wheel, cage enclosed, motorcycle handlebar directed electric trike.
I've been following Mark and the Arcimoto 9-year development story for several years, and finally nailed down a test drive in early February with Arcimoto P.R. guy Eric Fritz firmly planted on the back seat -- a comfortable seat at that.
Forget what you think you know about 3-wheelers
After scooting onto the car-like seat, and fastening the double shoulder harness and seatbelt, (this is an open vehicle) I released the parking brake (production model will be electric) and pushed the thumb knob to the forward drive position. I then cautiously twisted down on the motorcycle style throttle grip, while easing Arcimoto onto the street -- it was surprising agile yet stable, exhibiting minimal side roll, descent suspension dampening, and civility of ride. Within minutes, driving Arcimoto became second nature.
Our test mule wasn't equipped with steering dampers or power assist, both are planned for the production model. Yet steering was easy and intuitive, for this seasoned motorcycle rider. The single 70 horsepower electric motor pulled with conviction as we headed up the rather beat-up streets of Eugene. Heading for the only true uphill in town, Skinner's Butte, I was mentally prepared for performance related disappointed -- I wasn't. I like the instant-on torque of the near silent electric motor. Cool stuff!
Keeping it simple
Pages
Please
SHARE
with friends and include TorqueNews in
Google Alerts
for tomorrow's interesting stories.