Acura Realtime Racing's Eversley, Pumpelly ready for Utah slugfest
Round 14 of the G.T. class Pirelli World Challenge series was arguably one of if not the most accident ridden runs in recent PWC history. While Ryan was able to maneuver around the caos, veteran G.P. racer Spencer Pumpelly was not as fortunate.
On his first day behind the wheel of the rebadged # 34 car, Pumpelly was taken out of the race in lap 3 by a hard "rub" resulting in what looked to be a broken rear suspension component.
At any rate, the #34 car ended off the track and braked onto a dirt safety runway, that was it for Pumpelly's inaugural ride in what was formally P.D. Cunningham's #42 car. The Pirelli World Challenge series is quickly shaping up to be as exhilarating as NASCAR, and is now nationally televised.
The first time I went out to Sonoma Raceway back in 2014 to catch Cunningham behind the wheel of the then 4-wheel-drive Acura TLX GT, he was rear ended at the start of Saturday's race. I was on hand for Sunday's round, Acura TLX-GT was damaged beyond the point of field repair, and was unable to run. For Peter Cunningham, this was racing, business as usual!

With Cunningham dedicated to the NSX GT program…
The 2016 PWC driver and team points competition rests on the shoulders of a very capable Ryan Eversley, for many PWC fans, a surprising front runner in a field of veteran drivers fielding over- the- top GT3 specification exhotic cars. In this series, one will witness Eversley and Pumpelly's Acura TLX GT going nose to tail wing with Audi, Bentley, Cadillac, Porsche and others -- all highly modified "touring" car based racing platforms -- combined class -- running start -- choreographed pandemonium.
Eversley presently ranks #5 in PWC GT class standings
Getting back to the MId Ohio race recap: Sunday's round 15 found Eversley finishing 2nd, with Pumpelly recovering from Saturday's fiasco with a very respectable 8th place finish. I'd previously predicted that Eversley would move up to 3rd place in the overall standings at Mid Ohio, I was a bit premature with my prediction.
However, looking to the point spread between Eversley and 4th place Utah Motorsports Campus PWC GT class defending champion Cadillac's Johnny O'Connell, pending perfect weather and fewer cautions, Everley has a good chance of breaking into the top 4 in this weekends competition.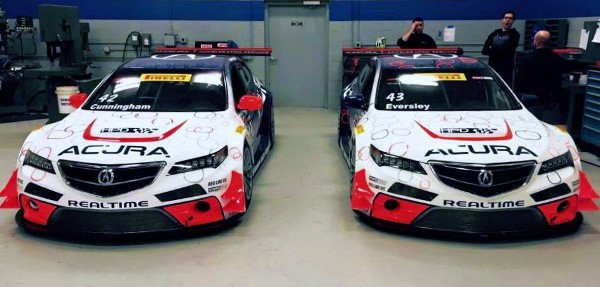 As to Spencer Pumpelly: A damn fine driver with the track record to back up my hype, Spencer if given the opportunity, will kick some tire dust in Utah. It's anybody's guess as of this writing as to the outcome of the August 12 through 14 event. My money's on Acura.