2018 Fit Sport Captures The Spirit of Honda's Small Hatch Beginnings
With the 3 year reinvention of the entire Honda car and light truck lineup, Honda Fit for the most part is pushed to the back of the lot. It's a shame really. Everytime I get behind the wheel of Honda's most affordable compact hatchback, I'm blown away by not only how much car one gets for the dollar, but how fun Honda's 1.5 Liter, 130 horsepower hatchback is to drive. Fit is underappreciated.
Inside Fit Sport we discover the unrivaled interior volume and utility afforded by what is arguably the best designed, transformer-like interior available in the subcompact hatchback segment. Fit is one of Honda's best selling cars -- worldwide. Fit has a couple of interior options that the competition does not offer.
One of my favorite features is the tall object, deep well platform manifested after tilting up and locking one side of the second row Magic Seat. When the second row is folded in the down position, Honda Fit Sport is transformed into a capable near flat-deck cargo hauler.
As with all Honda cars of the past, with Fit, one forgets they're driving an economy car
For 2018 Honda presents the Fit Sport variant. Powering Fit Sport is a 130 horsepower 1.5L i-VTEC 4 cylinder gasoline engine. Shifting is done manually via a very forgiving close-throw 6-speed transmission. Torque is transferred to the pavement via the front wheels. Visually, Honda Fit Sport captures the imagination through race-inspired body cue, blackout alloy rims, a 3D flying "H" grill, front and rear lower cowlings, up-trim lighting treatment, and more.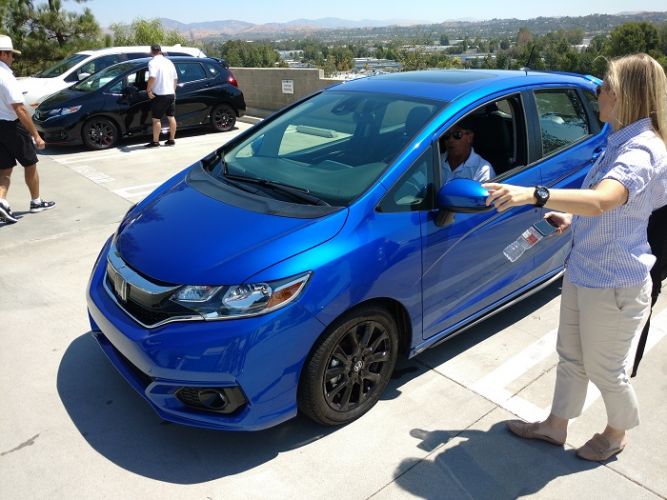 2018 Honda Fit Sports engine stats may be a bit understated, the drive experience is not

As anemic as 2018 Honda Fit Sport engine power statistics pencils out, the drive and ride dynamic can be very exhilarating. As with small displacement Honda cars of the past, finding the "sweet spot" is the key to fun driving. Fit Sport is surprisingly sporty, smooth, and comfortable. By day two of our "week in the seat," I eased into Fit Sport's engine, transmission pairing, finding the torque sweet-spot soon became second nature.
Once one finds that RPM sweet-spot, Fit's torque comes on at 2600 RPM, and likes to operate in the 3500+ RPM range when driving city streets. I found myself transitioning through city traffic lights in 3rd and 4rth gear. While maneuvering through traffic on the highway, Fit Sport is happiest when running in 4th and 5th gear.
Although, I did find 6th gear to be useful when cruising at 72 MPH in the far left lane. Honda engineering does a commendable job of keeping Fit Sport reasonably quiet when running the highway. When riding with passengers,conversation can be had at normal speaking volume.
This tall driver finds 2018 Honda Fit Sport's interior to be surprisingly roomy and comfortable
It's a bit of a mind blower. At 6' 5 inches tall, I fit in Fit without compromise as to seating position, head and leg clearance. Although Fit Sport's seats are mechanically adjusted, and fabric covered, they proved to be comfortable. With 1,000 put on the odometer in my week wit Fit Sport, I can attest to the fact that Fit is more comfortable than many midsize sedans and hatchbacks. Honda Fit Sport exceeds my performance and comfort expectations for a subcompact hatchback.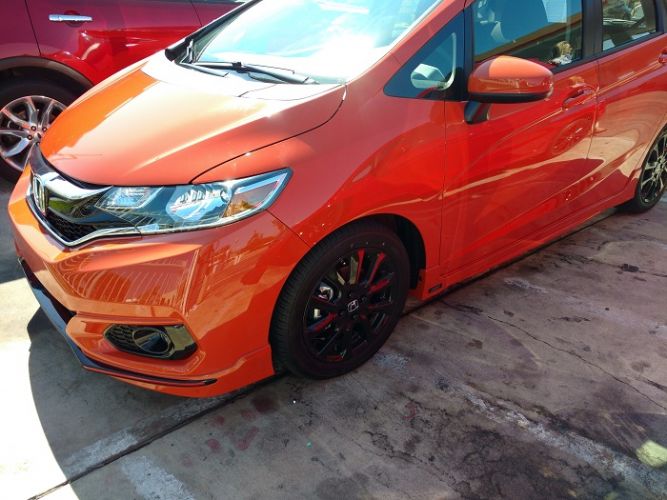 2018 Honda Fit Sport, road handling, ride quality, and fuel efficiency
As I've stated in the past,(this is our 4th Honda Fit drive review) the mechanical magicians at Honda Engineering have somehow installed a large-car ride feal, and road handling dynamic in Honda Fit. With little debate, Honda Fit Sport presents the best sub-premium-car road handling, and drive dynamic available in today's subcompact hatchback segment.
Pushing Fit Sport hard on the Western Oregon back roads, I discovered an $18,380 Honda that handled the twisty 2-lanes well, braked with non-grabbing conviction, provided descent road to steering wheel feedback, with minimal torque steer noted. Interestingly enough, for me, a guy that gets to drive $!85,000 supercars from time to time, 2018 Fit Sport turned heads as often as any car on the road today.
At the end of this drive review I reflected on the small body hatchbacks of Honda's past. Yes, Fit Sport does bring back a memory or two. With a twist. For 2018, Honda Fit is well equipped, standard safety equipped, fun to drive, economical to operate, and financially obtainable. I recommend a Honda Fit Sport test drive to anyone considering a subcompact hatchback purchase. Fit's a fun commuter that captures the spirit of Honda's small hatch beginnings.
Parks McCants has written automotive news for the better part of a decade. He can be found here at Torque News, Green Car Journal, and around the Web. Your thoughtful comment is always welcome. If you appreciate our column, please share this article with a friend. Cheers!