2017 Honda Ridgeline earns Consumer Guide's 'Automotive Best Buy Award' [Video]
While diehard old-school pickup truck fans may debate the 'pickup truck' classification of Honda Ridgeline, consumers, consumer advocates, and the automotive press, continue to load the very innovative truck bed of this Pilot derivative with well deserved accolades.
Last Summer I spent a pleasurable week in the seat of Honda's only pickup truck offering. And admittedly, was sold on this unique vehicle's comfort and utility within minutes of placing the 6-speed automatic transmission into drive, and that we did. 1,000 miles later I was ready to buy one.
Much more than a Honda Pilot with a truck bed
As is said: "The public has spoken." 2017 Honda Ridgeline is well on it's way to meeting the maker's sales expectations with well over 20,000 units sold in its first 6 months -- Ridgeline is a force to recon with in North America''s revitalized midsize pickup truck segment. Until you experience Ridgeline for yourself, on and off road, it's just a bit of a challenge to put into words how well this midsize truck works.
Torque News was first introduced to Ridgeline down in San Antonio, Texas, where everything is just a bit bigger, including all of 2017 Honda Ridgeline driveline, suspension components, wheel hubs, bushings, brake calipers and rotors, you get it, trucktough. From what I experienced in Texas with Ridgeline, you'd be hard pressed to break it in everyday work and play duty. As to cab comfort,the ride dynamic on the pavement was butter!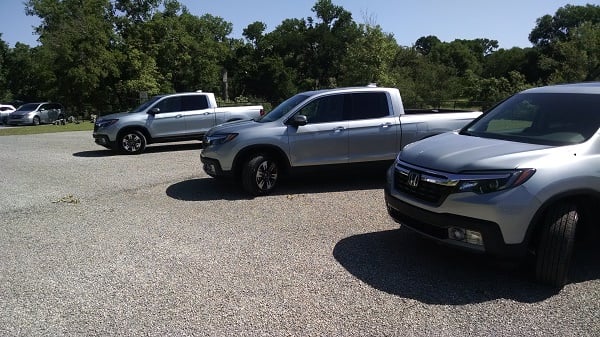 Frankly, while I admire the competition, and have driven all contenders extensively, 2017 Honda Ridgeline brings attributes to this segment unique to Honda, including a car-comfortable drive and ride experience -- that's what sets Ridgeline above this growing segment.
Looking to the MSRP, projected residual value, and standard package value
2017 Honda Ridgeline earns Consumer Guides "Best Buy" in the midsize pickup truck segment based on MSRP, projected long-term ownership residual value,(resale) and total stand and optional feature purchase value. Throw in the available Hondawatch ™ active safety suite for good measure and you have a winner.