2016 Honda Civic: A bit of 'break-in-time' results in higher average MPG
True enough, today's super-low- internal friction engines, with the help of superior synthetic engine oils, do not require the historically correct, variable speed, engine and drive component break-in-time of yesteryear. Back in the day, old school, manufacturer's demanded a very careful and precise methodology of engine-break-in period -- generally 500 miles or so.
The end result was the "seating of the rings," and engine valves. This process generally, but not always, resulted in a "tighter' engine, and less oil consumption. Note: It was normal for an engine back in the day to consume one quart of oil per 1,000 miles, or more, depending on driving conditions, loads, high speeds, etc. I drive a 2016 Honda Civic Touring with 10,000 miles on the clock.
Today, manufactures as a whole claim that a new engine is ready to run as it comes off the assembly line. With buyers informed by their sales rep to "drive it as you normally do!" "Break-in oil," is a thing of the past, with consumers often driving 7500 miles or more, before changing the initial factory provided engine oil. So they say...
How component meshing and driving patterns impact 2016 Civic MPG
Granted, most if not all 2016 Honda Civic buyers will take into consideration Honda's claim of class setting fuel efficiency prior to purchasing the most advanced and largest Civic in the maker's history. A handful report being just a tad disappointed!
And, as stated here at Torque News, "your Civic fuel efficiency can and will vary" -- dependent on region, weather, road conditions, terrain, and most importantly, your personal style of driving.
This fuel efficiency variable is most noted by new and return Civic owners in the first month or two of ownership. And frankly, from what we've read here at Torque News, 2016 Civic MPG, regardless of model, engine, or trim level, can vary as much as 25%.
Here's what our readers tell us
John tells us: "I got 40 MPG in mixed suburban and highway driving testing in January cold on winter blend fuel in the 2016 Civic EX-T (1.5L turbo with CVT). That over a week."
J Lynn Boehm wrote on 2016, March 1 - 09:59: I live in central Ohio and have been driving a 2.0 Liter EX since mid January. With just over 1,200 miles on the car I'm averaging 35.6 MPG combined city and highway. My experience is that better fuel economy happens when I take my foot off the gas and coast a bit before braking. I don't know if it is the tires or the CVT but the car wants roll for a long time.
Natarajan wrote on 2016, July 18 - 16:45: My MPG is mostly between 25 to 27. It never crossed 30 even once. I drive on very good roads. I don't know what is affecting the MPG of my EXT.
Melissa Whipple wrote on 2016, August 3 - 15:44: I Just bought mine July 1--mine is a 2016 Honda Civic Coupe Touring model. I have 600 miles on it and it hasn't gotten more than 25.4 mpg. What is up with this? I am not an aggressive driver and I live in San Diego--no bad weather. I have tried it both with the ECON button on and off--always get the green light--saying I am driving economically. I went down the dealership and they blamed it on the ECON button being on while doing city driving--but there are multiple videos and resources online that say that is absolutely not true. I see that you did not get a response to your second question. Bummer.
Peter wrote on 2016, August 11 - 12:10: I've been very disappointed with the gas mileage of my 2016 civic touring. I average about 23 mpg on my commute that is full of stop signs and red lights. I have noticed the trip computer's calculated mpg drop quickly when I am stopped at a stop light for a minute. I have gotten 29 mpg driving on back-roads with no traffic or stoplights. I've also checked the accuracy of the trip computer, and it consistently reports about 1.5 mpg higher than the actual gas mileage calculated by dividing the miles driven by amount of gas used.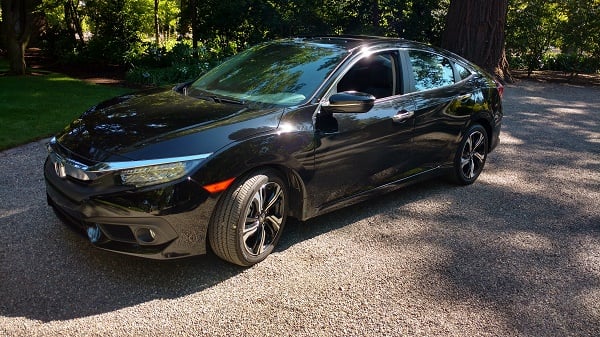 Michael Austin wrote on 2016, September 16 - 11:18: I bought a 2016 Civic EXT at the end of August. The initial tanks were getting about 28 MPG in mostly city driving. I just drove it from Boston to Baltimore and back I90 to 84, around NYC to Hwy I95, I had the econ button on and got 42.9 mpg. Coming back I turned the econ button off, came up through the Poconos ( I81, I 83, I84)which was a harder terrain and still the computer told me 41.3 mpg. I do not think the car and computer knew really what it could do until driven long distances. Every hour I watched the MPG move from 32 to 34 to 39 and thought surely this is wrong. Amazed when it went over 40!
So, here's how I see it
What we discover in common to all comments here is the relative "newness" of the 2016 Civic. And, when invited by Torque News to "keep us up to date" on your 2016 Civic ownership experience, readers that have bothered to update their fuel efficiency log, report a measurable increase in fuel efficiency -- as the engine and drive components "wear, or break-in." And true enough, with a bit of time behind the wheel, Civic driver's learn the particular ins and outs of optimizing fuel efficiency from their new rides.