With the reinvented Civic being our most read subject for 2016, today's announcement from Honda comes with little surprise. According to Detroit Automotive News and American Honda Motor Company Inc, the 10th generation Civic is officially the best selling (retail) car in North America. But what does that mean to you the consumer?
Here's how I see it: While there's no shortage of "good" cars available in the compact segment, the reinvented from the tires up 10th generation Honda Civic answers not only the driving enthusiast's call for exceptional road handling, engine torque and horsepower output, but presents affordable European inspired sedan and coupe body design, and interior refinement, giving Audi and BMW a run for your dollar.
That's a tall order that the exceptional standard and optional featured 2016/2017 Civic sedan and coupe answer in spades. We first experienced the turbocharged Civic Sedan Touring in Malibu, California. There's nothing else like it on the market today. And, as is said, "The public has spoken" with unprecedented sales and accolades for what has rather quickly become the most awarded car in Civic history.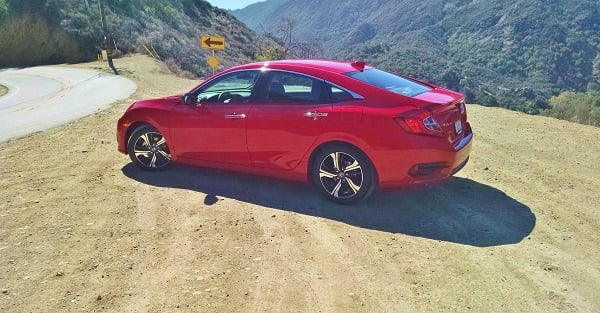 Back in November we experienced a 'first' in Civic history
It just happens to be a manufactured in England 5-door hatchback. Rounding out the Civic offering in November was the first turbocharged 5-door hatchback in American Honda History. Frankly, I personally find this Civic to be the superior configuration of the trifecta, with the soon to arrive European inspired 2018 Civic Type-R.
A word from our friend Mr. Jeff Conrad
"We want to thank our customers for the trust they've placed in Honda, which is the basis for everything we do," said Jeff Conrad, senior vice president and general manager of the Honda Division. "Retail sales are the results of customers voting with their wallets and pocketbooks, and we think that's the only true measure of customer demand and product appeal."
Total Honda Division sales are up 4.5 percent through the end of November to 1,333,253 Honda cars and light trucks, as the brand prepares to post a third straight year of record sales. Honda will continue its momentum into the new year as the strong cadence of new models continues in 2017 with the launch of a redesigned Odyssey; the Si Coupe, Si Sedan and Type R variants of the tenth-generation Civic; and the introduction of the Clarity Battery Electric and Clarity Plug-In Hybrid and more.
Congratulations Honda, well done!