Tesla Cybertruck - A Mobile Billboard
One of the reasons I love X.com is that there are so many new pictures of the Tesla Cybertruck being posted. In fact, there was a black wrapped Cybertruck that looks like the Batmobile that was posted recently.
The Cybertruck is literally a mobile billboard for Tesla. It is a unique looking truck - the first of its kind, and that is going to generate interest and buzz from people. I think people are going to look at it as an alien car and be super curious, which will cause them to discover that it's the Cybertruck from Tesla (if they don't already know).
This Cybertruck is simply sitting outside the Baron Investment Conference Center in New York City and stands out like a sore thumb. Any passer-by who sees this is going to walk near it and take a look.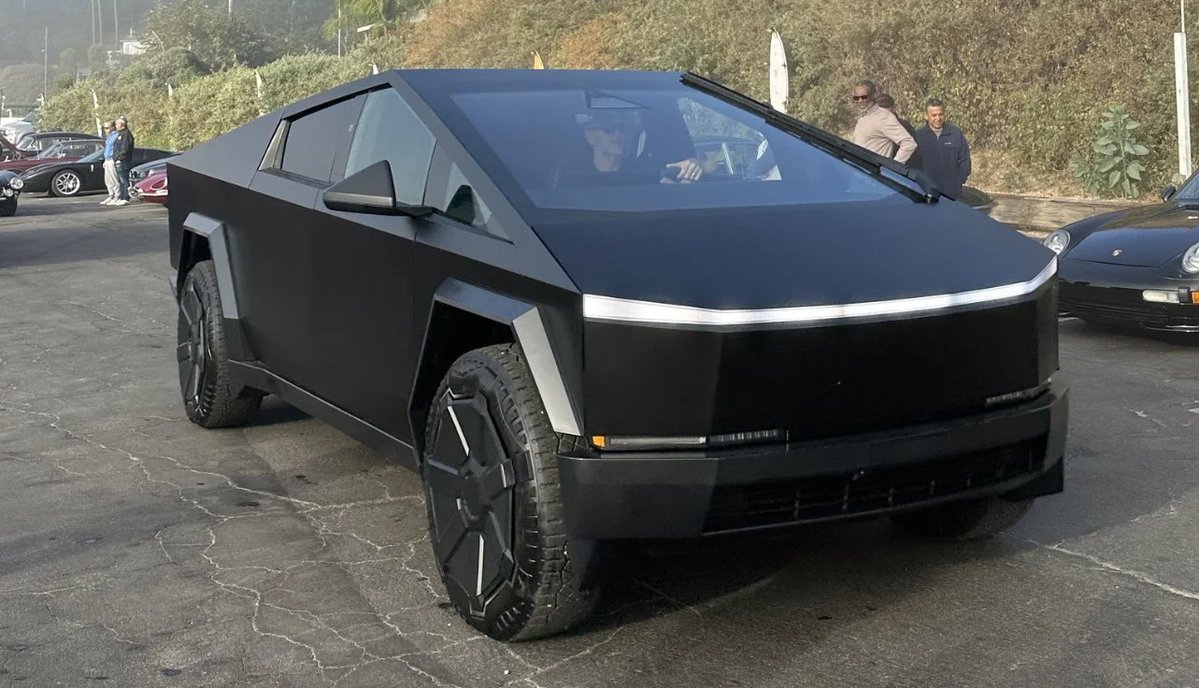 Recently, you may have heard from folks like Jim Cramer say that Elon Musk won't even sell 50,000 Cybertrucks. Why would Jim Cramer say such a thing? The answer is very simple - it's going to get a lot of attention and clicks. Attention brings viewers, which brings in revenue. If he said Elon Musk and Tesla will sell millions of them, it's nice to hear, but it's not a negative statement and wouldn't bring as much attention.
I personally write the majority of my articles with a focus on the positive for the future. I will, occasionally, write about something negative if there is a problem or something that needs to be fixed.
I've written about problems with Tesla Insurance, for example, and its safety score and forward collision warnings. But for the most part, I'm an optimist when it comes to Tesla and the future.
You May Also Be Interested In: Giga Berlin Lobby - Straight Out of the Future.
Where Else Will Tesla Put the Cybertruck
There are many pictures showing now of the Cybertruck at Giga Texas being built in batches. This tells me that production is well underway and Tesla is able to at least move beyond creating initial prototypes. This is an important step, but doesn't put them at volume production by any means. Volume production is when they are at the mass production stage, producing 200,000 Cybertrucks or more a year.
Tesla will put the Cybertruck where there are the most people - in places like New York, San Francisco, Los Angeles, and anywhere else there are tons of people. It's the biggest way for Tesla to get the largest amount of people looking at it and when that happens, those people will talk about it, creating word of mouth advertising - which is the most powerful form of advertising.
Two things stand out from the Cybertruck besides its unique form factor and the way it is shaped. The first is that the front lights are one continuous stream of light across the front.
The second is the GIANT windshield wiper that apparently hasn't changed since the very first Cybertrucks we saw being built. My guess is that the sheer size of the Cybertruck made it very difficult to have two wipers or to build it any other way.
I hope Tesla gets a Cybertruck here in Salt Lake City soon because I'd love to see one up close and personal!
A @Tesla Cybertruck was spotted outside the Baron Investment Conference at Lincoln Center in New York City: pic.twitter.com/GPuuYoglB7
— Squawk Box (@SquawkCNBC) November 10, 2023
In Other Tesla News: Next Gen. 3 Tesla Is Coming - Is the Competition Ready?
What do you think?
Share the article with friends and on social media.
Jeremy Johnson is a Tesla investor and supporter. He first invested in Tesla in 2017 after years of following Elon Musk and admiring his work ethic and intelligence. Since then, he's become a Tesla bull, covering anything about Tesla he can find, while also dabbling in other electric vehicle companies. Jeremy covers Tesla developments at Torque News. You can follow him on Twitter or LinkedIn to stay in touch and follow his Tesla news coverage on Torque News. Image Credit, Tesla, Screenshot