Tesla Roadster and Cybertruck
We have some of the latest updates and video of the new Tesla Roadster and the Cybertruck. They are looking fantastic and this version of the Cybertruck looks like it will be the final production version.
We can also see a ton of other Tesla vehicles from a logistic lot in Fremont here:
in meantime - logistics lot from the same video is on cca 20 trailers (difficult to count) pic.twitter.com/llSg9Xo43k— t8086 (@t8086) April 1, 2023
Tesla sure is testing a lot of vehicles, and I wonder why we are seeing so many sightings of the Cybertruck lately. I think it is because Tesla is getting ready to release it soon, and we may be in for a surprise with Tesla releasing it before Q3 of this year.
The videos of the new Roadster and the Cybertruck look amazing, and I can't wait to see them on public roads.
You may also be interested in:
When Will the Roadster Be Released?
Tesla is doing validation of its vehicles and the one thing that stand out to me here is that the new Roadster. The Cybertruck also has a very deep dashboard.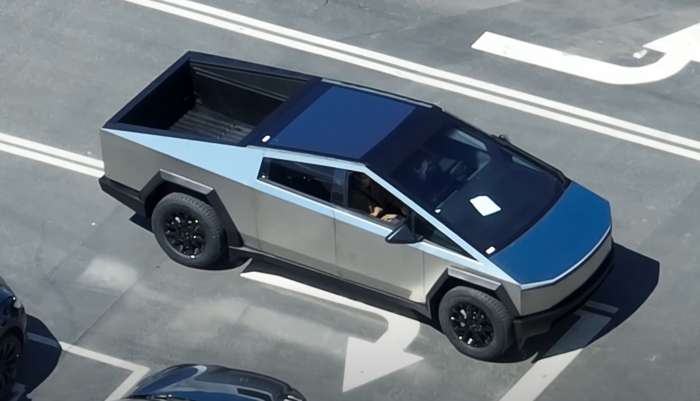 The Cybertruck still has a giant windshield wiper on it, and Elon Musk has even said that he wants to re-engineer this. So far, that hasn't happened.
On the Cybertruck, you can clearly see what looks like a removable section of the truck bed. Many are hoping that there will be a big storage area under there. There might not be any pillar storage, however.
How much do you think the Cybertruck will cost - will it be under $80,000?
For the full video, see this from Chile AI100:
In Related News: Production Beta View of Tesla's Cybertruck
Leave your comments below, share the article with friends and tweet it out to your followers.
Jeremy Johnson is a Tesla investor and supporter. He first invested in Tesla in 2017 after years of following Elon Musk and admiring his work ethic and intelligence. Since then, he's become a Tesla bull, covering anything about Tesla he can find, while also dabbling in other electric vehicle companies. Jeremy covers Tesla developments at Torque News. You can follow him on Twitter or LinkedIn to stay in touch and follow his Tesla news coverage on Torque News.