An Important Tool all Tesla Owners Should Carry to Revive a Dead Tesla
Back in the Day of the ICE Age and Jumper Cables
Back in the day, car owners used to carry a set of jumper cables with them stashed away in the trunk. Especially during the winter months, when engines required more cranking power than some weakened batteries could provide; and, when a cell unexpectedly went bad in your 12-volt battery or you had accidently left the headlights on. But times have changed. And jumper cables are nearly-useless (unless you are MacGyver or a first responder or drive a Hybrid) when it comes to an EV with a dead battery.
However, this does not mean that Tesla owners do not need to adopt some measure of preparedness for the day when they may find that their battery power is critically low and there is no charger readily available, or that the time to charge a battery would take hours.
That is a point made recently by Matt Mikka a cinematographer and writer of the Warped Perception YouTube Channel who was faced with a low battery while far away from home and realizing it would take him 3 hours to recharge his Tesla with enough power from a nearby charging station to get him home.
"If you are a Tesla owner and you get stranded, now you know that you might not be stranded after all" states Matt Mikka as he introduces a show and tell video about how he managed to recharge his Tesla quickly with nothing more than a towing strap and a good Samaritan.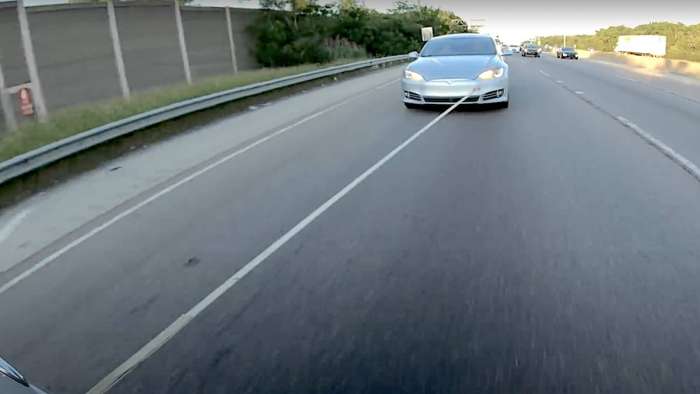 "…range anxiety of these cars is very real and it is not a good feeling so I'm hoping that this video helps someone," adds Matt
Super-Tow-Charging My Tesla at HIGH SPEED (70MPH - 65,000 Watts - 25 Miles)
Looking for Tips From Tesla Owners
Do you carry any emergency equipment or tools in your Tesla? Let us know what you have and why, in the comments section below to show that automotive preparedness and what owners can do with their vehicle is not a dying art.
Timothy Boyer is Torque News Tesla and EV reporter based in Cincinnati. Experienced with early car restorations, he regularly restores older vehicles with engine modifications for improved performance. Follow Tim on Twitter at @TimBoyerWrites for daily Tesla and electric vehicle news.