A Service Center Complaint
In earlier articles I've admitted that I am not allowed to work on my wife's car. Never mind the reason why---it's one of those keeping-peace-in-the-marriage things.
However,…however oddly enough this spousal rule does not seem to apply whenever there is a flat tire involved and I am expected to drive to the rescue and change a tire on her car. Go figure.
But that is not what this article is about. It's about my complaint with the service center that services her car. In particular, knuckleheads who use an impact wrench on the wheel lug nuts and over-torque them just short of stripping the threads or snapping the lugs off.
In other words, the difficulty of loosening lug nuts that are overtightened while on the side of a road with a flat tire and hoping I don't get hit by a passing car. Hmmmm, wasn't this a "Murder She Wrote" episode now that I think about it?!
But I digress. And am dating myself.
For anyone who has ever tried to take the lug nuts off of a car after a service center touched them can identify with this problem. However, it's not just the over-torqued nuts that are the problem, but the anemic lug wrench that comes with a modern car (if at all) that offers very little length to apply some simple Archimedes' physics. That, and the socket part of the lug wrench is not always the best made and can slip if not applied exactly square to the nut.
A Gift Solution to My Complaint
The solution to this problem---aside from never going to an automotive service center---is to use the right tool for the job. And a tool that is affordable as well. In other words, a long-handled automotive breaking bar with a hardened impact socket that fits your vehicle's lug nuts and makes the over-torqued lug nut much easier (and safer) to loosen.
While you can find both items at many automotive parts stores, I've become a Harbor Freight ICON tool convert the past year. The ICON hand tools I have used so far have been surprisingly durable and better yet…affordable.
Related article: 25 Tools Under $15 Every Toolbox Needs from Harbor Freight
That said and done, posted below are images of the recommended tools with the advantage that the hardened impact socket set (albeit not an ICON brand, but good enough for lug nuts) is sure to have the socket you need without having to worry about knowing the correct size for most cars. The added advantage is if you should ever road-rescue someone with a different make and model, the set will likely have a matching socket.
Here are recent images of the recommended tools you can find on Harbor Freight shelves today. Have a safe and Merry Christmas!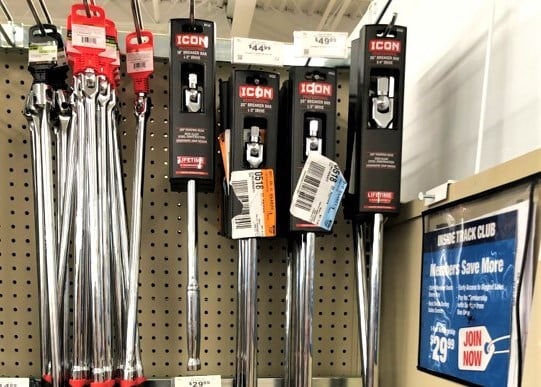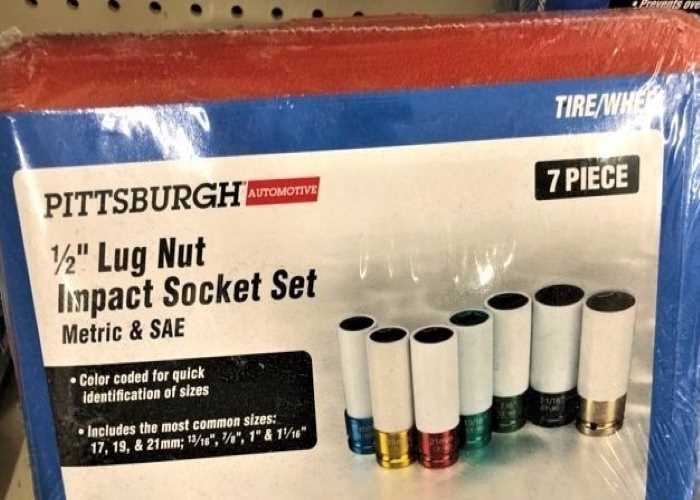 And finally…
PLEASE NOTE: Breaker bars and socket sets come in "drive" sizes. Be sure that the breaker bar and the sockets match; 1/2 inch drive is recommended.
For additional Harbor Freight-related articles about tools, here are a few for your shopping enjoyment:
• Harbor Freight Makes the Top Ten List of Top Tools for 2022
• Best Floor Jack Comparison Tests Reveal Which Harbor Freight Jack to Buy and Which to Probably Avoid
• Best Gloves for Automotive Work Reveals How Harbor Freight Gloves Compare
COMING UP NEXT: Scissor Lift Review for Small Garages
Timothy Boyer is a Torque News automotive reporter based in Cincinnati. Experienced with early car restorations, he regularly restores older vehicles with engine modifications for improved performance. Follow Tim on Twitter at @TimBoyerWrites for daily new and used vehicle news.
Image Source: Author supplied image