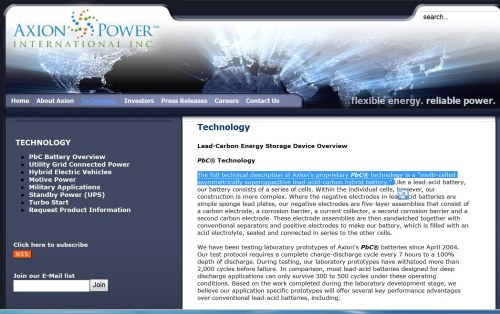 Axion Power wins DOE Awards Grant for PbC battery use in micro-hybrids
Please
SHARE
with friends and include TorqueNews in
Google Alerts
for tomorrow's interesting stories.
Axion Power International Inc. (OTC Bulletin Board: AXPW), the developer of advanced lead­-carbon PbC® batteries and energy storage systems, announced today that it has been awarded a $150,000 grant from the U.S. Department of Energy (DOE) to fund a commercialization plan for the use of its PbC batteries in a "low-cost, high-efficiency" dual battery architecture for micro-hybrid vehicles.
Wait, there's more. According to the news release, this initial $150,000 can lead to a larger award; and in this reporter's opinion, would be well worth the investment simply because it would benefit more car owners than present electrification allows.
For the record, I have been reporting here at Torque News that micro-hybrid vehicles may well be on their way to becoming the most common type of automotive vehicle. Read Stop-start technology to advance more micro hybrids by 2016. The news release stated that the estimated market size is 25 million by 2016.
These micro hybrids currently utilize a "start-stop" system which automatically turns off the engine when the vehicle comes to rest, and then automatically restarts the engine when the brake is disengaged. Fact is, an engine that is turned off burns no fuel; nor does it pollute during that phase.
Next generation micro-hybrid vehicles will, and in some cases already do, include added features such as regenerative braking. This is called "sailing" whereby the engine is turned off as the vehicle slows or coasts below a pre-determined speed. and perhaps some form of battery assist to the initial vehicle acceleration.
Realize this does not have to involve expensive lithium in any way. In fact, engineers and automakers realize that lead acid batteries (LAB) are the most cost-effective way to handle the stop-start engagement. Problem is, present lead-acid battery technology is not designed to suitably provide the dual function required in today's micro-hybrid vehicles, let alone handle the added loads of future micro-hybrid vehicles; but this is where Axion's PbC® technology comes in.
While the dual feature includes the battery working with the alternator generator to start and power the vehicle while the engine is on, fact is, LAB is good at this. However, when separately powering the vehicle's ancillary load when the engine is off, present LAB technology is very poor.
The LAB's shortcomings with respect to powering the ancillary load are directly attributable to the battery's rapid decline in charge acceptance over time due to sulfation. This occurs in the LAB after just a few months of usage. The PbC battery, on the other hand, has been proven to quickly accept full system charge (i.e. no loss of charge acceptance) for more than 5 years of usage. This advantage translates into much greater "engine off" time resulting in much greater fuel economy with significantly reduced CO2 emissions. Both of these features are important goals of automotive OEM's and of political leaders in the countries where they manufacture vehicles.
Pages
Please
SHARE
with friends and include TorqueNews in
Google Alerts
for tomorrow's interesting stories.