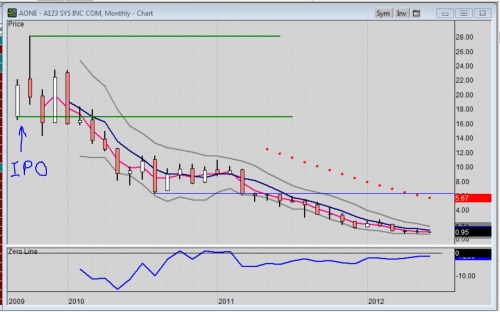 A123 Systems stock chart spells death notice
Please
SHARE
with friends and include TorqueNews in
Google Alerts
for tomorrow's interesting stories.
Will a cash infusion from strategic investors comes through to save the day for A123 Systems?
Looking at the monthly chart dating back to its IPO, I can understand why one trader I know has been short A123 Systems, Inc, (Nasdaq: AONE) since the $10 level; a series of lower lows and lower highs. Now trading just under a buck, the stock is indeed in serious jeopardy as the company itself is questioning its own ability to remain as an operational concern. In plain English, that means the company could go out of business without a rescue.
This is not unusual in this space of so-called clean energy. For example, the solar sector has been hit very hard the past few years, especially when cheaper products from China weigh in on the market. Now it appears the lithium-ion battery sector is having its time in the barrel; and A123 is at the center of it with recalls on batteries for the new Fisker Karma.
A123 Systems has reported that it has isolated the problem, which it thinks is linked to one machine involved in the manufacture of its prismatic battery cells. Still, A123 Systems will need to replace defective batteries made at its Livonia, Mich., plant, costing the company $55 million.
It was just a few weeks ago that the developer and manufacturer of advanced Nanophosphate® lithium iron phosphate batteries and systems announced financial results for the first quarter ending March 31, 2012. Although the company stated its customer pipeline continues to be strong in all target markets, limitations with respect to their manufacturing ramp were also noted; which meant they anticipate revenue in 2012 will be below prior expectations. For the record, the news release stated a gross loss was $90.8 million in the first quarter of 2012, compared to a gross loss of $15.5 million in the first quarter of 2011.
Burning cash seems to be the major issue; and these recalls are not helping the situation. As of March 31, for example, A123 had $113M in cash and other equivalent material, down from the $187M it had just 3 months prior. In addition, a report by Wall Street Cheat Sheet (dot com) reported the long list of losses and cash burn "raise substantial doubt on the Company's ability to continue as a going concern."
Question is: Will these so-called strategic partners come to the company's rescue? The operative words, however, may involve substantial investments.
Taking a look at the monthly chart of AONE and you immediately see price dynamics have been stating reality all along. This precisely why I view the technicals as so important to even long-term investors let alone short-tem traders.
Pages
Please
SHARE
with friends and include TorqueNews in
Google Alerts
for tomorrow's interesting stories.