You don't buy the Subaru WRX STI for the car to hold its value and make money when you sell it. Performance car enthusiasts buy the sports sedan to have fun, modify it to improve performance, and for its rally-bred driving dynamics. Who cares about Edmunds retained value awards?
If you plan on keeping your STI for a long time, then you don't really care what happens to its value in 3 or 4 years. Many WRX STI owners will keep their cars for many years, especially if they modify them and put all the best performance parts in them. You have too much invested to sell it to someone else to enjoy your hard work and money you invested. And those that purchase a limited run or special edition STI like the S209, may never sell their sports car.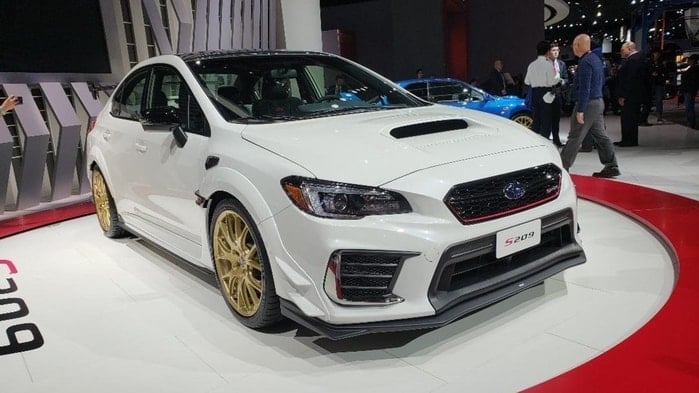 STI value
Edmunds recently came out with their Best Retained Value for 2019 list and the 2019 Subaru WRX/STI scores "Best Sports Car" again. In the UK, the WRX STI is in the top 20 vehicles with the slowest depreciation rates among all cars. Who should care if your STI has the best residual value?
If you bought one on a lease and you plan on upgrading to a newer model or the next-generation model in 3-4 years, it will make a difference. Being tops in retained value means the WRX STI will help you maximize your money at trade-in. It also helps you get lower lease payments if you don't purchase it. When you trade your 3-4-year-old STI in on the next-generation model when they hit showrooms in late 2020 as a 2021 model year, you will get more trade-in value for your sports car. If you sell it to a private party, you will be able to get more.
This is all dependent on if you keep your STI completely stock. If you add thousands of dollars worth of performance parts, it changes everything. You likely won't get back even close to the amount you spend and your return will be cents on the dollar.
Watch 2020 Subaru WRX STI, Next Generation 2021 STI Details Leaked and Subscribe to Torque News Youtube Channel for Subaru and Automotive News.
You Might Also Like: Why New Subaru WRX Has Lower Lease Payments Than Other Sports Cars
Leave your comments below, share the article with friends and tweet it out to your followers!
Follow more Subaru WRX STI news on Facebook, Twitter, Instagram, Subaru Report. Tweet your Subaru STI news tips to us @WRX_STI_News and we'll give you a shout out!
Photo credit: Subaru via Instagram, Patrick Rall (Torque News)